Rihanna's Denim Outfit Will Have You Looking At The Trend In A New Way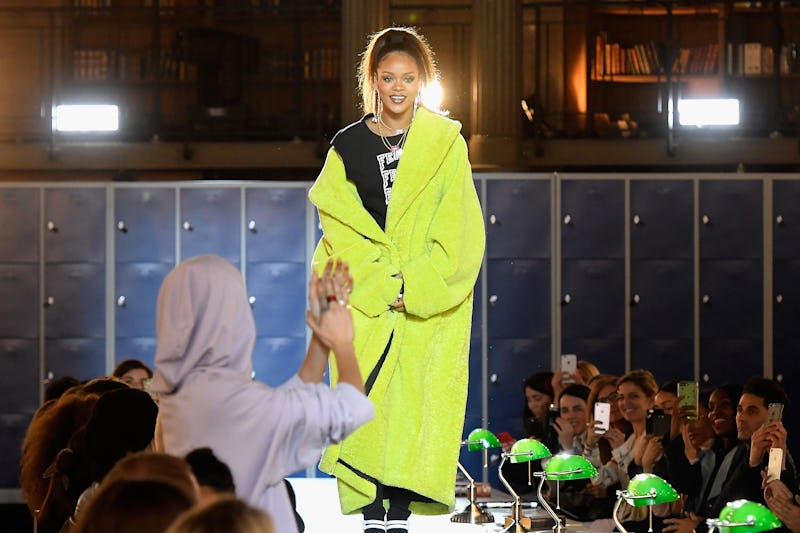 Victor Boyko/Getty Images Entertainment/Getty Images
Denim is having a huge moment in 2017, and many celebs have been trying to take the trend to the next level. There have definitely been some weird jean looks of late, and not all of them have been hits. But Rihanna rocked a unique denim on denim outfit at Coachella, and fans couldn't be more here for it.
Rihanna has a way of pulling off absolutely anything she puts on — strange pants and all-over glitter bodysuits included. So, it should really come as a surprise to no one that she just single-handedly won at wearing denim on denim. She paired a jean jacket (buttoned and worn slightly off-the-shoulder) with denim pants with slits down the front and exposed her entire leg. Since you could see so much of her leg, she topped the ensemble off with some incredible thigh-high boots. Because seriously! What else would you expect her to do?
Now, this may not be your everyday kind of look, but RiRi certainly managed to make it work. Others who have tried the never-before-seen denim styles, such as Kendall Jenner, have not been so lucky with their outfit choices. But, according to the fans, Rihanna does no wrong. And I'd have to say I agree. Bow down to Queen RiRi!
There are lots of interesting things happening to jeans at the moment, but Riri's take is denim like you've never seen it before.
This might be difficult for others to pull off, but Rihanna makes it seem easy.
The outfit is everything. She is everything.
Not many people can wear jeans this well, but Rihanna is definitely among the most elite when it comes to donning outfits like this.
And fans just basically want to channel her in their everyday lives. Can you blame them, though?
Ensembles this good are definitely worth the hype.
She wins at Coachella, and at life, frankly.
Leave it to Rihanna to go and make even the whole weird jeans thing cool. Will you be trying out open-front jeans now? I mean, if Rihanna's doing it, maybe you should too.