Rihanna Just Started A New Highlighter Trend That People Are Obsessed With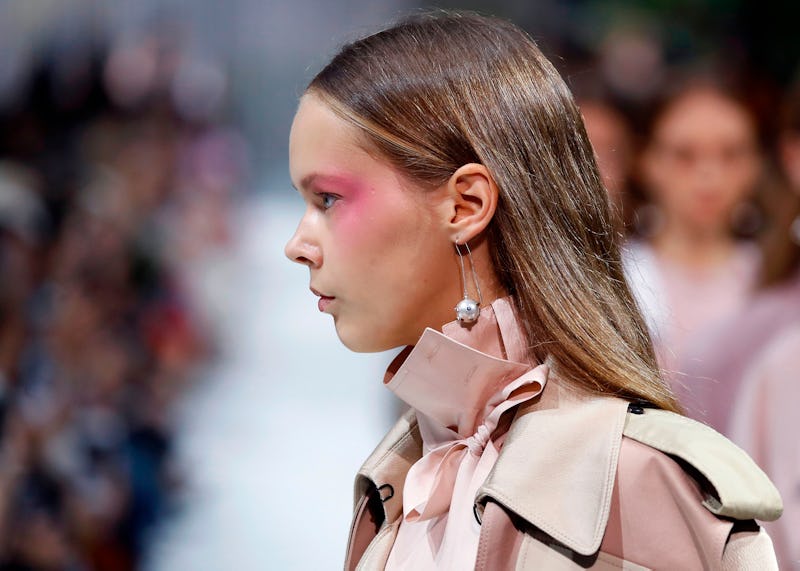 PATRICK KOVARIK/AFP/Getty Images
Rihanna is the queen of beauty, and she can basically do no wrong. No matter what look she whips together, her fellow admirers will scramble over themselves to copy her genius. A case in point is her newest beauty invention involving Fenty Beauty highlighters.
When Rihanna launched her line, she shook up the beauty world — and it wasn't just because she created a universal gloss and killer highlights. She also made a conscious discussion to include as many skin tones as possible (including foundation for Albino women!), and quickly became a fan favorite among the people for that reason.
Now she's shaking things up in the beauty world again, but this time in a more standard way. She's styling her Fenty highlighters are in a new, imaginative way.
Seeing how Rihanna's highlighters bring the glam, they have encouraged beauty lovers to break out of the mold when it comes to application. A case in point is this new Fenty trend seen on the Puma X Fenty runway, where makeup artists took the ethereal cosmetic colors and dabbed them in a strong "C" shape across models' eyes and cheekbones.
"For Fenty x Puma in New York, makeup artists applied the Fenty Beauty Killawatt Freestyle Highlighters and Shimmer Skinsticks all over the models' eyes and cheekbones, creating colorful, iridescent highlights in shades of peach, pink, purple, and green," Allure reports.
The great thing about this new trend is that it can be as subtle or as punchy as you want it to be. If you prefer a more understated makeup look, the boldest forms of this look may not be for you. But you can take one of the more classically colored highlighters — like a gold, bronze, or rose gold — and lightly dust it across your eyelids and sweep it down your cheekbones, giving you a quiet but artistic pop of color.
But if you have no problem with experimenting when it comes to your makeup bag, here's your chance to break out iridescent green or fairy-like purple hues and get weird with your strobing.
The interesting thing is that the trend almost seemed inevitable. Apparently when people get their hands on colorful highlighters, they will find creative and playful ways to wear them.
Allure noticed that a bevvy of different runways mirrored the same look unintentionally, adding the same sweep of color across lids and cheeks.
"At Valentino in Paris, makeup artist Pat McGrath applied layers of blush, highlighter, and iridescent eye shadow on the lids and cheekbones for what she described as a 'fresh, modern nod to the '70s,'" Allure reports.
If you want to recreate the look at home, there's a science on how to keep that shimmery color on your skin all day (or night) long. Make sure you prime the area liberally and add a good dose of setting spray, like MAC Fix+ Spray or Kat Von D Lock-It Setting Spray, to keep it glued to your skin.
As for application, Danielle Kierna, a freelance makeup artist for nine years, suggests using a brush and not just your fingers. She suggests spraying a synthetic brush with setting spray to really have it stick.
Even if you're not brave enough to wear this out, you have to admit it will be fun to try in the bathroom! Give it a go.