Rihanna Teased What Could Be A Lingerie Line & Fans Are Shrieking With Joy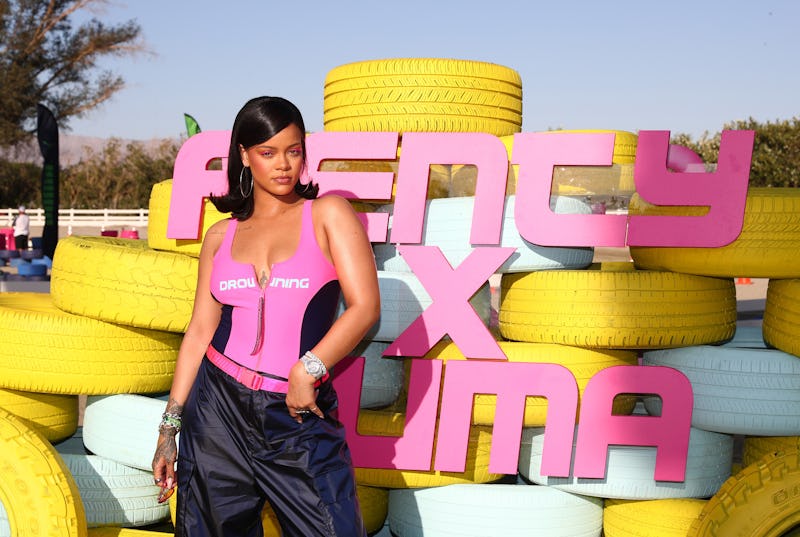 Joe Scarnici/Getty Images Entertainment/Getty Images
Rihanna is once again proving that there's nothing Rihanna can't do. No, really. From acting in the new Oceans 8 to crushing hit songs like Lemon to her Fenty x Puma line and her incredible Fenty Beauty, she does it all. Now, though, Rihanna's Savage x Fenty lingerie could be coming, and given this star's stellar track record, whatever it is, it's sure to be a banger.
According to HelloGiggles, a new Instagram account has mysteriously popped up carrying the Fenty name (which is Rihanna's last name, in case people missed it). The Instagram currently only has two images on it. the first is certainly a bit mysterious, but it looks to be an image of breasts in a white bra above a white screened television. Since this is rumored to be a lingerie brand, that makes sense. The second image is actually a video and clearly shows Rihanna herself wearing what definitely appears to be a few iterations of lingerie. You can see what seems to be the same white bra from the first image paired what black boy shorts.
Of coruse, Rihanna isn't one to stop giving fans more hints, and she totally did on both her personal and the Savage x Fenty account.
In an Instastory posted to both accounts, fans get a glimpse of Rihanna. While the photos seems like a selfie (but like the most glam selfie because it's Rihanna), it's what she's wearing that should pique your attention. She's rocking what certainly looks a bit like a bralette in a cream color with sheer detailing and light pink silk straps.
Another reason this is definitely from Rihanna herself (you know, other than it using her name)? She's following the account. Who is Savage x Fenty following? You guessed it. Just Rihanna. This is exactly what happened when the Fenty Beauty Instagram emerged last year. It seems like the star has a pattern, and fans are getting stoked.
They are ready for a Rihanna strip mall. Who doesn't want one stop shopping of all Rihanna approved and crafted products? Sheets, lingerie, makeup, kitchen goods? Even Fenty Furniture has a nice ring to it.
Other fans are already lamenting the damage to their wallets. They're basically begging the stars for new music. The request seems to be a mix of fandom and songs only costing $1.29 on iTunes.
Even if your wallet is empty, won't your heart be full after receiving your Savage x Fenty order?
Even fans who don't wear bras are already committed to rocking Rihanna's lingerie line.
In nine months, could there be a boom of Rihanna babies? Fenty x Pampers, are you next?
Will you be duty bound to name your child Robin or Rihanna? It only seems like the right thing to do.
On a more serious note, though, fans are hoping that the line is just as inclusive as her Fenty Beauty brand.
Perhaps the hype is so real because this isn't the first time that people are hearing about Rihanna's lingerie. Rumors have been swirling since March when Women's Wear Daily the brand creator and singer was said to have teamed up with TechStyle Fashion Group for the new lingerie. Just like now, fans' bodies were ready.
Ultimately, fans will have to wait for an official announcement before they start saving up for the collection. Based on the signs, though, a Rihanna lingerie line certainly seems to be on the way. It's just a matter of when the mogul decides to launch it. May the world become a more patient place.