Rihanna Channeled Holly Golightly At Her Met Gala Afterparty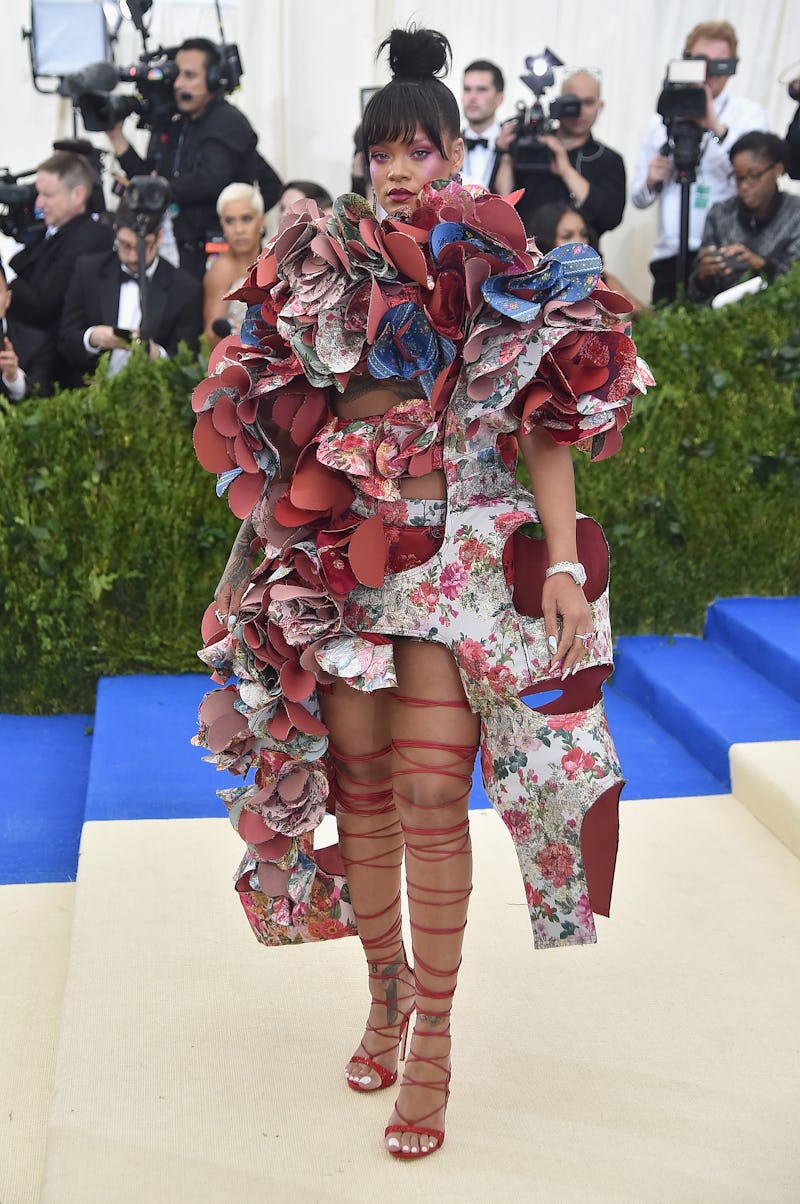 Theo Wargo/Getty Images Entertainment/Getty Images
Rihanna showed up to the 2017 Met Gala in one of the most show-stopping ensembles of the evening — she nailed the theme, Rei Kawakubo/Comme des Garçons, in an ultra-structured look from the designer that almost put the actual sculptures in the museum to shame. Following the main event, though, Rihanna's Met Gala afterparty dress channeled a more undone look that gave off some chic Holly Golightly vibes.
Riri rolled up to the afterparty she hosted in a look that's best described as "sleepover glam." After all, she did roll up at 1 a.m. — this is an acceptable time for pajamas. She cinched up a white satin nightshirt with not one, but two python belts, and finished off the look with peachy pink feathered sleeves, bejeweled oversized sunglasses, and fluffy blue slide heels that remind me of the ones I used to have in my dress-up box (but probably much more expensive).
Rihanna's bestie Melissa Ford gave us an insider look at Ri's ensemble, complete with her perfect topknot from earlier in the evening. Leave it to Rihanna to give us some seriously chic going-out outfit inspiration (even if we can't all get into 1 Oak in NYC, unfortunately). Ready for it?
As always, Rihanna is goals.
While Rihanna just might be the only person who could pull off this fabulous ensemble in full, that doesn't mean we can't recreate our favorite bits of it. Here are four pieces to channel the look:
1. Sunfan Women's Satin Sleep Shirt
Sunfan Women's Satin Sleep Shirt, $24, Amazon
If you're feeling daring, you can go for an actual sleepshirt.
2. H&M Patterned Belt
Patterned Belt, $7, H&M
While I was unsuccessful in my quest for a green faux python belt, this patterned one would look cute, too.
3. Jeepers Peepers Pink Tinted Lens Visor Sunglasses
Jeepers Peepers Pink Tinted Lens Visor Sunglasses, $38, ASOS
Ri's may be from Gucci, but this pair gives off some bubble gum edge, too.
4. Steve Madden Carabu Sandal
Steve Madden Carabu Sandal, $100, Nordstrom
Finally, my personal favorite piece, a fluffy feathered heel.