Rihanna's New Lingerie Line Will Carry Size 3X & Fans Are Hype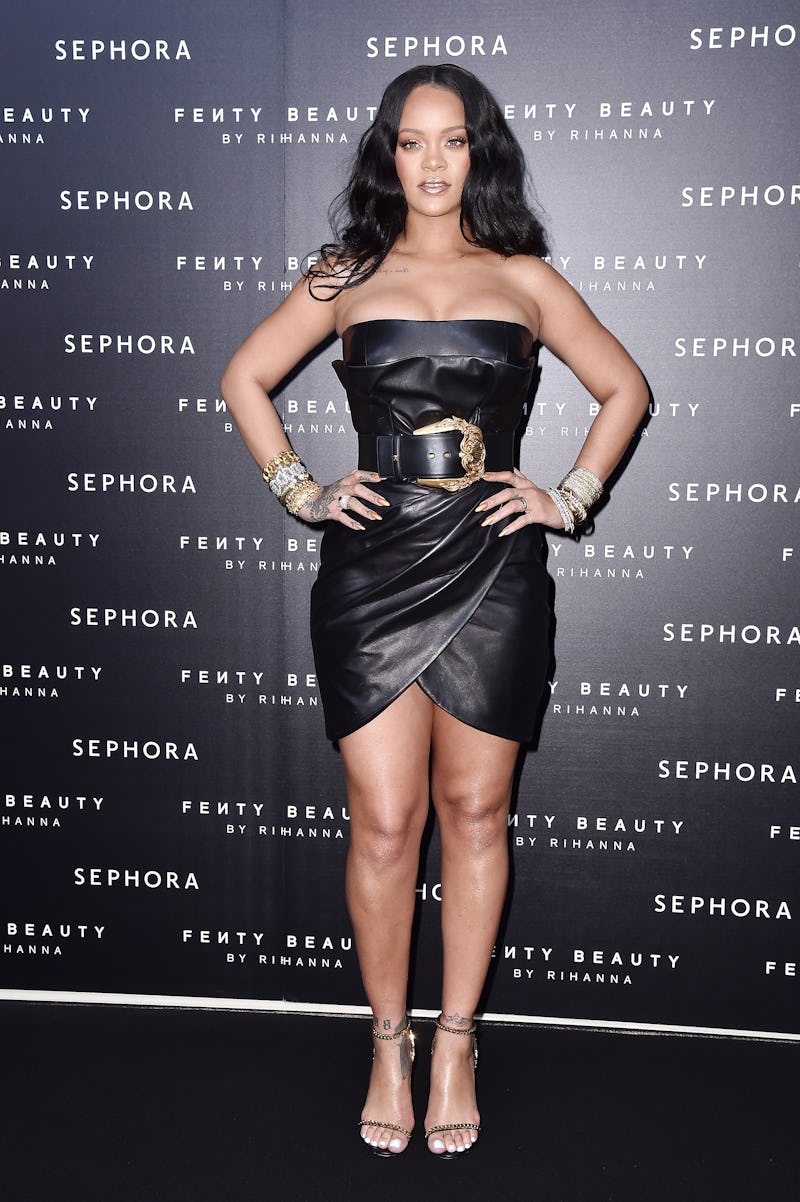 Jacopo Raule/Getty Images Entertainment/Getty Images
Rihanna is out to change the way we approach beauty and our bodies, and her fans and followers are here for it. She is soon launching a lingerie line called Savage x Fenty that will include plus sizes, once again shaking up an industry with her progressive views on how everyone should be included.
When the artist-turned-entrepreneur released Fenty Beauty in September of 2017, she completely revolutionized the beauty industry by refusing to exclude people from accessing her products, and she did that by carefully formulating products for all skin tones, from the palest of pale to the darkest and richest of complexions. This has led to Time to list her brand on their "Best Inventions of 2017," and has led to a dramatic increase of other cosmetic companies expanding their shade ranges, making the beauty world that much more inclusive.
On the Fenty website, Rihanna wrote, "Fenty Beauty was created for everyone — for women of all shades, personalities, attitudes, cultures, and races. I wanted everyone to feel included. That's the real reason I made this line." And now, she is bringing that same commitment to fashion — and the lingerie world in particular — by making a line of undergarments for people of all shapes and sizes.
She teased the launch of her brand just a couple of days ago, where a mysterious new Instagram account named Savage x Fenty popped up, slowly sharing images of Rihanna wearing different bras on posts and stories.
As the news broke about this new venture, fans immediately took to social media to buzz about what could be in store. And many people were hoping that she would include plus size ranges in the collection so all sorts of different customers could participate in the fun that her lacy bras and panties will be.
"If the rumors are true and @rihanna does a lingerie line, please let it be available in plus. *please* We are here for the segzy underthings, too!" one tweeter shared.
Luckily, the brands website — SavageX.com — has launched, and the mystery of the available sizes has been solved. As of right now the site is a landing page, where you can sign up to get on a list for updates and insider news. Once you enter your email address, you're led to a second page, where the brand asks you for more information — including your bra and panty size.
When you click on the dropdown option, you notice that the sizes include a wide variety of measurements, expanding their size selection further than most lingerie brands. For the bra size, for example, the biggest option is a 44 DD. With many stores stopping at a band size of 38 or 40, Rihanna's new line takes it a little bit further — at least for band size. Many women, however, surpass the DD cup size and go into sizes F, G, and H, meaning the cup size is still a bit limited. In fact, in 2013 it was found that the average bra size for women is a 34 DD, so the cup selection stops right at the average.
And some fans have noticed that their cup sizes weren't available.
However, the panty size selection offers more options. If you click on the dropdown menu for that, you notice that it comes up to a size 3X.
Granted we still know very little about the brand, and the sizes could be more inclusive when it fully rolls out. But in the meantime, fans are really excited to get their hands on the new collection and are applauding the fact that she included plus sizes from the get-go.
There are also rumors that Rihanna will include plus size models in her campaign, making sure all different kinds of bodies are represented. However, that has not been confirmed yet.
Others are just hyped to get their hands on it.
Now we just have to wait (im)patiently to hear more!