Rose McGowan Plans To Reveal How She Escaped Multiple "Cults" In Her New Memoir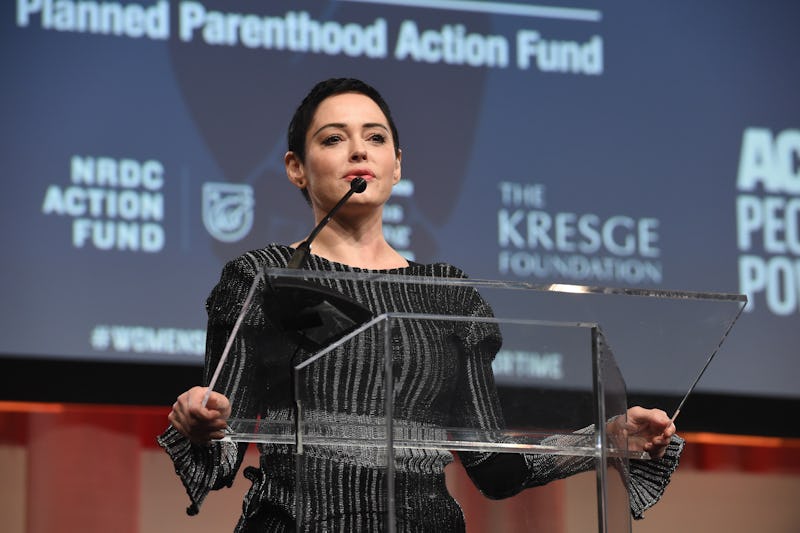 Aaron Thornton/Getty Images Entertainment/Getty Images
Rose McGowan has been in the news a lot this year. Now, Rose McGowan is speaking out with a new memoir, Brave, in which she tackles the "cult of Hollywood" and its institutionalized sexism. Available for pre-order now, McGowan's book comes to a bookstore near you on Jan. 30, 2018, and here's everything we know so far about this "unscripted, courageous, victorious, angry, smart, fierce, unapologetic, controversial, and real as f*ck" memoir."
Trigger warning: This article contains discussion of rape, sexual assault, and sexual harassment. If you are an assault or abuse survivor, the trained staff of the National Sexual Assault Telephone Hotline are always available to listen, offer advice, or help you find the resources you need.
In an October 2016 tweet, Rose McGowan discussed being raped by a studio executive. A year later, McGowan accused Weinstein of rape, confirming what many believed at the time of the original tweet, and becoming "one of more than 30 women who have come forward since the New York Times revealed sexual harassment and rape allegations against Weinstein going back decades," according to The Guardian. In an unpublished January interview with the Observer, McGowan said she believed that Hollywood shut her out after Weinstein allegedly attacked her: "They threatened [me] with being blacklisted. I was blacklisted after I was raped, because I got raped, because I said something … but only like internally, you know."
Born to a Children of God leader and his wife in the 1970s, Rose McGowan says that "life . . . has taken [her] from one cult to another," even to "the biggest cult of all: Hollywood." She continues: "Brave is the story of how I fought my way out of these cults and reclaimed my life. I want to help you do the same." HarperCollins' press release calls Brave:
a no-holds-barred, pull-no-punches account of the rise of a millennial icon, fearless activist, and unstoppable force for change who is determined to expose the truth about the entertainment industry, dismantle the concept of fame, shine a light on a multibillion-dollar business built on systemic misogyny, and empower people everywhere to wake up and be brave.
McGowan is the founder of #ROSEARMY, an activist network that links fans and supporters to McGowan's projects. In 2014, she directed the short film Dawn, which peels back the mask of mid-century social mores to reveal a world in which women have no option but destruction, whether that means destroying the self, destroying others, or being destroyed by others. According to a press release, McGowan has a lot more on the horizon, as "[h]er album, skincare line and documentary will all be released in 2018.
To find out more about Brave and sign up for the #ROSEARMY, visit Rose McGowan's website here.