Watch Rose McGowan's Powerful Speech About Sexual Assault From The Detroit Women's Convention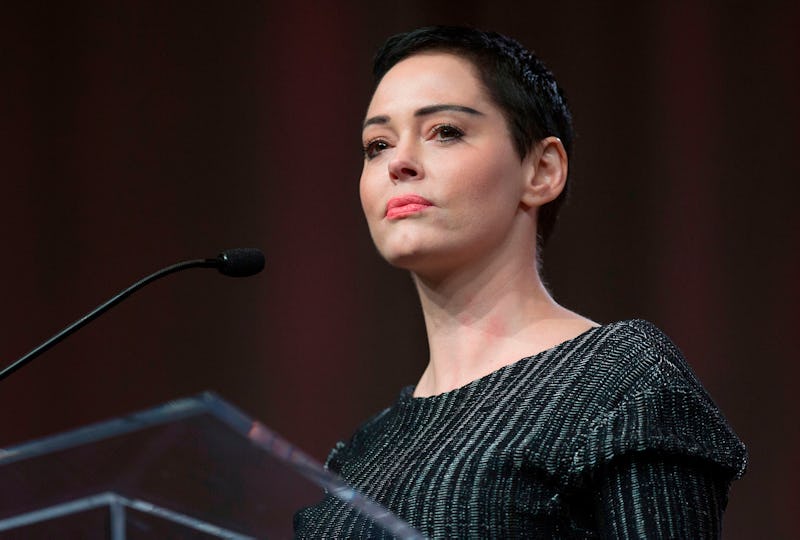 RENA LAVERTY/AFP/Getty Images
Forces outside of her control have apparently kept one of our most outspoken actresses silent for too long, but now she's back with a vengeance to share her story. Rose McGowan's sexual assault speech at the Detroit Women's Convention should inspire her followers to make themselves heard, yes, but, in general, it's the rallying cry that all women need right now. Though McGowan's feminism has been justifiably called out for being flawed, particularly in the way she handled Caitlyn Jenner being named Glamour's Woman of the Year and in the way she attempted to draw problematic parallels between female oppression and black oppression, this speech strikes a much more intersectional chord. Her fiery appearance before the convention on Friday was the first time she's stepped out in public since Harvey Weinstein's long-awaited fall from grace, and McGowan pulled no punches.
The 44-year-old was one of the first in the entertainment industry to sound the alarm about Harvey Weinstein, after an undisclosed incident in 1997 resulted in a pay-off. McGowan claims that Weinstein raped her, an allegation refuted by a representative of the movie mogul, who said, "Any allegations of non-consensual sex are unequivocally denied by Mr. Weinstein." But even with scores of other women making similar claims of harassment and assault at the producer's hands, it took two decades for McGowan's warnings to be heeded.
And in fact, 20 years after her own experiences, the actress and activist is still fighting to be heard. McGowan had her Twitter account suspended amidst her posting of assault allegations. (For their part, Twitter clarified the move via their Twitter Safety on Oct. 12. In a series of three tweets, they claimed that the suspension was instituted because McGowan published a private phone number, which violated Twitter's terms of service, and not because of her allegations.)
But, in any case, it was a literal silencing of a survivor of assault, and the actress and activist isn't standing for it anymore as her speech made clear.
She encouraged the audience to speak their own truth to power, giving specific shoutouts to her devoted fans, whom she refers to as #RoseArmy, and tipping her hat to the #MeToo campaign. (The hashtag encouraged survivors to speak out about their own experiences with assault and harassment, and was begun a decade ago by activist Tarana Burke, but revived recently by Amy Siskind and McGowan's Charmed costar Alyssa Milano.) The actor said:
"We are all Me Too's. I have been silenced for 20 years. I have been slut-shamed. I've been harassed. I've been maligned… We are one massive collective voice, that is what #RoseArmy is all about… no more will we be shunted to the side. No more will we be hurt. It's time to rise. It's time to be brave."
After what McGowan has experienced, most people would retreat into themselves and want only to be left alone. And that's understandable, because no one wants to relive their most traumatic experiences for those who might not even choose to believe them. However, the actor has never given up or quieted down, and, after two decades, that tenacity is finally paying off.
The removal of Harvey Weinstein from the company that bears his name and gave him so much power is a huge victory, as is the NYPD's criminal investigation into his behavior. But these are only the first of many battles we need to take on. His exposure took too long to accomplish, and at the cost of too many women's comfort, safety, and sometimes even livelihoods.
Of course, McGowan places no blame for the length of the battle on the survivors who experienced that alleged abuse. Instead, she gave everyone an important tool for prevention in the future. "No more," she urged the cheering audience, "Name it. Shame it. Call it out. It's time to clean house."
It's hardly a new message, but it bears repeating now, and for as long as it takes to get across. McGowan was joined as a speaker by fellow actresses Piper Perabo and Amber Tamblyn, but the convention pulled from even deeper wells of activism. It was opened by singing from a group of indigenous women including Lakota and Navajo tribe members, whose oppression has essentially been written into the fabric of our country's history and is still denied and erased even today.
Quotes and video were also shared from lifelong activists like the late Audre Lorde, who was a major force in both the civil rights and feminist movements, and stated, "Revolution is not a one-time event." In short, this cause is interwoven with countless others, and the women's convention — the first of its kind in over 40 years — is an important foray into topics on which our silence has been deafening.
So, listen to the words of Rose McGowan, and of all the women who spoke up on Friday, and let them inspire you to be brave and call out abuse wherever you see it. We are stronger together.