Gabrielle Union & Ally Sheedy Are Writing Essays For Roxane Gay's Rape Culture Anthology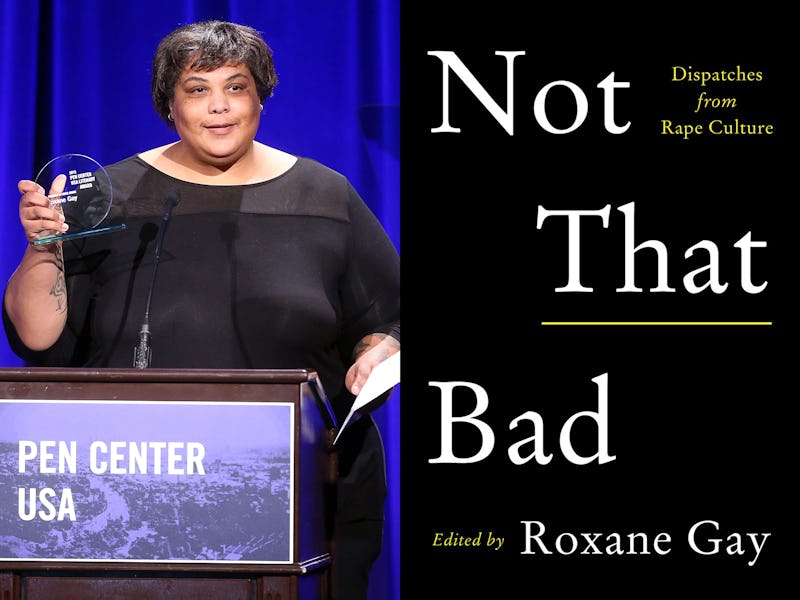 Frederick M. Brown/Getty Images Entertainment/Getty Images
The first accusations against Hollywood producer Harvey Weinstein and actor Kevin Spacey have opened the floodgates for more men and women to come forward and speak openly about their attackers. Now, Bad Feminist author Roxane Gay will edit a "rape culture" anthology. Titled Not That Bad: Dispatches from Rape Culture, the new book will include essays from Gabrielle Union, Ally Sheedy, and others. Not That Bad is currently slated for release on May 1, 2018 from HarperPerennial.
In her latest book, Hunger: A Memoir of My Body, Roxane Gay discloses her own experience with rape culture. The author was gang-raped at the age of 12, and, as she later related to NPR:
I had very little comprehension of what happened to me. I was stunned and I just assumed, "OK, we just had sex." And I didn't realize that there was a thing called rape. I didn't realize that there was a vocabulary to describe the experience, and that it wasn't my fault. I thought I didn't fight enough, I didn't get away, and so I was complicit in what happened.
Not That Bad contributor Gabrielle Union has her own book, We're Going to Need More Wine, on store shelves now. In her memoir, the UCLA alum recounts being raped by a man who robbed the store where she worked. Thankfully, unlike most rapists, Union's attacker received a 33-year prison sentence for his crimes. In a series of Oct. 15 tweets, Union wrote, "Reminder. I got raped at work at a Payless shoe store. I had on a long tunic & leggings so miss me w/ 'dress modestly' shit," and went on to note that "[even t]hough I was raped by a stranger who raped me at gunpoint after robbing the store, I was still asked by a female 'friend' what I had worn."
The Guardian reports that Not That Bad will contain "a collection of first-person essays covering topics from the rape of refugees displaced by global crises to first-person accounts of child molestation." Copy in the book's description on the HarperCollins website notes that "this collection is often deeply personal and is always unflinchingly honest."
Not That Bad is available for pre-order now. You can pick it up at your favorite bookstore on May 1, 2018.
If you are an assault or abuse survivor, the trained staff of the National Sexual Assault Telephone Hotline are always available to listen, offer advice, or help you find the resources you need.