It Looks Like Roy Moore Wasn't Joking When He Threatened To Sue Sacha Baron Cohen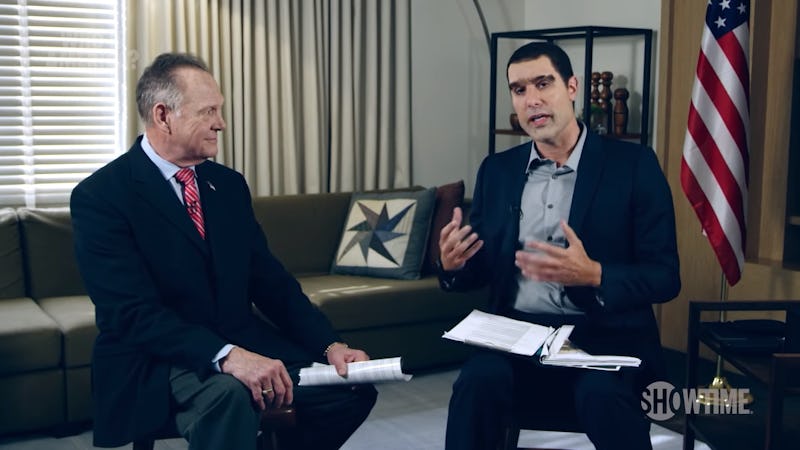 SHOWTIME/YouTube
Showtime's new show Who Is America? has informed its viewers of a lot since its launch earlier this year, exposing what appear to be the true colors of some major politicians. In each episode, the disguised host has an individual perform ridiculous tasks or answer probing questions, often to the guest's disdain. Now one of those guests, Roy Moore, is suing host Sacha Baron Cohen for supposedly tricking him into starring on the show. Bustle has reached out to Baron Cohen and Showtime for comment.
"The press has been sent copies of an alleged complaint, yet to our knowledge SHOWTIME has not been served," the company's spokesperson tells Bustle in an emailed statement. "With that said, we do not comment on pending litigation."
The $95 million lawsuit includes charges of fraud, intentional infliction of emotional distress, and defamation. Moore says he was told by Cohen's crew (pretending to be a fake Israeli TV station) that he would be accepting an award in Washington D.C. for his support of Israel. Instead, he found himself in an awkward interview with Cohen, who was disguised as "Col. Erran Morad."
According to the lawsuit, Cohen conducts his interviews "under dishonest, unethical, illegal and false pretenses." Cohen sets up "victims" to "severely humiliate them on film to promote his works and to generate large financial returns for himself," the document adds. Moore says he and his wife would not have flown to D.C. if they had known the invitation's true intention.
Moore, the former chief justice of Alabama's Supreme Court, made national headlines last year during his state's special election when he ran against Doug Jones for Senate. During his campaign, nine women came out with accusations of sexual misconduct against him, CNBC reports. And many of those women were supposedly only teenagers at the time; Moore would have been in his 30s. He vehemently denied all allegations, and sued some of the women last April, claiming their statements were a part of a "political conspiracy." Even so, he lost the election and Jones became Alabama's first Democratic senator in 25 years.
Cohen didn't let Moore forget this. On his show, Morad began discussing Israeli military technology, then introduced a security wand that supposedly detects pedophiles. Morad feigns surprise when the wand beeps in front of Moore, who sits looking quietly irritated as the shenanigans continue.
Finally, Moore says "I've been married for 33 years. Never had an accusation of such things … Certainly, I'm not a pedophile, okay?" and cuts the interview short. In a statement following the episode's taping, People reports, Moore said he did not know about the existence of Who Is America?
"I did not know Sacha Cohen or that a Showtime TV series was being planned to embarrass, humiliate, and mock not only Israel, but also religious conservatives such as Sarah Palin, Joe Walsh, and Dick Cheney," said Moore at the time, naming other guests of Cohen's show.
Moore signed a release before the episode was taped, but says the form was signed under false pretenses. He claims that the show, which aired in late July, defames his character, accusing him of criminal acts he did not commit. Cohen and his network was issued a summons Wednesday, demanding a response within three weeks.
"This false and fraudulent portrayal and mocking of Judge Moore as a sex offender, on national and international television, which was widely broadcast in this district on national television and worldwide, has severely harmed Judge Moore's reputation and caused him, Mrs. Moore, and his entire family severe emotional distress, as well as caused and will cause Plaintiffs financial damage," reads the lawsuit.