The New 'RuPaul's Drag Race: All Stars' Cast List Is Here & You'll Have Lots Of Feelings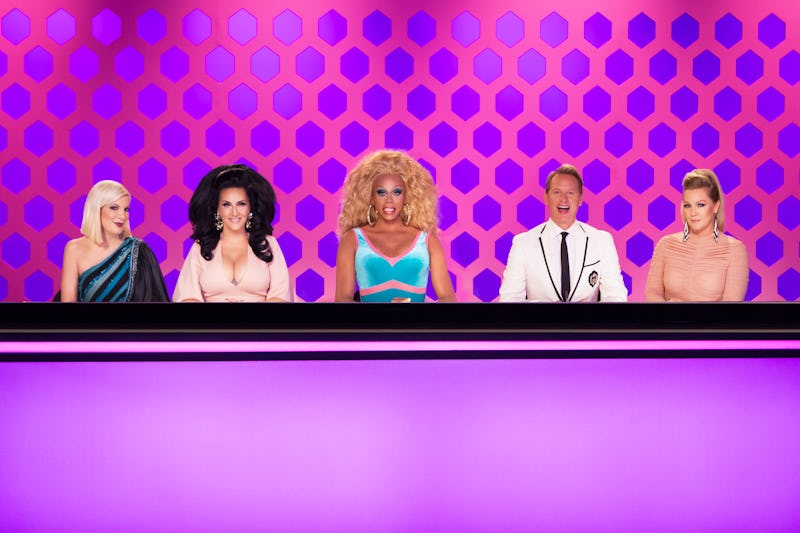 VH1
Start your engines, there's exciting RuPaul's Drag Race news on the horizon. On Friday, Oct. 20, RuPaul announced the RuPaul's Drag Race: All Stars Season 3 cast during an hour-long special on VH1 called the Exclusive Queen Ruveal. The Emmy Award-winning host, who also serves as the executive producer of the series, was joined by Chaka Khan to reveal the new cast — and it's filled with plenty of fan-favorites (and some choices that you might not be as happy about).
In a VH1 press release prior to the big reveal, RuPaul teased,
"Millions of fans have their favorite queens that they THINK should be on All Stars 3. But the final decision is mine to make. Prepare to be gagged."
There were more than 100 queens to choose from, according to Ru, who handpicked the cast. Clearly, there were plenty of tough decisions to be made before settling on the final cast. And before the big reveal, it was announced that Aja from Drag Race Season 9 would be joining the cast during a special Facebook Live video earlier on Friday. Aja tweeted, "Are you gagged that I'm back? Cause I'm gagged that I'm back. Here we go #AllStars3!"
Here's the Season 3 cast list, which will be updated as the contestants are announced throughout the special.
Aja
As mentioned above, Aja was the first contestant to be announced. She was eliminated last season after not impressing the judges with her part in the 90210 recreation and ultimately losing the lip-sync to Nina Bo'Nina Brown.
BenDeLaCreme
BenDeLaCreme was voted Miss Congeniality when competing on Season 6. She said during the special that she wants to prove a drag queen can "age gracefully."
Milk
This New Yorker competed on Season 6. As Milk mentioned during the Ruveal special, she has a background in figure-skating. She also said she's "transformed" her makeup aesthetic and is ready to win this time around.
Shangela
Fans will likely remember Shangela from Season 2 and 3 of RuPaul's Drag Race. She was actually the first contestant to get a second chance and reappear in another season. And though she only had five months of drag under her belt when first filming Season 2, now she's a pro.
Thorgy Thor
This Season 8 queen admitted she auditioned for the show seven years in a row before finally landing her shot. And now, she's back and better than ever.
Trixie Mattel
Trixie Mattel appeared in Season 7 and says she's a comedian above all else. While she revealed her heart sank when she left the first time, she's ready to give it another shot and prove Ru wrong.
Kennedy Davenport
This self-proclaimed "dancing diva" is back. During the Ruveal special, she recalled being most proud of her Little Richard impression during Snatch Game in Season 7.
Chi Chi DeVayne
Chi Chi started doing drag seven years ago, but you'll remember her from Season 8 of the competition series. Looking back at her time on the show, she said her looks and outfits could have been more "polished."
Morgan McMichaels
This Scotland native competed in Season 2 of Drag Race. And as RuPaul said when announcing the new cast, All Stars would be incomplete without Morgan McMichaels. Morgan says she's here to take the crown this time.
A Mystery 10th Contestant
At the end of the special, RuPaul said that the 10 contestants had been announced, before pausing and clarifying that actually only nine had been revealed. Ru joked about being "awful at math," but this raises the question of whether a final contestant will be added later on. You'll just have to wait and see.
According to Entertainment Weekly, the new season of Drag Race: All Stars premieres in early 2018. But if that seems like forever away, there is some good news: VH1 is airing a full marathon of Season 2 on Sunday, Oct. 22 at 12 p.m. EST. So, at least you can have some Drag Race in your life until the show officially returns.