Why Yuhua Hamasaki Says She Wasn't Making Excuses On 'RuPaul's Drag Race'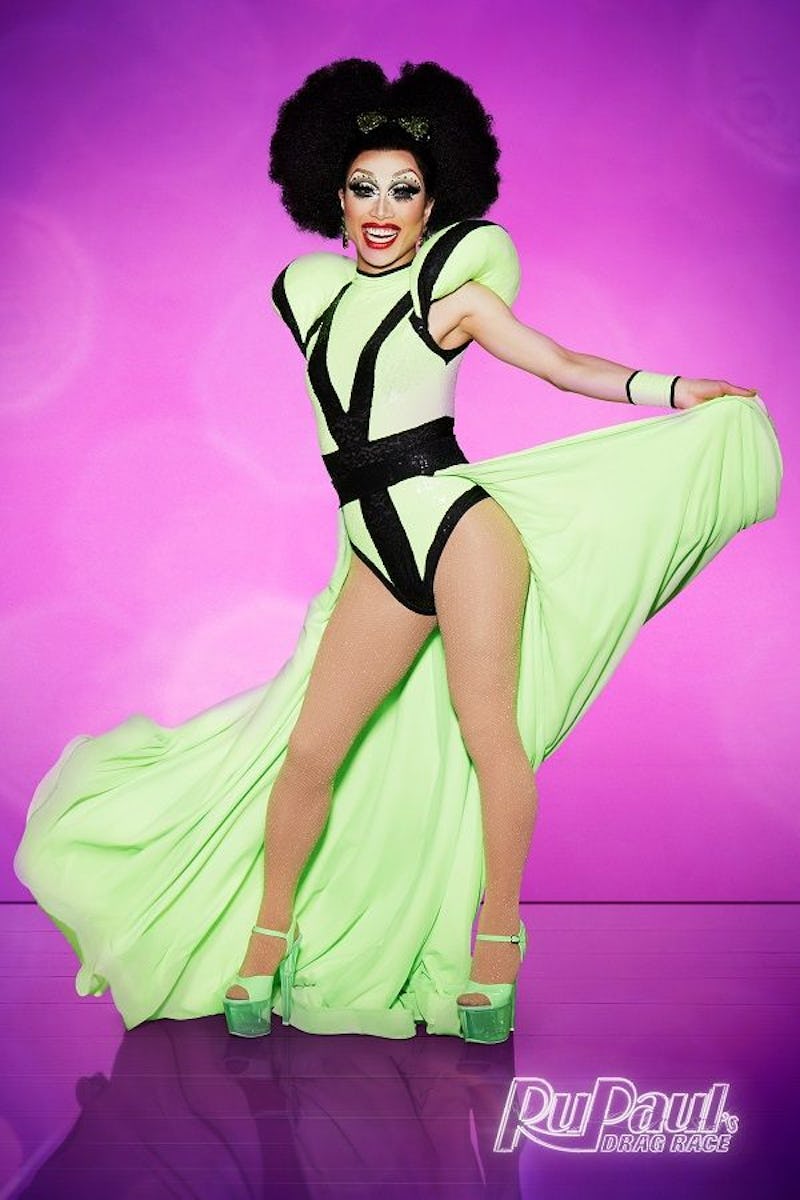 VH1
On RuPaul's Drag Race, clap backs are basically encouraged among the queens. However, when the judges are talking, they don't appreciate responses to their critiques. One of the judges on the show Michelle Visage even critiqued the now-eliminated RuPaul's Drag Race star Yuhua Hamasaki on that clap back habit of hers. But, Yuhua doesn't think she made excuses on the show. In an interview with Bustle, she wants to clarify that she thinks she was just trying to give some background on her looks and actions. "I wasn't trying to make excuses, I was trying to explain myself, what my vision was," she says.
Yuhua felt that the judges didn't understand the context around some of her looks. "I thought they just didn't want me to talk back," Yuhua says. "When I think of clap back I think of me, what do you call it umm… talking back, that's what I think," she says. "I was trying to explain myself, you know? If I don't explain myself, then I'm going home. So either I explain it, or I don't. I keep quiet, I go home. That's how I view it."
During her time on Drag Race Season 10, Yuhua was only in the bottom once, but, unfortunately for her, that was all it took to send her home. After losing her lip-sync battle with Mayhem Miller, she became the third queen to be sent home this season. Unsurprisingly, she reveals that part of the experience was not so pleasant for her. "It doesn't feel good to get eliminated. Especially on a national level, with millions of viewers watching, it does not feel good," she says.
However, she's choosing to look at the experience optimistically. "At the end of the day, I can either look at it as a negative, and say, 'Hey I got eliminated on national television' or I can look at it in a positive way and say, 'Hey that's just the beginning of everything'," she says. "My success is determined by the amount of hard work that I'm willing to put in after the show, knowing that I'm given this amazing platform."
Now, having experienced what it's like to be on Drag Race once, Yuhua also said she'd love to come back and try her hand again. She wouldn't need to wait, either. She says she'd be willing to go back on tomorrow if they gave her the phone call.
"I would love to … It's a lot of hard work, but at the same time, it's very rewarding. So now that I have a grasp on knowing more about the competition, and learning more about myself, I would totally go back in there and just lay this freaking competition down," she says. "Tomorrow? I would say, yes. I would totally do it. It's an opportunity; it doesn't come very often, so if there's an opportunity, just walk through that door, because you never know what's going to happen."
Yuhua is glad she did take that risk and audition for the show, as it gave her a sense of accomplishment. She says she wants her experience to inspire other drag queens to try out for themselves in the future. "I left feeling proud," she says. "Just be yourself. Honestly, trust your vision. Even if the judges don't like it, if it's your vision and you 100 percent believe in it, even ... if you get eliminated, you will feel proud."
Whether Yuhua was making excuses, clap backs, or giving context to her work seems to be a difference of opinion. But, while on the show, she gave it her all — and that's what she's proud of in the end.