The "Sad Melania" Meme Is Anything But Funny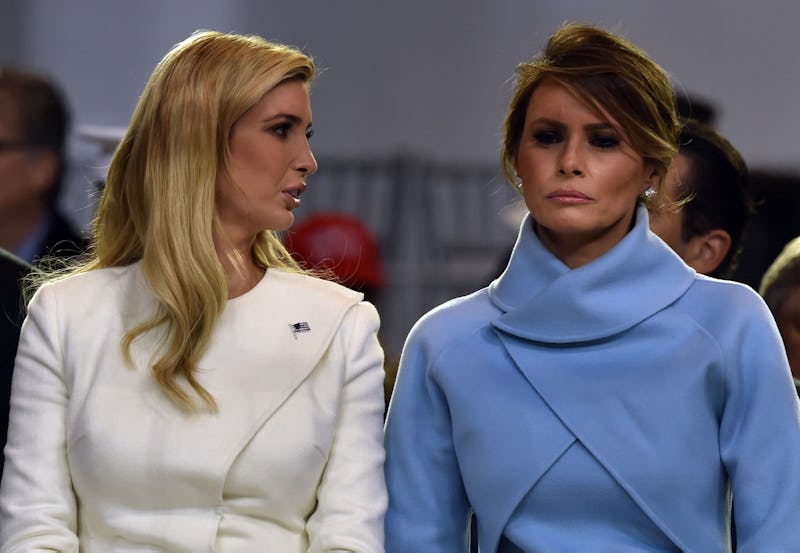 NICHOLAS KAMM/AFP/Getty Images
President Donald Trump's inauguration was full of meme-able moments, including, but definitely not limited to, former First Lady Michelle Obama's reactions and former President George W. Bush's struggles with a poncho. But there's at least one First Lady Melania Trump meme that isn't funny — it actually devalues her agency as a woman who can make her own decisions.
On Twitter, a video surfaced of Melania smiling at Donald during the ceremony, but immediately losing that smile as soon as he turns away from her. That, along with a few other chosen photos and videos from the election led to to the rise of the "Sad Melania" meme. The Daily Show even jumped on the meme, with host Trevor Noah describing the contents of Melania's present to Michelle as "just a tiny note from Melania that said 'help.'"
At first glance, given many people's negative feelings towards the president, this meme might seem funny. But there's nothing funny about the thought of a woman not having agency over her circumstances. Not that Melania doesn't have control over her own actions — as April Reign pointed out on Twitter, "Melania is a rich, privileged 46 year old woman who willingly married Trump, had his child, and furthered the birther claims against Obama." Melania has also addressed being "misrepresented" as demure: "I'm not shy. I know what I want, and I'm selective," she reportedly told DuJour. From Melania's own words, it certainly doesn't seem like she's "trapped."
The First Lady has made it clear in the past that she prioritizes being a "mom first" over acting the part of a political spouse, Vanity Fair reported. During an interview with DuJour, Melania said she told Donald before he decided to run, "You really need to think, because our family life will change"; clearly, the First Lady was hesitant about Donald's decision to seek the presidency. If Melania's first priority is being a mother, then her concerns about how Donald's job would affect their 10-year-old son Barron could have been the cause for her subdued facial expressions. After all, on the day of the inauguration itself, a now-suspended Saturday Night Live writer made an insensitive Twitter joke about Barron becoming a "homeschool shooter," which, as a mother, was probably horrifying for Melania to see.
To be fair, no one other than Melania actually knows what was going through her head that day. And even if she wasn't worried about her family, making fun of Melania for not smiling throughout the ceremony is sexist. It's actually reminiscent of MSNBC's Joe Scarborough's extremely criticized tweet telling Hillary Clinton to "smile" after she won the Democratic primary election. Women don't have to change their facial expressions for anyone, even if they're the first lady.
So, yes, as a public figure Melania is fair game for being the subject of memes, but not if they perpetuate the idea that she has no agency over herself.