Sally Yates Responds To Being Fired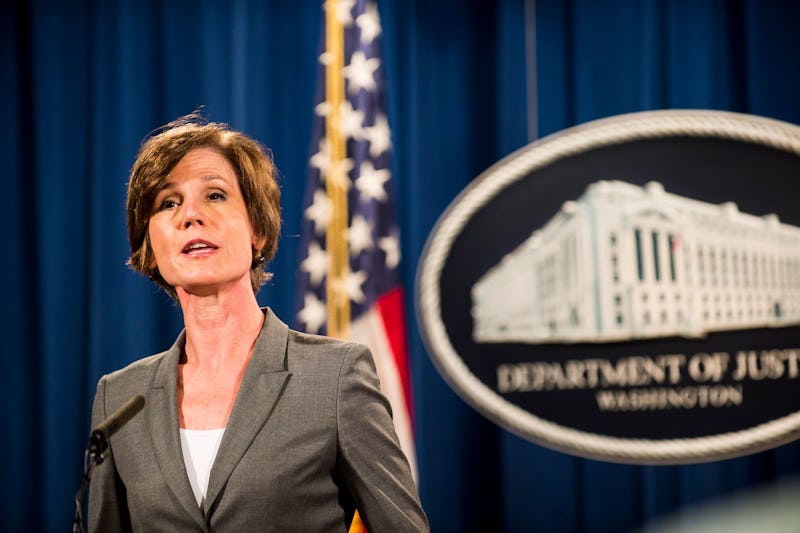 Pete Marovich/Getty Images News/Getty Images
Update: BuzzFeed reports that Sally Yates does not have a Twitter account, and that the account is false.
Earlier: Ten days into his presidency, Donald Trump fired Sally Yates, the acting attorney general, on Monday night. Yates had ordered the Department of Justice not to defend Trump's hardline immigration order, noting in a statement that these values didn't align with her own. Two hours and many The Apprentice jokes later, Yates was "relieved" of her role as the stand-in between Loretta Lynch and, presumably, Jeff Sessions. Early Tuesday morning, Yates responded to being fired by Trump on Twitter.
Prior to being fired, Yates had not stayed silent about what she saw as injustices committed by the White House. "Days after Trumps #MuslimBan a mosque attacked in Canada - 6 Muslims killed - & Trump & his supporters says Islam is the cause. Get a life!" she tweeted on Monday. (It's clear that Yates does not mince her words.)
After being "relieved" of her duties, Yates wrote: "Thank you everyone for supporting and standing by. I took and upheld oath to defend the constitution not to someone's personal likings ... It was an honour [sic] serving the people of United States as Deputy & Acting Attorney General. We all make America great. Diversity is the win!"
Since Monday, Yates has been roundly praised for standing up for refugees and immigrants in the face of Donald Trump's order.
#ThanksSally began trending on Twitter Monday night.
"Thanks, Sally"
It's unclear what Yates will do next, but Lisa Bloom seemingly offered her a job via Twitter.