These Samantha Bee Jokes About Trump & Sean Spicer Will Make You Wince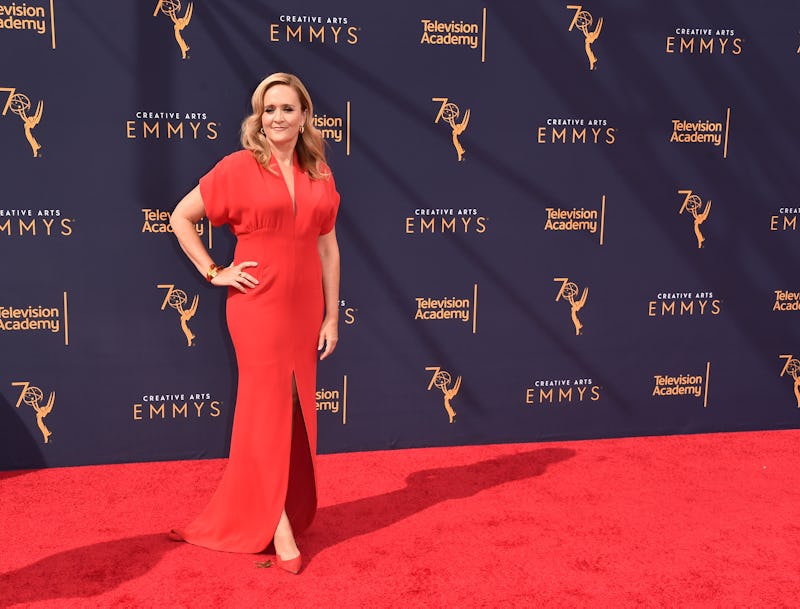 Alberto E. Rodriguez/Getty Images Entertainment/Getty Images
Sean Spicer may be done serving the Trump administration, but he's not done paying for it with jokes at his expense. On Sunday night at the Creative Arts Emmys, Samantha Bee joked about Spicer, President Donald Trump, and the free alcohol on offer after the show — at points making even the guests cringe, Deadline reported.
Bee was presenting the award for the Best Reality Series Host and joked that the award "is the stepping stone to becoming President of the United States." Trump grew in fame during the years he hosted The Apprentice on NBC. The Full Frontal host then reminded the host that the Emmy statuette was a woman "and to ask before touching."
Spicer was targeted when Bee gave thanks because "none of us has to make small talk with Sean Spicer this time." Last year Spicer showed up at the Primetime Emmy Awards for a cameo. When the audience reacted in surprise to Bee on Monday, she said, "You know I'm right."
The award was the last one presented, and acknowledged that she was regularly asked to stop talking. "I am all that stands between you and a buffet full of free alcohol," she said, according to Deadline. Bee's jokes about being wanted to stop talking may have also been with reference to Trump. The two have engaged in a feud over jokes that she has said on her show. Trump ultimately called on TBS to fire her; they didn't.
Bee eventually apologized for the language used in one of the jokes, which was about the president's daughter Ivanka. "I would like to sincerely apologize to Ivanka Trump and to my viewers for using an expletive on my show to describe her last night. It was inappropriate and inexcusable. I crossed a line, and I deeply regret it," Bee said in her apology.
Full Frontal was up for several awards including Best Interactive Program, Best Variety Special (Recorded), Best Directing (Variety Series), Best Picture Editing (Variety), and Best Writing (Variety Series). The show didn't take any home Emmys, but the attention was welcomed by some of the show's correspondents who spoke from the red carpet to GoldDerby.com.
This is not the show's last chance to win. It's also up for Outstanding Variety Talk Series at the Primetime Emmys against Jimmy Kimmel Live!, Last Week Tonight with John Oliver, The Daily Show with Trevor Noah, and The Late Show with Stephen Colbert.
"We work so much in a bubble at our show because we work so much, it's good to know that people are actually watching the show and that they enjoy the show," Allana Harkin, a Full Frontal correspondent, said. "Especially something like our Puerto Rico special that we were all so extremely passionate about."
That was the episode up for the Best Variety Special (Recorded) award. Harkin also promised not to run for president if she won an Emmy (Trump never did win). That implies she might still be in the running.
According to Bee's assessment of the reality host award's winner — that they're on a path to become president — you should keep your eye on RuPaul Charles, host of RuPaul's Drag Race, who won this year.
If that's true, Trump may just sashay away in 2020.