Samantha Bee's 'NTWHCD' Pantsuit Is Great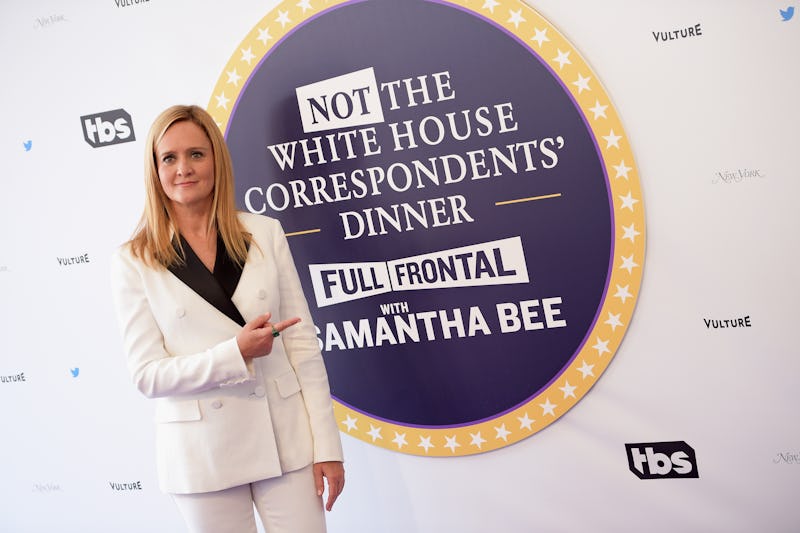 Jason Kempin/Getty Images Entertainment/Getty Images
It's not exactly typical to host a separate event during the White House Correspondents' Dinner, but since the theme for this year seems to be all about going against tradition, that's precisely what the host of Full Frontal is doing. Samantha Bee wore a pantsuit on the "Not The White House Correspondents' Dinner" red carpet, possibly channelling her inner Hillary Clinton, and it was the perfect look for the occasion.
Clinton is obviously known for her strong pantsuit game, so who better to emulate at such a politically-charged occasion, you know? Bee wore a white two-piece suit with black accents — a stripe running down the pant leg, and a wide black lapel — and paired the ensemble with black heels. It was a great style move, and though it's unclear whether it was intended to be a Clinton tribute, it is very reminiscent of the blazer and pants combos seen from former the former Democratic presidential candidate.
Bee is hosting the "Not The White House Correspondents' Dinner," and is aiming for it to be an alternative event for those who may be debating whether or not to watch the actual WHCD. Things are going to be a little different this year due to the fact that President Trump will not be in attendance. He's the first president in three decades to skip out on the evening, according to Huffington Post. "But this really is, for us, a celebration of the journalism that makes our show possible," Bee told Vulture. "So we are just here to celebrate the freedom of the press, for as long as we have it."
Bee is keeping it classy with this double-breasted blazer.
The stripe down the side is a nice, refreshing touch.
She's definitely keeping pantsuit nation alive.
Clinton has definitely worn similar all-white ensembles in the past. Whether Bee meant this as a nod to Clinton's iconic look or whether it was mere coincidence, it was still a timely fashion choice.
Either way, Bee looked pitch-perfect.