Why Cuba Could Be The Next Country To Legalize Same-Sex Marriage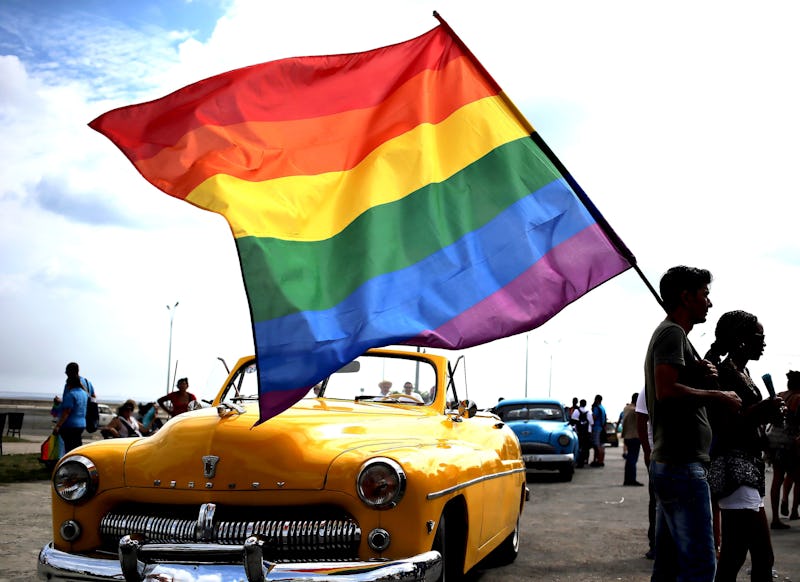 Alejandro Ernesto/EPA/Shutterstock
In a move that could herald positive change for the LGBTQ community on the Caribbean island, Cuba's new leader said that he was open to same-sex marriage. Cuban president Miguel Diaz-Canel said that he was against discrimination of any kind in regards to same-sex marriage, according to an interview he gave to TV Telesur on Sunday.
In his interview, Diaz-Canel said that he supported working to officially recognize "marriage between people without any restrictions." He added, "We've been going through a massive thought evolution and many taboos have been broken."
If drafted into the Cuban constitution, this would be a significant shift in local politics. At the moment, Cuba operates under its 1976 national charter, which presently defines marriage as only between "a man and a woman." The BBC reported that through a national referendum aimed for February 2019, Cuba's updated constitution will include for a definition that only mentions "two persons."
The Cuban president, who took office in April, is not the only high-profile figure to support same-sex marriage. Other prominent Cubans in favor of decriminalizing same-sex marriage include Mariela Castro, the daughter of former Cuban President Raul Castro and the niece of the late communist revolutionary Fidel Castro. Castro is also the director of the Cuban National Center for Sex Education.
TV Telesur reported that it would be the first time for a Cuban president to share positive support for same-sex marriage since the Cuban revolution took place. If the reform is executed successfully, the definition of marriage would change all the while the proposed Cuban constitution follows a "sustainable socialist" form of governance, according to the report.
As mentioned before, Castro remains one of the most prominent public figures to call for the legalization of same-sex marriages in Cuba. In July, she gained nationwide attention for participating in a constitution-relevant debate by the National Assembly on the Caribbean island. In that particular exchange, Castro demanded that homophobia be addressed in Cuba.
While well-known public figures as well as the Cuban government have shown a willingness to reform the Cuban national charter as far as its same-sex marriage stance goes, others in the country have not been so excited about the prospect.
In some cases, churches such as the Assembly of God Pentecostal Church, the Methodist Church of Cuba, and the Evangelical League have opposed the proposition to define marriage as a union between "two persons" or "two people." Marriage, according to these churches, should officially remain between man and woman.
According to the Associated Press, the aforementioned churches even issued a joint letter slamming the proposal for the drafted constitution by calling it "gender ideology" that possesses "nothing whatsoever to do with our culture, our independence struggles nor with the historic leaders of the revolution."
It's hard to say whether (or not) Diaz-Canel and Castro's various efforts to legalize same-sex marriage will endure local opposition. For now, people who are interested in seeing what unfolds on the Caribbean island should keep their eyes and ears open for the February 2019 nationally-held referendum.