The Way Sarah Huckabee Sanders Preps For Press Briefings Sounds Super Dark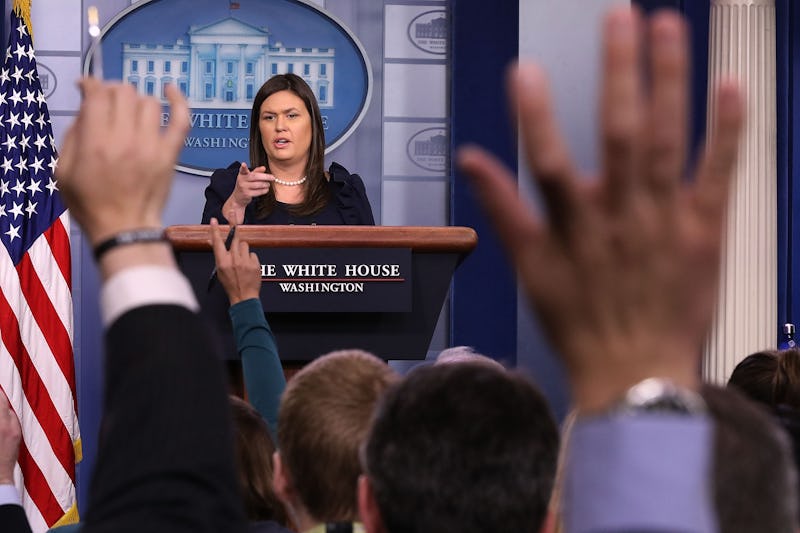 Chip Somodevilla/Getty Images News/Getty Images
In a White House as volatile as President Donald Trump's, Press Secretary Sarah Huckabee Sanders has turned out to have impressive staying power. As much time as she spends in the spotlight, though, there's still not a lot of information about her out in public. For example, you probably know nothing about how Sarah Huckabee Sanders prepares for press briefings — but now, thanks to a new profile of her from the New Yorker, you've got an insight into that process.
Sanders didn't offer a comment on this part of the profile, but Sanders' deputy Raj Shah told Paige Williams at the New Yorker that instead of the "mishmash of a process" that took place with former Press Secretary Sean Spicer, Sanders' preparation is much more regimented.
Shah said that after Sanders' team puts together a "press guidance" package of talking points, which Sanders then goes through and "internalizes," as Shah put it to the New Yorker. The next step, according to Shah, is the "murder-board" session.
A murder board might sound rough, but it's a tool that you may want to employ the next time you're preparing for a big presentation. According to Business Insider, it was developed in the U.S. Military as a way of preparing people for oral exams.
For a murder board session, according to Business Insider, you gather together a group of people who will ask you all of the worst, toughest questions about your presentation, so that you'll be prepared for those questions during the real thing.
During the murder board session that Williams sat in on at the White House in early July, aides asked Sanders about everything from potential replacements for retiring Supreme Court Justice Anthony Kennedy to potential new tariffs on Canadian imports to family separations at the southern border. This, Williams wrote, was a chance for Sanders to develop and practice the talking points that she would eventually go on to use — often repeatedly — at the press briefings.
For example, Williams described how Sanders practiced defending the zero-tolerance policy that was leading to the family separations. If she was asked whether separating children from their parents was in the children's best interest, the prepared answer was that bringing children to the border illegally wasn't in their best interest in the first place.
This, clearly, is a much more polished response than the time Sanders told CNN reporter Jim Acosta, in response to a question about the morality of the policy, that "it is very biblical to enforce the law."
Acosta had appealed to Sanders' religious beliefs, which are one aspect of her life that had already been well covered in the media before this New Yorker profile came out. Williams, though, still took the opportunity to ask Sanders about her beliefs on how she could reconcile her view of morality with some of the lewder episodes of her boss' life.
"I'm not going to my office expecting it to be my church. Frankly, if people of faith don't get involved in the dirty process, then you're missing the entire point of what we're called to do," Sanders told Williams. "You're not called to go into the places where everyone already thinks like you and is a believer—you have to go onto a stage where they're not."