SJP Flats Are Here Just In Time For Summer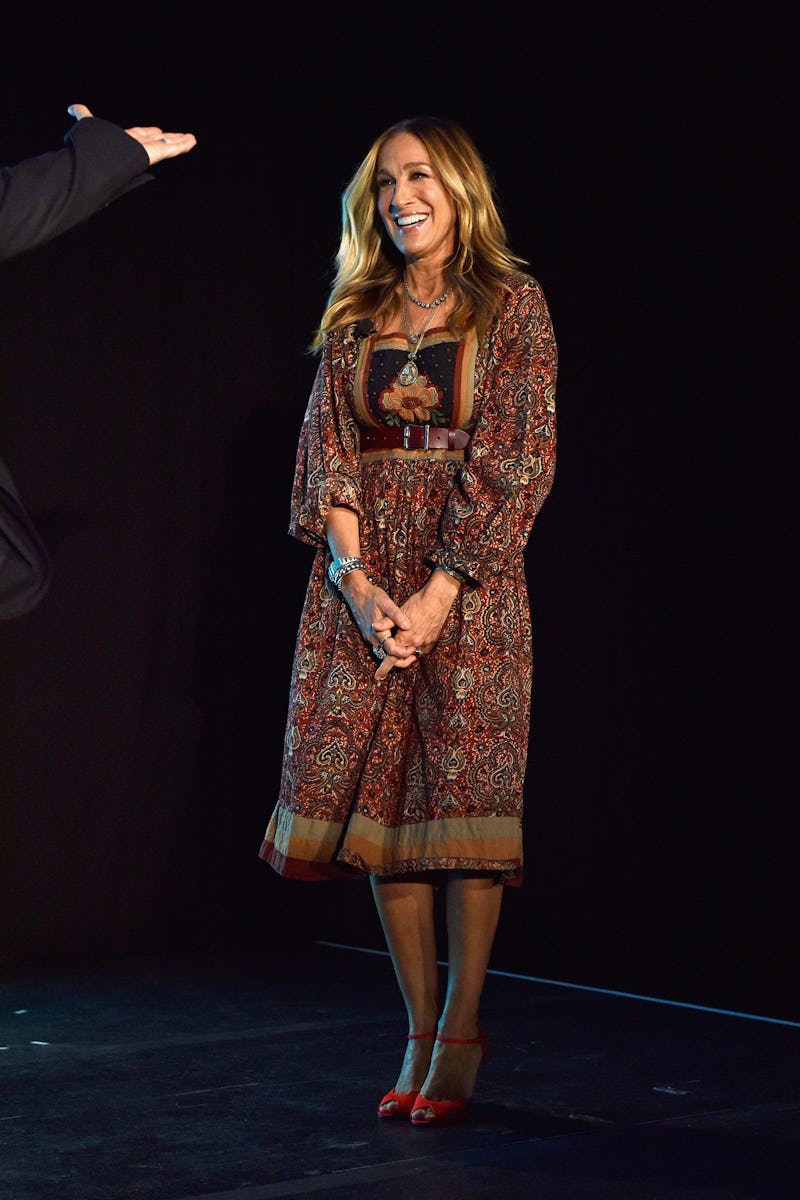 Bryan Bedder/Getty Images Entertainment/Getty Images
Sex and the City's Carrie Bradshaw would rather go barefoot than swap stilettos for sneakers. I wonder if the fictional fashionista even owned a pair of kicks, if only for going to the gym. Her alter ego Sarah Jessica Parker has her own SJP shoe line, which dropped its first-ever sneaker, despite being several seasons deep into its existence. BTW, any SATC trivia buffs, enthusiasts, and superfans out there can message me and LMK if CB ever wore sneakers; a quick and cursory Google search didn't yield any Carrie-wearing-sneakers results and I am super curious. I'm more of a casual fan of the show, like the SJP sneakers are more casual than the shoe brand's usual offerings.
Back to the matter at hand, er, foot! Generally, the SJP footwear is very Carrie. There are lots of sky-high heels and power pumps with jawdropping details and embellishment.
The first SJP sneaker is named "Meteor" and oh how she sparkles! SJP debuted the shoe on her personal IG, saying that it is "comfortable, smart," and a "day-to-night silhouette that's SO sparkly she'll blow your mind."
I can so get down with that sort of shoe even if CB can't.
Meteor is a silver flat that has a t-strap, a pointy toe, and a white sole aka not a typical sneaker. How about a look at her?
They are more like feminine flats than athletic trainers or pumped up kicks. But they are super adorable, are a more casual option in the line, and look killer with a pair of skinnies. Denim?! That's another thing that CB seemed to own in very, very short supply.
They are crazy cute and can be dressed up or down.
You can pair them with leggings or an LBD!
The Meteors are $255 at Zappos even have a maroon stripe on the heel because #details. This is the Woven Grey version, so this silhouette comes in different versions.
You can totally see yourself living in these during the warm weather months can't you?
The Meteors, along with Rihanna's Creeper sandals and the new Jelly Slides, are certainly the candidates for the show of the summer.
You can reserve those basic flip flops for the beach.
This is the "usual" with SJP's shoe collection! Sky high, baby! And if you are looking for something to pair with these sorts of shoes, SJP has an LBD line at Bloomingdales.