Everything From Rihanna's Lingerie Collection Is Half Off For Black Friday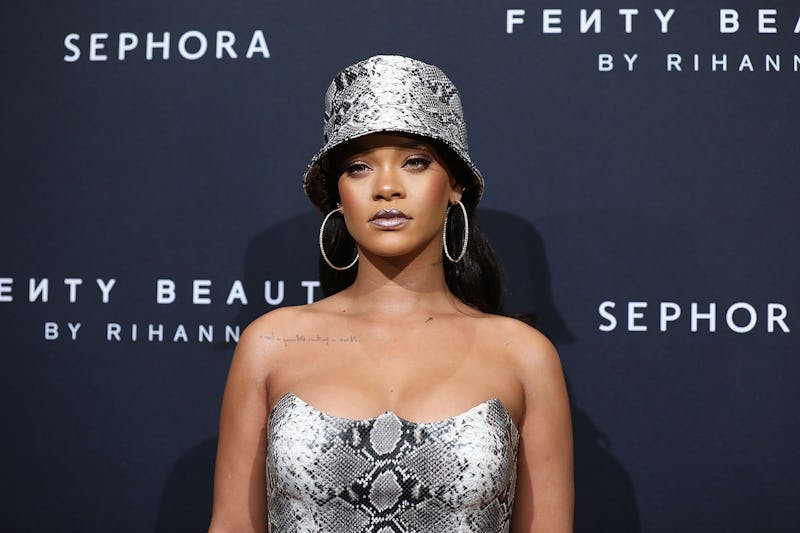 Caroline McCredie/Getty Images Entertainment/Getty Images
Black Friday is right around the corner, and as you're busy stocking up on half price makeup products and laptops, remember to replenish your underwear drawer — especially since Savage x Fenty is going to be 50 percent off during Black Friday. (Sizes include 32A-44D and XS-3X.) Anyone who has ever bought a lacy bra or a negligee will know that those purchases don't come cheap, where the more sheer panels, delicate lace, and boa-like feathers involved raise the price tag further and further up. But rather than dropping the equivalent of a month's worth of groceries on a few thongs, you can now make your dollar stretch and get literally double the items for the same amount during Savage x Fenty's Black Friday sale.
Rihanna announced the massive price slashes on her Instagram account, where she posted a photo of herself wearing red sporty briefs, high heels, and black opera gloves while lounging on an unmade bed, all casual like. The caption reads, "We getting NAUGHTY-not-NICE this season! @savagexfenty just dropped The Ultimate Gift Guide to help you shop gifts for everybody in ya life !! Hit up SavageX.com to get 50% off everything for a limited time!" From savage stocking stuffers, to presents for your favorite people, to naughty treats for yourself, now is the time to strike with precision and stock up on her coveted lingerie items.
The gift guide that Rihanna mentioned consists of four sections: Gifts for Her, Savage Stocking Stuffers (that consist of Charm Undies and Savage Xccessories,) Gifts For You, and New Arrivals. Check out some of the picks below, and get to shopping!