'The Avengers' Cast Is Joining Forces To Support Puerto Rico In An Unexpectedly Awesome Way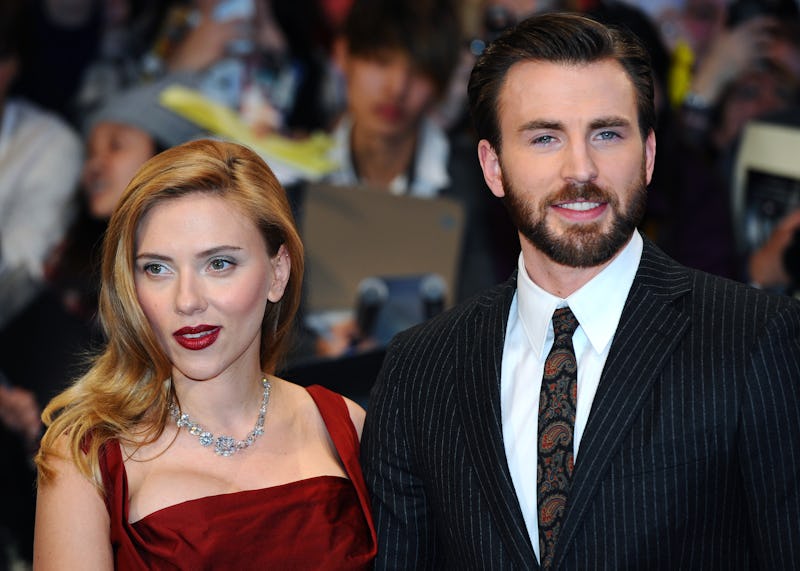 Anthony Harvey/Getty Images Entertainment/Getty Images
The stars of Marvel's Cinematic Universe are getting together for a one-night-only event for an incredible cause. Thanks to Scarlett Johansson, multiple Avengers actors are supporting Puerto Rico relief efforts — and no, it's not in the way you'd expect. According to Entertainment Tonight, the actor who plays Black Widow is organizing a star-studded reading of Thornton Wilder's play Our Town, starring fellow Avengers actors Robert Downey Jr. (Iron Man), Chris Evans (Captain America), and Mark Ruffalo (the Hulk). Johansson will also appear onstage alongside her co-stars. According to Playbill, Tony winner Kenny Leon will direct the performance, and proceeds will go to the Hurricane Maria Community Relief and Recovery Fund. Additional celebrities performers are also expected to be announced.
On Friday, Oct. 20, Johansson announced the benefit reading in a press release, according to ET. She said,
"The struggle faced by Puerto Rican residents since their island was ravaged by Hurricane Maria is terribly heartbreaking and has left many feeling hopeless and helpless. It is a great privilege to be able to participate in whatever way I can, to provide some relief to those that are struggling to access even the most basic of human needs in the aftermath of this disastrous event."
The reading will take place at Atlanta's Fox Theatre on Monday, Nov. 6. According to The Hollywood Reporter, the stars are currently in Atlanta filming the next two installments of the Avengers franchise.
Hurricane Maria caused massive damage to Puerto Rico's infrastructure, according to CNN. More than 1 million residents of the storm-ravaged island still lack access to drinking water, and 3 million (or 88 percent of the territory) are still without power, The Weather Channel reported on Friday. There have been 48 deaths officially reported by the government. However, a Vox investigation recently found reports that the death toll could be as high as 450.
Members of the U.S. Senate are expected to vote on the $36.5 billion disaster relief funding package recently passed by the House of Representatives in the next few days, after being urged by President Trump to move quickly and not add additional funds to the measure, according to the Washington Examiner. The New York Times reported the aid package would provide hurricane and wildfire relief funding in Puerto Rico. It would also bail out the troubled National Flood Insurance Program, and help the Puerto Rican government avoid running out of cash. The legislation was approved by the House with a 353 to 69 majority, all "no" votes coming from Republicans members, according to the Times.
Johansson joins the likes of stars like Jennifer Lopez, Real Housewives star Bethenny Frankel, Marc Anthony, Alex Rodriguez, Chelsea Handler, and more who have publicly supported relief efforts in Puerto Rico.
As Playbill noted, Johansson won a Tony Award in 2010 for her performance in A View From the Bridge, which was her broadway debut. She's also appeared in revival of Cat on a Hot Tin Roof.
"Please help me and my co-stars in coming together for a one-time-only extraordinary evening to raise lifesaving funds for a devastated community," Johansson's statement continued, "and to help celebrate the true meaning of community with this unique reading of a great American classic." Tickets for the reading go on sale Monday, Oct. 23, and can be purchased through the Fox Theater's website, or by phone (855-285-8499). They will be priced between $89 and $1,000, with the latter charge being for limited VIP seats.
Based on the current cast list, the show sounds like quite the experience, especially if you're a fan of The Avengers. Even if you can't make the show, you can still support the relief efforts in Puerto Rico by making a donation (of any amount) directly to the Hurricane Maria Community Relief and Recovery Fund through their website.