Scott Disick Flips Out About Kourtney Kardashian Dating & It's So Hypocritical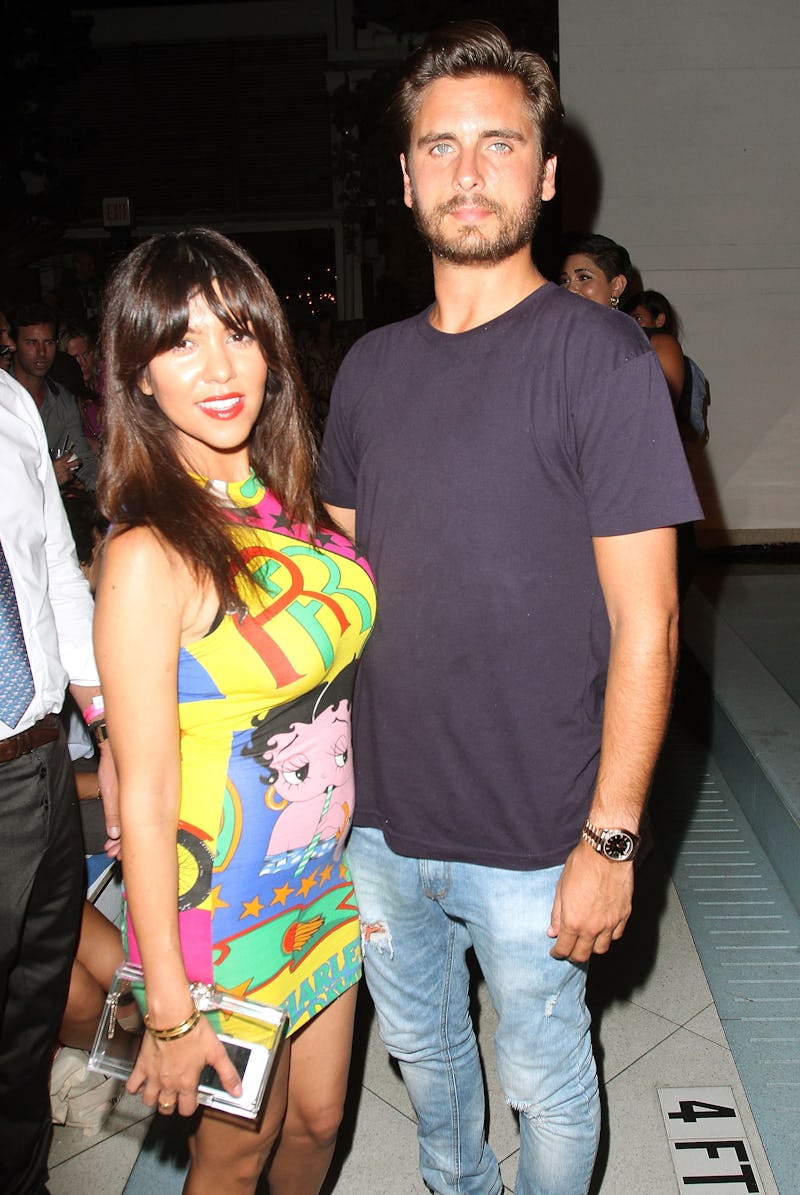 John Parra/Getty Images Entertainment/Getty Images
Just because Kourtney Kardashian and Scott Disick broke up in 2015, it doesn't mean there's no more drama between them — actually, according to this week's episode of Keeping Up With The Kardashians, it's the opposite. Scott flipped out about Kourtney's new boyfriend, even though he's been dating for awhile. And although we've seen them struggle plenty this season and last as they figure out how to co-parent without being in a romantic relationship, now that they're both seeing other people, things are getting even rockier between them.
It all started when Scott found out that Kourtney was going to Cannes with her new boyfriend, Younes Bendjima. According to Kourt, Scott started texting her things like, "your little friend is going to get beat up every single day we're there," which obviously, she took as a threat, and when Khloé tried to call him, he ignored all of her calls.
Later, in an interview, Scott admitted that he felt Kourtney was being condescending to him so he got defensive, but obviously, it's not OK to threaten someone no matter what — and as it turns out, for Kourtney, their issues went even deeper than just an unhealthy relationship she used to be a part of.
During a visit to Planned Parenthood, Kourtney was asked to fill in statements about her worth and what she deserves, and she had a really hard time coming up with answers. Khloé and Kim both felt like that had something to do with the way Scott has treated her in the past, and once everyone made it to Cannes, the drama got kicked up a notch.
At first, everything was pretty low key. Kourtney and Kendall were having a blast together — dancing, riding jet skis, and generally loving life, as you do while in Cannes. When Scott arrived at the airport with Bella Thorne, there was a little bit of paparazzi mayhem, but nothing too ridiculous. However, then the time came for a night out at a club, and like Kourtney said, it was the only club that people really went to over there, so it was almost guaranteed she'd run into Scott and Bella there.
Somehow, they managed to avoid drama on their night out, and everything went according to plan. Of course, the promo for next week's episode hints that more drama is on the way, but it seems like everyone got out of the Cannes trip unscathed, including Kourtney's new man.
"I'm not trying to throw anything in anyone's face," Kourtney said, and that's true — it's not like she can help when paparazzi catch her hanging out with friends (and men) when she's on vacation. It comes with the lifestyle, which is something she and her family have had to accept... and even though she's had a rough time in the relationship department in the past, it looks like things are getting better for her from here on out.
According to Sunday's episode, it seems like things are going really well for Kourtney and Younes, so the trip seemed to be more fun than not. He even made his first KUWTK appearance... kind of. Well, his voice did, when Kourtney introduced him to Kris and Khloé via FaceTime on her trip. But who knows? He's been around for awhile now, so there's always a chance he'll actually be on the show in the future if their relationship continues to grow.
We've definitely seen Kourtney and Scott get along well while co-parenting on the show before, so hopefully, they can get back to a good place again, regardless of the other relationships in their lives. Both of them deserve to be happy, whatever that means for each of them.