Sean Spicer Gives A Final Farewell To The White House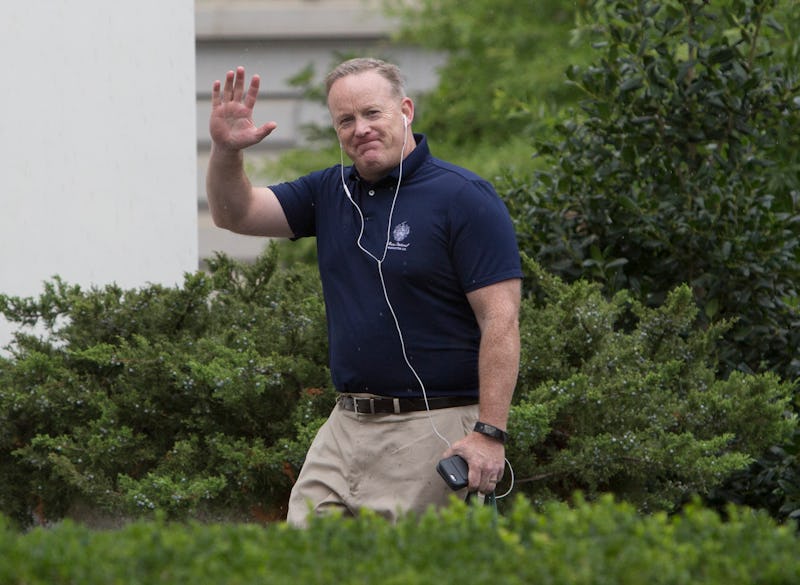 Pool/Getty Images News/Getty Images
Over a month after leaving his position as press secretary, Sean Spicer's White House farewell letter called his brief service the "honor of a lifetime," and was brimming with a tone of gratitude. On July 21, Spicer resigned as White House press secretary shortly after telling Trump he didn't approve of Anthony Scaramucci, the briefly appointed White House communications director.
On Thursday, Spicer said his last goodbye to the White House in a final email.
"It has been the honor of a lifetime to serve the President and the American people as the White House Press Secretary," wrote Spicer in his email. "I especially want to thank the President and the First Lady for their support during my tenure and for giving me this opportunity. Walking into the White House every day is a privilege that few in our country experience and I am grateful for it."
While Spicer's White House tenure only lasted for six months and one day following inauguration, he still greatly outlasted Scaramucci's 10 days in the White House. Technically, Spicer also outlasted Reince Priebus who stepped down as chief of staff in July as well. Even Steve Bannon left his job as chief strategist during the beginning of August.
While Spicer's resignation was technically filed over a month ago, he's still spent his last month at the White House transitioning and planning his next move.
But more importantly, on Sunday, Spicer finally met Pope Francis, after missing the opportunity earlier this year when Trump took other advisers to the Vatican. At the time, the exclusion of Spicer was viewed by many as a snub. Particularly, because Spicer is a devout Catholic and had meeting the Pope on his bucket list.
"Trump has done something I thought was impossible: By excluding Spicer from Pope meeting, he has made everyone empathize with/defend Spicer," tweeted Josh Dawsey, Politico White House reporter, in May.
According to Vatican Radio, Pope Francis spoke to Spicer and others present about the ways in which the church can serve as a political compass.
"The laws that you promulgate and apply ought to build bridges between different political perspectives: even when they respond to precise ends ordered to the promotion of greater care for the defenseless and the marginalized, especially the many who are constrained to leave their countries; and when they are in order to favor a correct human and natural ecology," Pope Francis told the crowd.
Now that Spicer's crossed Pope Francis off his bucket list, he can say goodbye to the White House for good.