Selena & Demi's Red Carpet Reunion Will Take You Back To Their Barney Days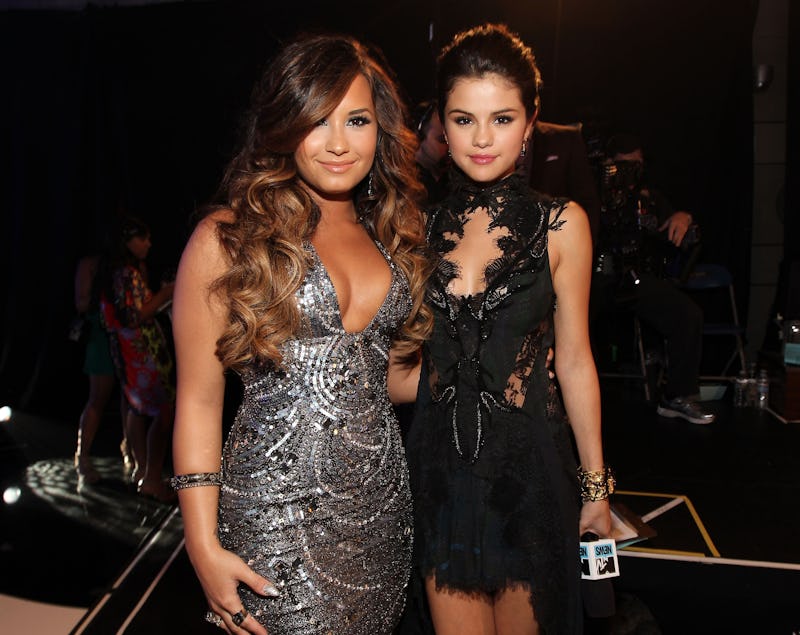 Christopher Polk/Getty Images Entertainment/Getty Images
What's the next best thing to a Demi Lovato and Selena Gomez music collaboration? A reunion of the former BFFs, who have had a bit of a tumultuous friendship. And it seems as if the two have done just that. Demi Lovato and Selena Gomez have rekindled their friendship recently, if their most recent red carpet appearance and social media moments are any indication.
In case you forgot, Gomez and Lovato used to be best friends. They share a little bit of the same career trajectory. The two singers both started out with appearances on the children's show Barney & Friends and eventually both became Disney starlets. Gomez appeared on Wizards of Waverly Place and Lovato emerged on the scene as the star of the TV movie, Camp Rock. Along the way the two showcased their friendship with fun videos and social media posts. The two even co-starred in the iconic Disney film, Princess Protection Program.
But, the two had a falling out, something which Lovato talked about on an appearance on Watch What Happens Live. When asked about why Lovato didn't follow Gomez on Twitter, Lovato said, "I think it's just one of those things where people change and people grow apart." It wasn't exactly the best news for Lovato and Gomez's friendship.
However, a recent red carpet appearance is a sign of a major reconnect between the two singers.
Lovato and Gomez both attended the InStyle Awards on Oct. 23. At the event, according to InStyle, Gomez was there to present the Makeup Artist of the Year Award to Hung Vanngo and Lovato was there to accept the Advocate Award. Some "Delena" fans were all about this reunion. One fan on Twitter said "thank you for this amazing friendship". Another fan said, "OMG! My Princess-Protection-Program Heart! ... Selena Gomez and Demi Lovato reunited."
This photo of the two on the red carpet isn't only amazing because of the two's incredibly stylish looks, but it's also a major sign that the "Delena" friendship is back on. It's the most meaningful interaction that the two have shared in quite some time, especially since the two haven't been seen together on the red carpet in ages (since the height of their friendship in 2011, according to E! News). So, this red carpet was long overdue. Although, it's not the only case of the former BFFs reconnecting recently.
Gomez voiced her support for Lovato in regards to Lovato's new documentary, Demi Lovato: Simply Complicated. On Lovato's post about the new documentary, Gomez wrote, "This was beautiful. I'm so happy for you. You always continue to be bold and real. I wish more people were like you." According to Billboard, she continued, "Love you." Talk about a major sign of the "Delena" friendship renaissance!
The two singers also had an interaction on Twitter in July 2017 that was also a good sign of the two's rekindled friendship. Lovato tweeted that she loved Gomez's song, "Fetish" and how the two starlets have "come a long way since our Barney days."
Gomez, in turn, wrote about how she was enjoying Lovato's latest single and was happy for her former BFF.
One would only need to check out the comments for the two's tweets to see how much fans are down for the two to be friends again. This user maybe said it best with, "At flipping last - love is better than war!!"
Why have the two rekindled their friendship? Unless Gomez or Lovato open up about why they've reconnected, one can only speculate. It's possible that they've just wanted to bury the hatchet for once and for all. Both singers have been at the top of their games with their music. They've both also been open about recent hardships, such as Gomez with her recent kidney transplant and Lovato in her new documentary. Maybe these issues led the two to rethink what was actually important. Is that beef concerning Gomez's former boyfriend Justin Bieber, which was rumored to have caused their estrangement (a fact Lovato does kind of deny), really all that important in the long run?
Good on Lovato and Gomez for putting whatever drama led to their falling out behind them so that they could rekindle their friendship. Maybe this renewed friendship means "Delena" fans will be seeing a lot more of the two supporting each other, on the red carpet and off.