Selena Gomez & The Weeknd Have Reportedly Broken Up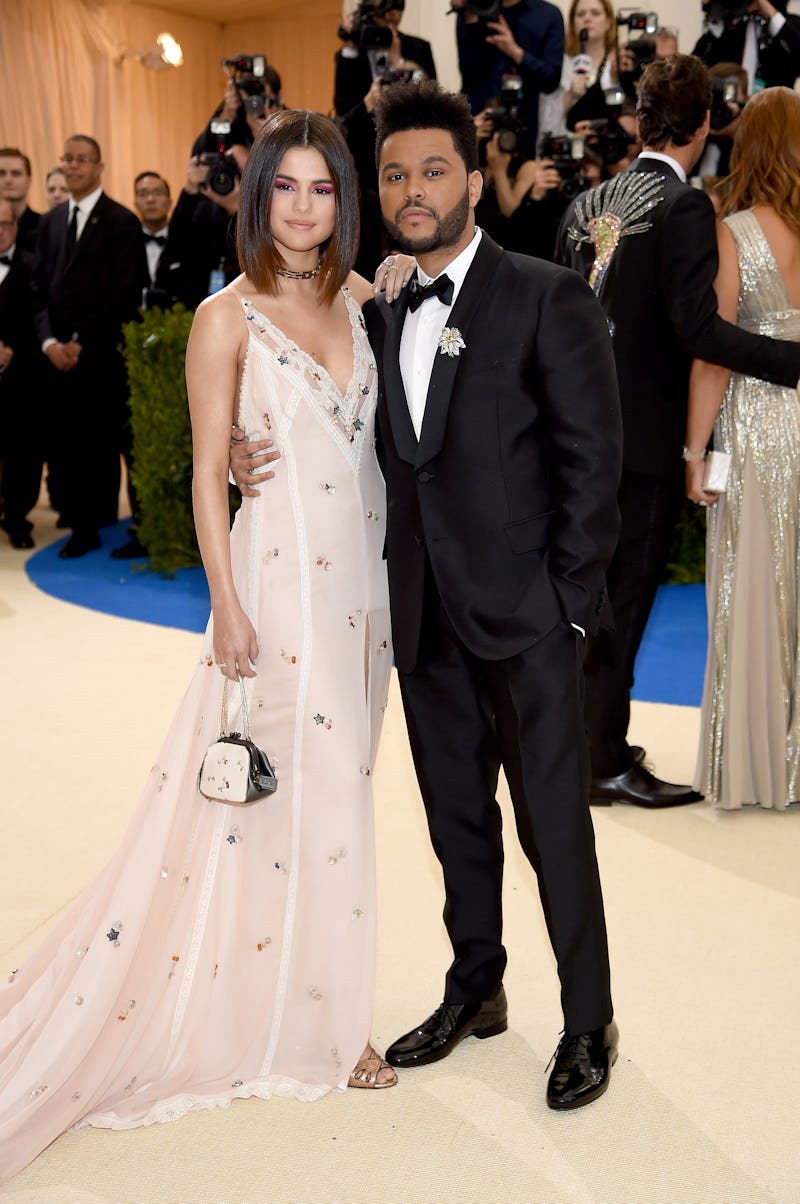 Dimitrios Kambouris/Getty Images Entertainment/Getty Images
Following recent reports that Selena Gomez and former flame Justin Bieber have been hanging out together and reports that The Weeknd unfollowed some of her friends and family on Instagram, People is reporting that Selena Gomez and The Weeknd have broken up. According to a source who spoke with People, "She and Abel [Tesfaye, The Weeknd's real name] have been going back and forth for a few months about their relationship. It's been hard with him being on tour and her shooting in New York. That wasn't easy on them." Bustle reached out to reps for The Weeknd and Gomez regarding the status of their relationship, but did not receive a response at the time of publication.
A source also told People, "It's over for now, but they're still in touch." Reportedly, the relationship has been difficult for months now, but it was "hard for them to come to the realization that this is the direction things were heading," a source told People.
The Weeknd and Gomez were first spotted together in early January 2017. However, they didn't make things Instagram official until Gomez shared a photo of herself and The Weeknd to social media in April. The two then made their red carpet debut at the Met Gala in May, much to the delight of fans who swooned over pics of the couple seemingly delighted by each other's company.
Despite numerous public appearances together, Gomez remained rather tight-lipped when it came to discussing her romantic life with the media — and for a good reason. While speaking with Vogue, Gomez explained that because of her very public, and often criticized, relationship with Bieber she intended to keep details about future relationships intentionally more private. During the interview she also spoke on her decision to be less active on social media, and said, "I'm kind of under the radar."
During a promotional tour earlier this summer, Gomez did confirm that she was "taken," in an interview with Miami's Power 96.5 FM host Ivy. "I'm the kind of girl that loves tremendously big," Gomez explained. "I just have always been that girl. I will give my heart and my soul to the person that I love. It's just how I operate." Although she didn't mention him by name, it was clear that Gomez was talking about The Weeknd.
Now, cut to October. Gomez is promoting new song with Marshmello called "Wolves", and The Weeknd has remained relatively under the radar for most of the summer while touring. But recently, Gomez was spotted with Bieber on multiple different occasions, which pretty much set off the Twitterverse.
First photogs snapped pics of Gomez hanging out at Bieber's Los Angeles mansion on Oct. 29, the Daily Mail reports. They were also seen leaving church and enjoying a sit-down breakfast together. Followers and Jelena 'shippers rejoiced on Twitter, speculating that it meant Gomez and Bieber were an item once again. "Jelena is back," one fan tweeted.
But while it's being reported that Gomez and The Weeknd have split up, People also reports that according to the same insider who commented on the breakup news, Gomez and Bieber are not back together.
Sources previously told E! News that Gomez and Bieber are "just friends" and that "nothing romantic" is going on between the two stars. Reportedly, Bieber reached out after he heard Gomez was undergoing a kidney transplant. "They both have a long history with each other so they will always have a place in their heart for one another," the insider said. It was reported that The Weeknd was understanding of the situation.
Also before the breakup report, The Weeknd unfollowed a number of Gomez's friends and family members on Instagram, according to Marie Claire. He currently still follows Gomez on Insta, but fans are claiming he un-liked a number of photos on her account. Which now, post breakup news, did serve as an indication of sorts that something might be up.
Given how Gomez has spoken about wanting to be more private about her romantic life it could be a while before she addresses her breakup with The Weeknd or potential rekindling with Bieber.