Selena Gomez's Comment About Demi Lovato's New Doc Shows Their Bond Is Forever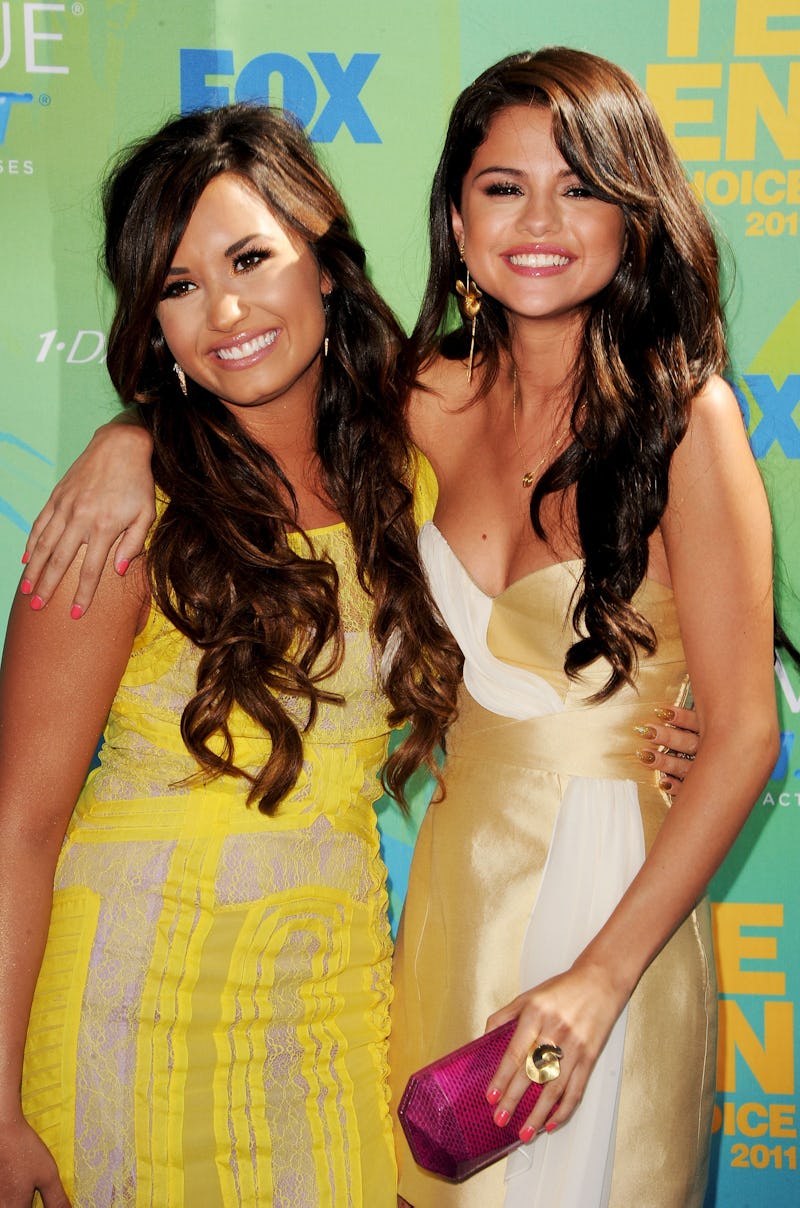 Jason Merritt/TERM/Getty Images Entertainment/Getty Images
On Tuesday, Demi Lovato's new documentary, Demi Lovato: Simply Complicated, dropped on YouTube. It's been receiving all kinds of love for the 25-year-old singer's openness about her life and the struggles she's faced, including mental health issues. And there is one particular person's support of the former Disney Channel star that is getting attention. As Billboard reports, Selena Gomez praised Lovato and her documentary.
In response to Lovato's announcement of her doc on Instagram, Billboard reports Gomez responded directly in the comments, "This was beautiful. I'm so happy for you. You always continue to be bold and real. I wish more people were like you," she wrote, before adding underneath that comment, "Love you."
According to Billboard, Lovato also replied to Gomez by writing, "@selenagomez thank you so much, this mean[s] the world to me and more. Love you too."
Lovato's documentary has hit home for many viewers, especially because the film works to break down the barriers that come with discussing mental health. Lovato has been extremely open about her battles, including an eating disorder, addiction, and being diagnosed with bipolar disorder. Her doc is yet another way the singer is fighting a variety of stigmas and it seems Gomez recognizes that.
Like Lovato, Gomez is also someone who has faced a lot in life, and also very publicly. In October 2015, Gomez revealed her lupus diagnosis in an interview with Billboard. "I was diagnosed with lupus, and I've been through chemotherapy," she said. "That's what my break was really about. I could've had a stroke." Then, in August 2016, the "Fetish" singer announced she would be taking a break from her career to focus on her health. In a statement released to People, Gomez said, "As many of you know, around a year ago I revealed that I have lupus, an illness that can affect people in different ways." She added, "I want to be proactive and focus on maintaining my health and happiness and have decided that the best way forward is to take some time off."
If that isn't enough, in September, the 25-year-old announced she underwent a kidney transplant, which was donated to her by friend actor Francia Raisa. "I'm very aware some of my fans had noticed I was laying low for part of the summer and questioning why I wasn't promoting my new music, which I was extremely proud of," she wrote on Instagram at the time of her reveal. "So I found out I needed to get a kidney transplant due to my Lupus and was recovering. It was what I needed to do for my overall health." She also promised to share more of her journey with fans.
After Gomez opened up about her kidney transplant, Lovato spoke with People and said, "I think that she is a very strong woman." She added, "I'm very happy and proud of her."
As their fans know, these two have a long history. So long in fact that they've been friends since the age of seven when they both starred alongside each other on Barney & Friends. Over the course of their lives, they've had a lot of ups and downs, but that comes with any friendship. Even though they don't seem to be as close as they once were, they're still friends. Also, they still clearly love each other, as they recently told each other on Instagram. Plus, in 2015, Lovato posted an Instagram of the two and captioned it, "Look at how #coolforthesummer we are.. Friends for years, #sameoldlove."
More than anyone, Lovato and Gomez relate to each other and the fact that they make sure to be there for each during the most difficult and important times of their lives is truly beautiful.