Why There's Literally No Way Selena Gomez's New Song Is About Her Lupus Diagnosis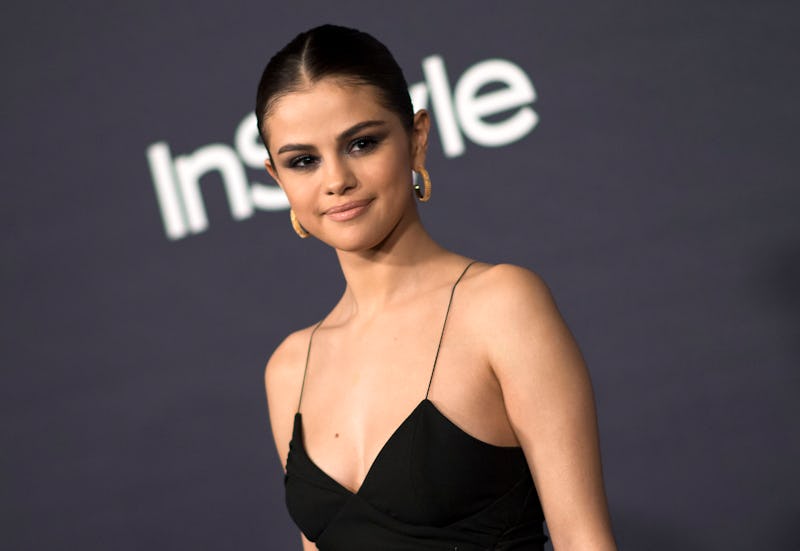 VALERIE MACON/AFP/Getty Images
With the release of Selena Gomez's latest song on Wednesday, there's been a lot of speculation about the meaning of the track. But one simple fact suggests "Wolves" isn't about Selena Gomez's lupus diagnosis — and it's that she didn't actually write it. You'd be forgiven for thinking otherwise, because the 25-year old does have a co-writing credit on the song, but it was actually penned by a longtime collaborator of hers named Andrew Watt.
It's quite common for an artist to work in tandem with a songwriter, so that part isn't particularly noteworthy. But according to Gomez herself, this track was already written and in a playable form the first time she heard it, so it doesn't sound like quite the collaboration you might be imagining. Here's what the Disney Channel alum told Beats 1 about "Wolves":
"This was a song that I heard in Japan for the first time, and I was talking to Andrew Watt, who is one of the writers I worked with for years, and he actually just played me a rough version and I thought it was really beautiful."
If this song was going to be about something as personal to the singer as her battle with lupus, you'd expect to see her featuring into the writing process a lot more. For example, on the deeply personal "The Heart Wants What It Wants," which was speculated to be about Gomez's ex Justin Bieber, her name is first in the list of writing credits. And not only that, but the song also includes a tearful voiceover at the beginning in the singer's own words. (The emotional monologue was captured serendipitously by a microphone taped to the underside of a table in the room where she went to compose herself.)
In contrast, Gomez doesn't seem to have been nearly as involved in the early days of the "Wolves" writing process. She continues in her Beats 1 interview:
"[Watt] sent [the song] to Marshmello and created a really cool tone and a story with it, and the song is very beautiful and personal and the lyrics just have a whole story of its own. Weirdly, at the same time I was working on it in Japan, I was going through stuff, too, so it's mirrored everything."
Did you catch that? The lyrics have a story of their own, and Gomez saw her life mirrored in the song. That phrasing is very important, because it explains why so many fans have been drawing parallels between the song and Gomez's personal life. It sounds like those parallels are there, even if they weren't written intentionally, and they're so strong that even the singer herself noticed them.
Not only is there the connection between the Latin name for wolf — canis lupus — and Gomez's chronic disease, but the lyrics speak to going through something powerful and coming out on the other side.
"I've been running through the jungle
I've been running with the wolves
To get to you, to get to you
I've been down the darkest alleys
Saw the dark side of the moon
To get to you, to get to you"
These are the kinds of lyrics that make you think of one of the hardest moments in your own life, no matter who you are. Just like your horoscope feels like it was written just for you, even when it's vague enough to apply to literally millions of people. If you're Selena Gomez, or a Selenator, maybe the "Wolves" lyrics remind you of the singer's kidney transplant, and the road to recovery that comes after such a monumental surgery.
In fact, it's possible that the song actually stuck out more to Gomez because of the connections to her own life. But it's clear from her statement that the song wasn't written that way intentionally. "Wolves" is obviously deeply personal, and made even more so by overlaying the singer's lupus diagnosis. But at the end of the day, that just comes from it being a well-written song, not from a conscious effort to write about her journey. For anything more specific, it sounds like we'll have to wait for her next album.