Senators Ask Trump to Protect Campus Rape Victims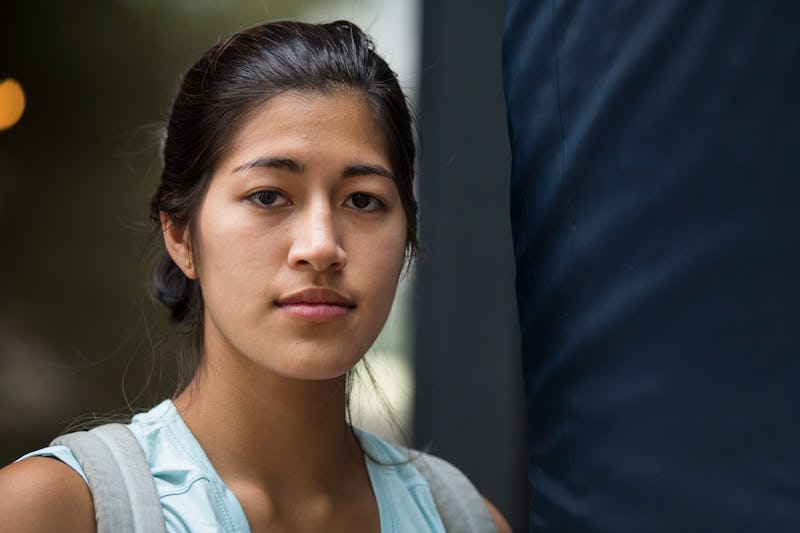 Andrew Burton/Getty Images News/Getty Images
As Inauguration Day nears, the possibility that President-elect Donald Trump will follow through on his promises to repeal all of President Obama's executive orders is starting to set in. But a pair of Democratic senators are hoping to persuade the incoming president to uphold a 2011 Obama directive that aimed to support students who file sexual assault claims on college campuses. In a letter sent to the president-elect on Jan. 5, Washington Sen. Patty Murray and Pennsylvania Sen. Bob Casey asked Trump to uphold existing investigation standards that help colleges and universities "address the scourge of campus sexual assault."
The directive in question came in the form of a "dear colleague" letter issued in 2011 by the Department of Education's Office of Civil Rights, BuzzFeed News reports. The letter explained that sexual assault on campus creates a form of gender-based hostile environment that is prohibited under Title IX of the Education Amendments of 1972, which prohibits sex-based discrimination at colleges and universities that receive federal funding. While such guidelines are not legally binding, they do serve as a record of a federal agency's interpretation of existing law, and are often referenced when school boards, districts, or individual universities find their own policies under fire.
The 2011 letter, combined with legislation introduced by Sens. Murray and Casey the following year, established that a "preponderance of evidence" standard be used in investigations of alleged domestic or sexual violence on campus. This standard is less stringent than the "beyond a reasonable doubt" framework used in criminal courts, and has therefore been critiqued by some as not providing enough protection to the accused. BuzzFeed explains:
Using the standard means school officials must decide they're more than 50% certain of someone's guilt, much lower than the beyond a reasonable doubt standard used in criminal courts when someone is facing jail or prison time.
In their letter to President-elect Trump, the Democratic senators urge the incoming administration not to roll back this standard of evidence — stressing that even with the best of intentions, "institutions of higher education have struggled to respond" to the "widespread problem" of campus sexual assault.
Neither the president-elect nor any member of his transition team has yet responded to the appeal from Sens. Murray and Casey, but a look into Trump's past legal dealings with sexual assault allegations does not bode well for victims hoping to see their alleged assailants brought to justice.
During the campaign, nearly two dozen women came forward accusing Trump of various degrees of sexual harassment or assault, though Trump and his surrogates dismissed each allegation as patently false. Trump has repeatedly threatened to sue those who have publicly accused him of sexual misconduct, sending a dangerous, silencing message to other potential victims who might have considered coming forward.
A woman who alleges Trump raped her in 1994 (when she was just 13 years old) cancelled a press conference she had scheduled just days before the election, with her attorney saying her client had received death threats if she made her scheduled appearance. That woman, identified as Jane Doe, ultimately dropped the suit.
The Chicago Tribune reported on Dec. 29, 2016, that the U.S. Department of Education still has still 292 open investigations of campus sexual assault as the Trump administration takes office. On the campaign trail, Trump did not address sexual assault on campus, though the Tribune notes that the Republican Party platform actually calls for less federal intervention on the issue.
While it's unclear what position the incoming administration will take on the issue that impacts millions of young Americans each year, it seems certain that a Trump-Pence White House will spend markedly fewer resources addressing sexual assault on campus than did the Obama-Biden administration. In addition to the White House-led "It's On Us" campaign that called on men to intervene when they witness instances of sexual or domestic violence, Vice President Joe Biden has been an outspoken advocate for victims of sexual assault, convening a White House Task Force to Protect Students from Sexual Assault. The outgoing vice president delivered his final address on the issue on Jan. 5, offering advice to parents sending their children off to college.