How Senators Responded To The Kavanaugh Misconduct Accusations Reveals A Deep Divide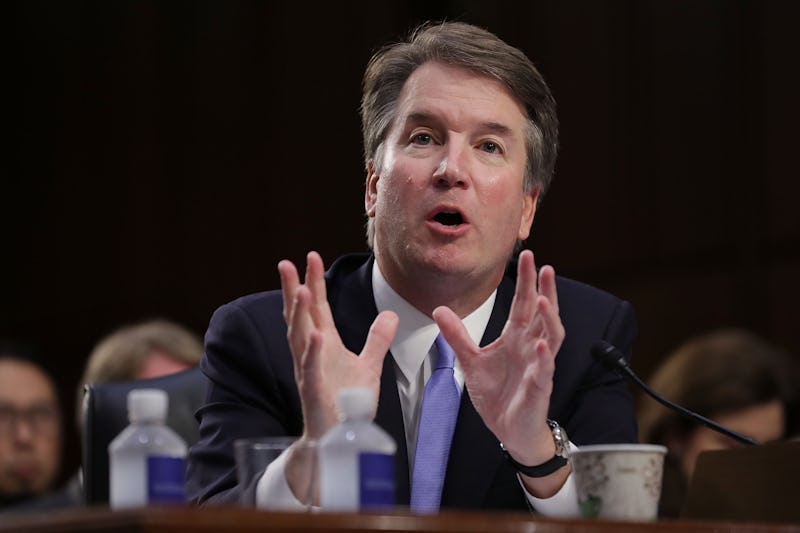 Chip Somodevilla/Getty Images News/Getty Images
On Sunday, the woman who anonymously accused Brett Kavanaugh of sexual misconduct spoke out publicly for the first time. The SCOTUS nominee has vehemently denied the allegations. Soon after she revealed her identity, senators' response to Christine Blasey Ford's interview on Kavanaugh fell mostly along party lines, with multiple Democrats calling for his confirmation vote to be delayed.
Ford's allegations were first published by The New Yorker on Friday. On Sunday, in an interview with The Washington Post, she alleged that when both were in high school, Kavanaugh attempted to rape her at a party. "I feel like my civic responsibility is outweighing my anguish and terror about retaliation," Ford told the Post.
Kavanaugh denied the allegations right off the bat, telling The New Yorker, "I categorically and unequivocally deny this allegation. I did not do this back in high school or at any time." Moreover, during an interview with the Weekly Standard, one of the other students supposedly in the room with Ford and Kavanaugh when the alleged incident happened insists he "never saw Brett act that way." Bustle has reached out to Kavanaugh's office for comment on Ford's recent interview.
After Ford's interview with the Post, Judiciary Committee ranking minority member, California Sen. Dianne Feinstein, said she hopes Ford's allegation is "treated with the seriousness it deserves," according to CNN.
"I support Mrs. Ford's decision to share her story, and now that she has, it is in the hands of the FBI to conduct an investigation. This should happen before the Senate moves forward on this nominee," Feinstein said.
Senate Minority Leader Chuck Schumer tweeted a thread in reaction to Ford's on-the-record interview, saying the vote to confirm Kavanaugh to the Supreme Court must be delayed "at the very minimum" while the misconduct allegations are investigated. "Re: WaPo report on Judge Kavanaugh, Sen Grassley must postpone vote until, at a very minimum, these serious & credible allegations are thoroughly investigated," Schumer tweeted.
California Senator Kamala Harris — a member of the Judiciary Committee — tweeted on Sunday that the Senate had an obligation to conduct "a thorough investigation" into Ford's allegations against Kavanaugh. "Christine Blasey Ford courageously stepped forward to tell her story — it is a credible and serious allegation. The Senate has a constitutional responsibility to scrutinize SCOTUS nominees. A vote on Kavanaugh's nomination must be delayed until there is a thorough investigation," Harris tweeted.
Committee member Richard Blumenthal of Connecticut has also called for the vote to be delayed. "Intimating that an assault is a mere political ploy not only offensively maligns Ms. Ford's experience, it reinforces dangerous preconceptions that shame survivors into silence," Blumenthal said in a statement provided to NBC News.
South Carolina Sen. Lindsey Graham, a Republican, also released an individual statement about the allegation, according to NBC News. However, he was on a different page than some of his Democratic colleagues. "If the committee is to hear from Ms. Ford it should be done immediately so the process can continue as scheduled," the Judiciary Committee member told the network.
Arizona Sen. Jeff Flake took an approach more in-line with Democrats when he said the allegations need to be heard before a vote to confirm. "If they push forward without any attempt with hearing what she's had to say, I'm not comfortable voting yes," Flake told Politico on Sunday. "We need to hear from her. And I don't think I'm alone in this."
Meanwhile, Judiciary Committee Chairman Sen. Chuck Grassley of Iowa said Ford's public allegation "raises a lot of questions about Democrats' tactics and motives" because of how close the vote is, according to TIME. Still, the senator is working to schedule follow-ups with both Kavanaugh and Ford, according to CNN. "Given the late addendum to the background file and revelations of Dr. Ford's identity, Chairman Grassley is actively working to set up such follow-up calls with Judge Kavanaugh and Dr. Ford ahead of Thursday's scheduled vote," Grassley spokesman Taylor Foy told CNN.
Whether Ford's interview about her allegations against Kavanaugh will delay his confirmation vote is up in the air. But it's clear that Democrats are bound and determined to make sure the claims are at least investigated before anyone makes a decision.
If you or someone you know has been sexually assaulted, call the National Sexual Assault Telephone Hotline at 800-656-HOPE (4673) or visit online.rainn.org.