Here Are The Senators Who Are Still Undecided On Brett Kavanaugh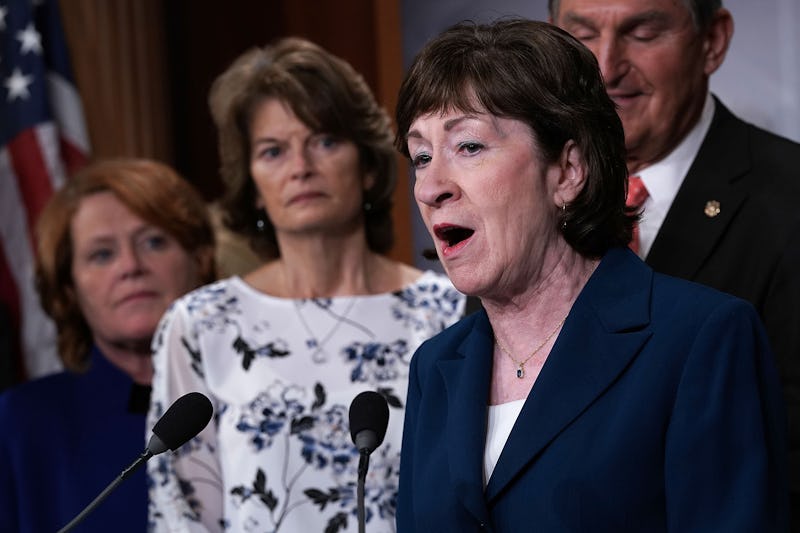 Alex Wong/Getty Images News/Getty Images
After four days of confirmation hearings, Americans are holding their breath as they awaiting a Senate decision on whether Judge Brett Kavanaugh will be appointed to the highest court in the country. Although many news outlets such as NPR are reporting that Kavanaugh will likely be confirmed when the vote takes place in about two weeks, there are a few senators who appear undecided about Kavanaugh.
For one, there's Sen. Susan Collins, a Republican from Maine, who said Friday she's still undecided about whether she'll vote for the judge, The Portland Press Herald reported.
Collins said that she still has to review some materials about Kavanaugh before making her final decision. "I know it's frustrating to the press, but until I finish my review I'm going to defer my decision-making," Collins said, according to The Press Herald. "I have been involved in confirmation hearings for six Supreme Court justices. I have always waited until hearings are done and until I have reviewed the paperwork and cases, et cetera."
Many think Collins is likely to vote against Kavanaugh because she's one of the few Republicans who is more supportive of abortion rights. Advocates see a confirmation for Kavanaugh as a detrimental move for the future of Roe v. Wade — the landmark Supreme Court ruling protecting the right to abortion. They believe it could be either overturned or weakened by changing intricacies within abortion rules.
As a result, activists sent sent thousands of coat hangers meant to symbolize the danger of back-alley abortions to Collins' office to persuade her to vote against Kavanaugh, The Hill reported.
Collins isn't the only one facing pressure regarding her vote. Alaskan Sen. Lisa Murkowski — another Republican who is generally for abortion rights — is facing pressure for similar reasons. The Anchorage Daily News reported on Wednesday that Murkowski hadn't made any announcements about her vote, but said she would before the nomination vote hit the Senate floor.
Murkowski also addressed Roe v. Wade and Kavanaugh in a conversation with The Anchorage Daily News:
I don't know what his personal belief about abortion is. I don't know that anybody knows what his personal belief is But I do think that there are people who have been made to fear that if Judge Kavanaugh is nominated, that the day he joins the bench, that Roe versus Wade is going to be overturned. That is just not possible.
And abortion isn't the only reason Murkowski could oppose Kavanaugh, according to HuffPost. Alaskan Natives, who helped re-elect Murkowski in 2010, have objected to Kavanaugh's record on climate change.
In order to block Kavanaugh's confirmation, 51 Senators would need to vote against him. That would include Democrats facing tough reelection races in red states and at least two Republicans. That's why people are watching Collins and Murkowski so closely.
You may recall that it was Collins and Murkowski who were the two Republican women who stopped last year's "skinny repeal" of the Affordable Care Act alongside the late Arizona Sen. John McCain, Time reported.
All in all, these women senators have important decisions to make — and the world is watching.