Sephora's In-Store Facial Vacuum Cleans Your Pores — And Lets You See All The Junk It Removed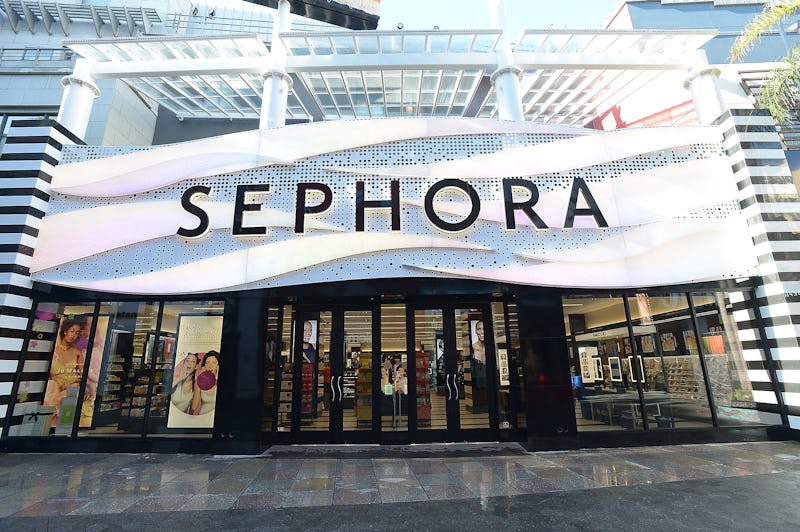 Charley Gallay/Getty Images Entertainment/Getty Images
Just think of Sephora as the beauty mothership. Their endless shelves of prestige cosmetics practically call your name, their beauty studio can get you glam for a night out, and stores even offer classes for makeup rookies. Throw Sephora's new in-store facial vacuum for pores into the mix, and you've got a real recipe for disaster for your funds.
A holy-grail beauty destination, Sephora truly has it all. Whether you're on the hunt for a statement lippie, a spot-on foundation match, or the latest and greatest palette to swarm Instagram, Sephora has your back. You could even brush up on your skincare knowledge by having a one-on-one with the store's beauty consultants. But up until now, getting official skincare treatments done at the beauty mecca just wasn't a thing. That has all changed, now that Sephora just launched a complimentary service that literally everyone and their mama could surely use.
Introducing the PERK Hydrating Facial, Sephora is beefing up their offerings thanks to a tiny, vacuum-like device used for cleansing yucky pores — and the best (or grossest) part about it? You get to actually see all of the gunkiness in your pores when the treatment is over.
Okay, so this all-star facial isn't exactly free. The catch is it's only available with a minimum $75 purchase, so you can't have the service done on its own. But once you hear the juicy (perhaps, a poor choice in words) details, that won't even matter.
The spa-grade facial that's hitting Sephora stores is an exclusive treatment offered in partnership with the HydraFacial Company. Giving customers a personalized beauty experience, a Sephora consultant would use PERK technology to exfoliate, hydrate, and treat skin to achieve dream-come-true skincare results.
"We are thrilled to collaborate with Sephora on the next generation of skincare," said Clint Carnell, The HydraFacial Company's CEO, via a press release. "The partnership makes on-the-go skincare treatments more accessible than ever. Clients that experience the PERK Hydrating Facial will leave Sephora with an instant glow."
Clients would exit Sephora with more than just a healthy glow, though. They'll have a lasting memory of all of the yuckiness trapped within the deep depths of their pores, as the service allows you to visibly see what's plaguing your facade. As build-up is drawn from your pores with the vacuum-like device, it is emptied into a jar that puts the gunk on full display.
Not sure if that's super gross or totally awesome.
Along with a peek at what's troubling your pores, the 30-minute service involves a full skincare treatment. First, a certified Sephora consultant would measure a client's hydration levels by using a digital Moisture Meter that could determine a specific skin type. After all makeup, oil, and other debris are removed, a cleanser would be applied based upon the Moisture Meter's reading. Next comes the two-part PERK process, featuring the handheld exfoliating device that is the highlight of the service.
Using patented roller-flex technology, the consultant exfoliates the skin to reveal a smooth, even complexion. The device's cleansing tip, AKA the vacuum, sucks dirt and other impurities from the skin to deeply clean it in preparation for part two of the process.
Application of a skin-boosting serum follows, which deeply moisturizes while plumping the skin with nutrients. Rounding out the service, the consultant would apply an eye cream and moisturizer to preserve the treatment's benefits. Talk about the ultimate facial.
It really all sounds too good to be true. Perhaps, that may be the case, since as of now, the facial is only available at just over 100 stateside Sephora stores. But on the off chance that your local Sephora is packing a PERK machine, the treatment sounds like it's worth scraping every penny from your wallet.