Watch Serena Williams Passionately Confront An Umpire After "Sexist" Penalities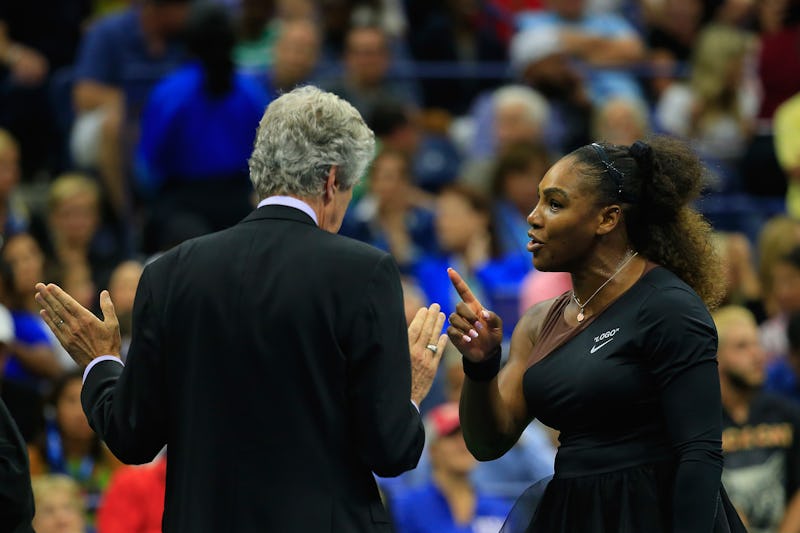 Chris Trotman/Getty Images Sport/Getty Images
One of tennis' greats has vowed to fight for women after highlighting sexism in the sport. Serena Williams accused an umpire of sexism after he cited her for multiple code violations during her United States Open final against Naomi Osaka at Arthur Ashe Stadium in New York on Saturday. The 23-time Grand Slam champion accused the umpire of treating her differently than he would have treated a man.
According to the New York Times, Williams was penalized with a code violation after chair umpire Carlos Ramos alleged her coach was sending her signals from the stands early in her second set against Osaka. When a frustrated Williams broke her racket shortly later, Ramos issued a second code violation against her and awarded Osaka a penalty point, giving the young player a 5-3 lead.
When Williams confronted Ramos, vehemently denying his allegations of cheating, demanding an apology, and calling him a "thief" for taking a point from her, he issued her a third code violation and a game penalty.
"I've seen other men call other umpires several things," The Guardian reported Williams said at a press conference after the match. "I'm here fighting for women's rights and for women's equality and for all kinds of stuff. For me to say 'thief'' and for him to take a game, it made me feel like it was a sexist remark."
In a statement to Bustle, the International Tennis Federation, which governs and regulates the sport worldwide, said chair umpires don't comment on the matches they oversee.
In her post-game presser Saturday, Williams went on to alleged that Ramos had never penalized a male player for saying "thief" by taking a game from them. "He's never taken a game from a man because they said 'thief,'" she said. "For me, it blows my mind. But I'm going to continue to fight for women."
Several other tennis champions echoed Williams' accusations of sexism, including former World No. 1 Billie Jean King. "When a woman is emotional, she's 'hysterical' and she's penalized for it," King tweeted Saturday. "When a man does the same, he's 'outspoken' & and there are no repercussions. Thank you, @serenawilliams, for calling out this double standard. More voices are needed to do the same."
Retired professional tennis player James Blake also said he'd seen a gender-based double standard in the sport with male players like him receiving soft warnings instead of code violations or point and game penalties. "I will admit I have said worse and not gotten penalized," he tweeted early Sunday. "And I've also been given a 'soft warning' by the ump where they tell you knock it off or I will have to give you a violation. He should have at least given her that courtesy."
Earlier this year, Ramos gave Novak Djokovic a code violation for scraping his racket at Wimbledon, according to the Express. However, when Djokovic exploded at him after the judgement, Ramos did not penalize Djokovic with a game violation.
But according to the New York Times, Williams accusation of sexist refereeing "is difficult to prove" as, at least at this year's U.S. Open, men received more than double the amount of code violations women did.
Still, Saturday's match was not the first time the tennis world has been admonished for sexism. Earlier this year, French Open officials banned Williams from wearing the black catsuit she played in at this year's games. While at the U.S. Open, Alizé Cornet was penalized for changing her shirt on court, something male players dd frequently and without penalty. Both incidents sparked outrage and calls of sexism from fans and players.
Despite having lost to Osaka, Williams didn't appear to regret her confrontation with Ramos. "I just feel like the fact that I have to go through this is just an example for the next person that has emotions, and that want to express themselves, and want to be a strong woman," The Guardian reported she said at her post-game press conference. "They're going to be allowed to do that because of today. Maybe it didn't work out for me, but it's going to work out for the next person."