Serena Williams' Comments On Colin Kaepernick Show How Much His Activism Means To Her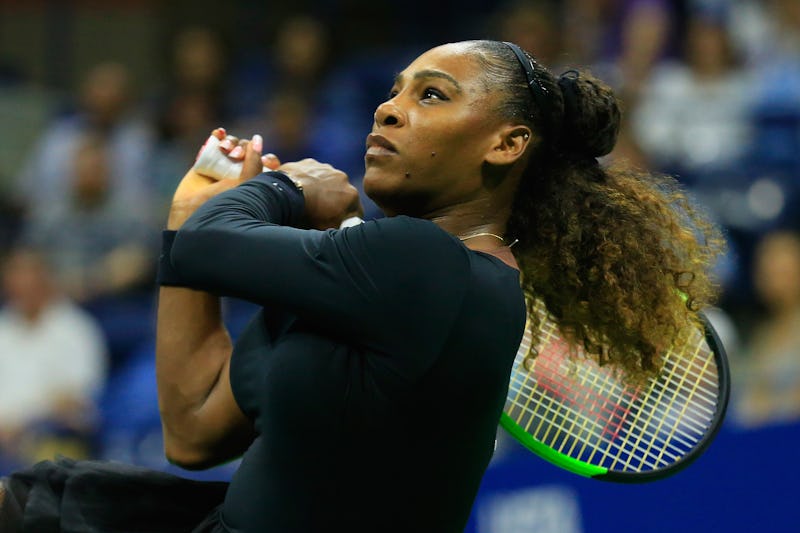 Chris Trotman/Getty Images Sport/Getty Images
Most athletes tend to stay away from politics for fear of alienating fans, but for one of the greatest tennis players of all time, speaking up was more important than maintaining a neutral image. At the U.S. Open match on Friday, Serena Williams applauded Colin Kaepernick's social justice fight and said "every human" should be "completely grateful" for his efforts, as well as those of former NFL player Eric Reid.
Williams' praise for Kaepernick and Reid came at a press conference after a U.S. Open match at the Billie Jean King National Tennis Center in Queens, New York, in which she beat her older sister Venus. Before the match, announcers introduced Kaepernick and Reid, both former San Francisco 49ers, to the crowd on the giant screen, which drew enthusiastic applause, the Washington Post reported. In response, Kaepernick had smiled, and Reid held up a fist.
"I think every athlete, every human, and definitely every African-American should be completely grateful and honored how Colin and Eric are doing so much more for the greater good, so to say," Williams said at the press conference, according to ABC News. "They really use their platform in ways that is really unfathomable. I feel like they obviously have great respect from a lot of their peers, especially other athletes, people that really are looking for social change."
Kaepernick posted photos on Twitter after the game, revealing that he had taken his niece to see the Williams sisters face off. He expressed his gratitude to the tennis star for surprising her after the game.
Reid also posted on Twitter, writing about Kaepernick's niece and her excitement in watching the duo play alongside photos of the group enjoying themselves at the stadium.
Kaepernick kicked off the start of a series of controversial NFL protests against polite brutality two seasons ago by kneeling during the national anthem. The former quarterback had explained he was bringing attention to racial injustice and economic inequality on national television, and Reid became one of the first players to join him in taking a knee, according to ABC News. The last game that Kaepernick played in was in 2016, when he became known for taking a knee before the start of games. Neither Kaepernick nor Reid are currently with an NFL team. Both are free agents.
The silent protests are frequently denounced by President Trump, who has called for players who kneel to be fired, according to The Atlantic. Despite the heated debate nationwide over the national anthem kneeling, players have continued to do so. Some have even boycotted White House visits; when some Philadelphia Eagles players refused to accept the president's invitation to the White House after their Super Bowl victory, Trump disinvited the team following reports that only a handful of players had confirmed they would show up.
Kaepernick has since filed a legal complaint accusing franchise owners of plotting to keep him out of the NFL, according to the Washington Post, as punishment for his protests. This past Thursday, he won an arbitration decision that allows him to go ahead with his lawsuit. The NFL commissioner has denied that Kaepernick was being kept out of the league, according to CBS News. Though Kaepernick is out of the eye at NFL games, he's still very much at the center of public attention, and now, he has a legendary athlete in his corner.