7 Women's March Alternatives If You Can't Go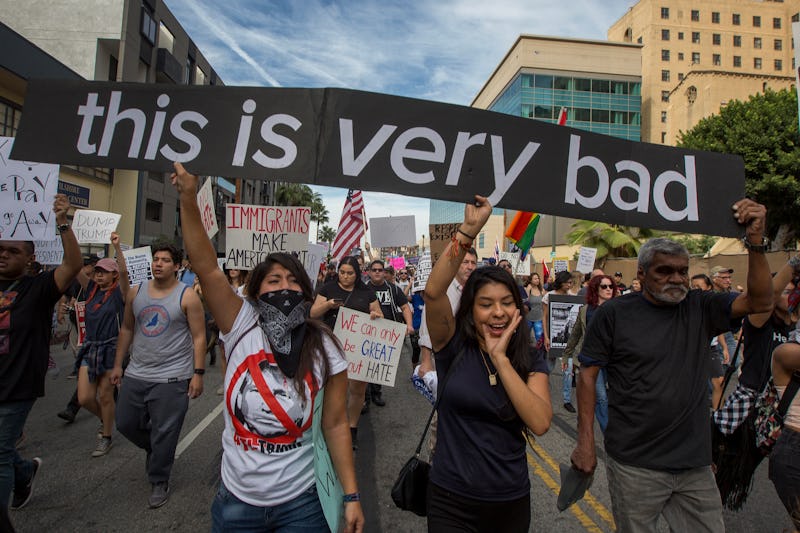 David McNew/Getty Images News/Getty Images
Today is the official inauguration of President-elect Donald Trump, and many of the Americans who voted against him are currently rocking themselves into an emotional frenzy. One of the most popular outlets for the existential angst that comes with a Trump administration is going to the Women's March on Washington in the nation's capital (or a smaller women's march in your city/state) and placing your body in the cold to say, "Hey, no, this is not what I signed up for and I will stay loud about it." However, for those physically unable to attend a march (or if you hate large crowds and frosty air), there are several alternatives to the Women's March that you can take part in in without freezing your skin off in Washington, D.C.
Also, considering how many anti-Trump demonstrations have taken place even before his inauguration, the reality is there will likely be plenty more marches during a four-year Trump presidency, so if you feel struck by FOMO, you can rest assured that your time in the sun will come.
In the meantime, I've gathered a few alternative ways to take action after Trump's inauguration, so while people march on Saturday, you can engage in your own alternative act of solidarity.
Call Your Reps
During the next four years, prepare to buckle in make calling your reps a regular part of your routine. You can find your reps here and call them to make sure they opposed the repealing of the ACA, thank them for their service or threaten to withdraw your support based on their stance. This is a great alternative to marching for anyone who needs to physically take it easy.
Go On Strike
There are plenty of people not attending the Women's March itself who are planning to do a January 20 do-nothing strike, which is exactly what it sounds like. Don't go to work, don't go to school (if you have Saturday school), don't buy anything or attend any public events, all in protest of the election of Trump.
Donate To Planned Parenthood
Much like calling your reps, donating to Planned Parenthood is one of the many small but regular actions we could implement (in varying amounts depending on financial status) in our daily lives to help support the institutions that will support us during Trump's presidency.
#GrabYourWallet By Boycotting These Brands
When the #GrabYourWallet hashtag first started in October, it served as a direct financial protest to Trump, and this was before he was elected. The #GrabYourWallet list compiled businesses that support Trump, either through donations, investments, or by selling Trump products.
Altering our spending habits is another potential long-term way to protest his presidency, and Saturday is a great day to do the homework on where our money goes.
Study The Trump Resistance Manual
The internet provides us with a bevy of (often free) resources to educate ourselves with; unfortunately, many times they quickly get buried. The anti-racism and anti-police brutality organization StayWoke created a comprehensive Trump resistance manual that features outlines of his policies, updates on where they stand, and actions you can take to fight back. Dig your teeth in and see where you fit. Also, donate to the people at StayWoke for the hard work they've done as educators and organizers.
Become A Volunteer
One of the most common and dangerous misconceptions about volunteering is that it's a one-off experience, or an activity that people engage in only when they're feeling overwhelmed with inspiration. On the contrary, in order to truly help build your community through volunteering, it's wiser to pick a cause you're already passionate or knowledgeable about. The website VolunteerMatch was created with the sole purpose of helping people figure our local volunteering matches that work for them.
Get Involved In Local Politics
During the next four years, it will be even more crucial that we rally behind our local politicians beyond votes and donations, but also through campaigning, attending community meetings, and perhaps, running for local office ourselves. The nonprofit EMILY's List is a resource that helps people connect with local women in office, supports and educates women interested in running, and of course, rallies donations.
Hopefully, these alternative expressions of solidarity with the Women's March can serve as a springboard for even more continued resistance. It's going to be a long four years, but a lot of us are on the same page.