Jill Soloway's Comments About Diversity In Hollywood Will Make You Stand Up & Cheer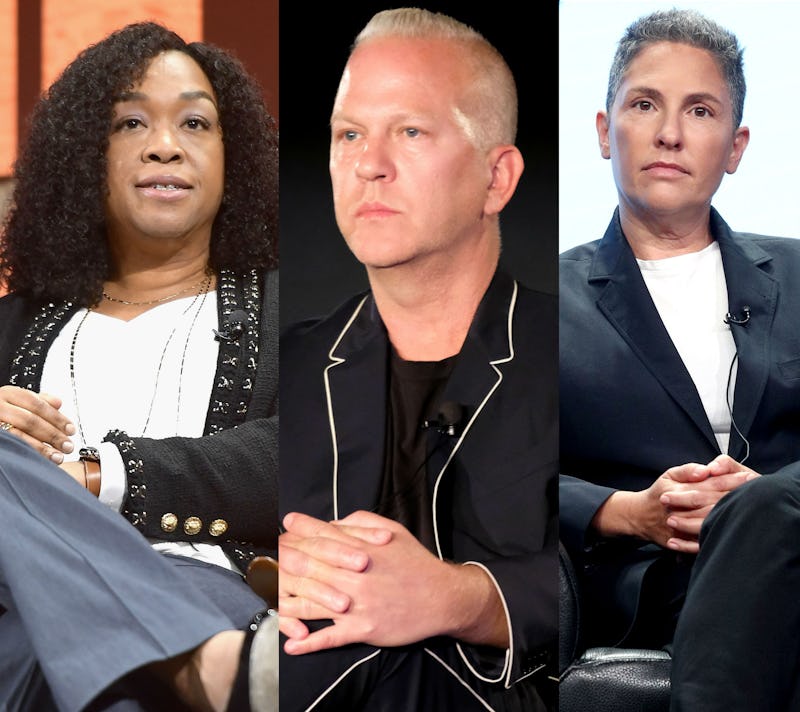 Matt Winkelmeyer/Getty Images Entertainment/Getty Images; Frederick M. Brown/Getty Images Entertainment/Getty Images; Frederick M. Brown/Getty Images Entertainment/Getty Images
Television is becoming more diverse — and some of TV's most legendary showrunners want that trend to continue. Shonda Rhimes, Jill Soloway, David E. Kelley, Norman Lear, Ryan Murphy, and J.J. Abrams discussed how showrunners are making sure TV becomes more diverse at the Hollywood Foreign Press Association's TV Game Changers panel on Thursday, Oct. 26. "As women start to tell their own stories, it changes the world for other women," Soloway said at the panel, held at the Paley Center For Media in Beverly Hills. "I have to get women, people of color, and queer people into these jobs. It's like the gates of the boat are open. Come on, get on."
The I Love Dick and Transparent creator identifies as gender non-binary and uses gender-neutral pronouns. Soloway spoke passionately at the panel about putting a spotlight on diverse voices in Hollywood. They continued,
"I'm like a zealot about women, people of color, and queer people not only being able to play characters, but start writing. I go through the process, like, 'OK, we're going to make sure we have a trans woman, and a trans woman of color. I need to find people of color who can create shows.' You start realizing that every effort to fill a slot becomes more evidence that there just aren't enough creators making work from a point of view other than a straight, white male."
Grey's Anatomy and Scandal creator Rhimes said she's been able to find many diverse voices, because her production company ShondaLand has resonated with women and people of color. "It's all about finding creative voices and nurturing them," Rhimes explained. "A lot of interesting people gravitate toward our company. It's not a special effort that we make. It's just the world that we exist in."
Meanwhile, Glee and American Horror Story creator Ryan Murphy, who is openly gay, recalled a time early in his TV career when his own voice wasn't accepted. "When I started, it was tough for me," he told the audience. Murphy continued,
"At work, they would tell me, 'you're too gay, your writing is too gay, your characters are too gay.' It was painful for me. By the time I did Glee, the executives wanted more of the gay character [Kurt]. I felt very liberated. That has been a great change in my life."
And Murphy has continued to make historic strides on TV, even this past week. On Oct. 25, FX announced that his new series Pose has cast five trans actors playing "authentic transgender roles." The cast is making history with the most trans actors in series regular roles on a scripted TV series.
Now that Murphy is an established showrunner, he told the panel audience that he's all about nurturing new and different upcoming talent. In 2016, Murphy launched the Half foundation, which aims to fill 50 percent of director jobs on his shows with women, people of color, and members of the LGBT community.
"I'm 50 and I feel a responsibility to say, 'Who's the next young voice? Who's the next person who is different than the mainstream?'" Murphy said. "So I try to bring those people up and I try to work with them on those shows, train them and talk to them."
Murphy said it was such mentoring that helped him early in his career — fellow panelist and TV sitcom legend Norman Lear offered encouragement to Murphy back in 1998. "Norman was one of the first people to reach out to me and say, 'Keep being unusual. Keep being different. That's how you change the world,'" Murphy said. "It meant the world to me."
The TV Game Changers panel was part of the HFPA's 75th anniversary celebration of the Golden Globes. Each panelist at the event had varied backgrounds and experiences, but shared one major trait in common: They each won at least one Golden Globe for a groundbreaking hit TV series. HFPA President Meher Tatna praised the panelists in her introduction of them, saying, "They have pushed the boundaries and redefined what content can and should be."
And now, these showrunners are making sure TV is becoming as diverse — as it should be.