Six Women In Politics To Look Toward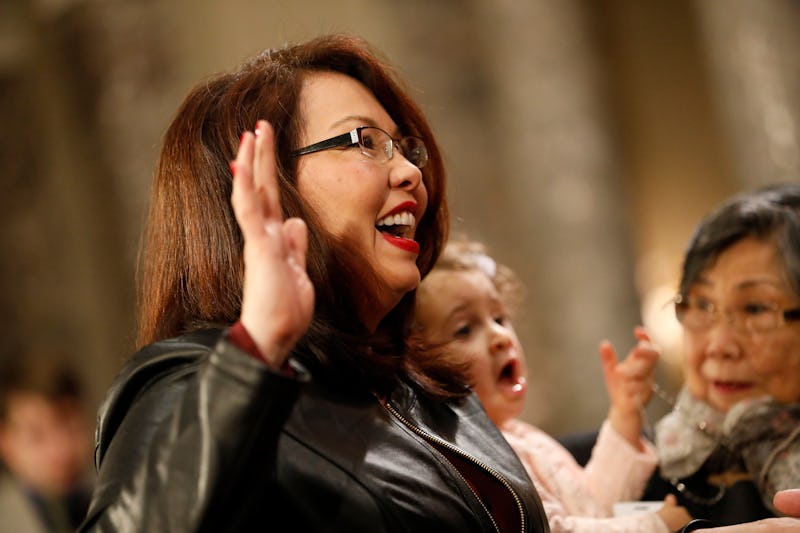 Aaron P. Bernstein/Getty Images News/Getty Images
In just a few days, Donald Trump is going to assume the presidency of the United States. He has not even taken office yet, and already Republicans have launched renewed attempts to repeal the Affordable Care Act and defund Planned Parenthood. Trump's rampant sexism during his campaign, Vice President-elect Mike Pence's curtailing of abortion rights during his time as Indiana's governor, and current Republican efforts to dismantle Obamacare do not bode well for women. But we should not lose hope. There are many progressive women in politics who will not let Trump get away with his bigoted proposals without a fight.
They can't do this alone, of course — and they certainly won't be alone. The Women's March on Washington this Saturday has inspired similar marches across the country and even in multiple cities abroad. The "Our First Stand" rallies that took place all over the U.S. on Sunday were just the beginning of a hard fight to preserve affordable health care. Republicans are realizing that defunding Planned Parenthood is much more complicated than it might seem.
Our soon-to-be president may be against everything we care about, but these women in politics deserve to be recognized for their resilience and for their ceaseless efforts to work for their communities.
Tammy Duckworth
Twitter handle: @SenDuckworth
Tammy Duckworth became an Illinois senator after defeating her opponent, incumbent Mark Kirk, back in November. But before that, she represented Illinois' 8th district in the House of Representatives, and in the aftermath of her military service, she has been a fierce advocate for other veterans. She received the Purple Heart after losing both her legs and injuring her right arm during the Iraq War.
Duckworth is pro-choice, wants to preserve the Affordable Care Act, supports comprehensive immigration reform, and wants to welcome more Syrian refugees to the United States. She will be an important ally in the fight to prevent Republicans' efforts to repeal Obamacare and defund Planned Parenthood.
Kshama Sawant
Twitter handle: @cmkshama
Kshama Sawant is a member of the Seattle City Council, as well as a member of Socialist Alternative — an anti-capitalist, democratic-socialist political party. In her reelection campaign in 2015, Sawant prioritized social and economic justice. She called for a $15 minimum wage, an end to racial profiling, the legalization of marijuana, and better rent control programs. Back in 2014, Sawant also called for the U.S. government to condemn Israel's bombardment of Gaza.
Elizabeth Warren
Twitter handle: @SenWarren
Elizabeth Warren is a Massachusetts senator and one of the more progressive members of Congress. Though she supports the Affordable Care Act, she — like her colleague Bernie Sanders — believes that the implementation of a single-payer health care system would be even more effective. Warren is passionately pro-choice, supports LGBT and immigrant rights, and is opposed to the Trans-Pacific Partnership.
Warren has been consistently vocal in her criticisms of Trump, and as we move forward, she will play a critical role in working against our soon-to-be president.
Ilhan Omar
Twitter handle: @IlhanMN
In 2016, Ilhan Omar was elected to the Minnesota House of Representatives, becoming the first Somali-American woman to become a U.S. lawmaker. Once a refugee from Mogadishu, Omar became a student organizer in high school and went on to support female African immigrants and call for the rehabilitation — rather than jailing — of prisoners.
Omar ran on a platform that called for intensive police reform, criminal justice reform, accessible higher education, a $15 minimum wage, and immediate action against climate change. Under a Trump presidency, local politics will be more important than ever, and having women like Omar in office will be crucial.
Kamala Harris
Twitter handle: @KamalaHarris
Harris, once the attorney general of California, is now a senator after defeating her opponent, Loretta Sanchez, back in November. Throughout her career, Harris has been particularly vocal on the issue of immigration, and since being elected as a senator, she has promised to protect immigrants from Trump's deportation and border wall policies.
"This issue of how we are treating our immigrants, and in particular our undocumented immigrants, is one of the most critical issues facing our country," Harris said during her first public appearance after her victory. "We are not going to be achieving who we say we are as a country if we attack our community members, our neighbors, our friends and our colleagues."
Harris is also pro-choice, and has advocated for stronger environmental protection regulations.
Pramila Jayapal
Twitter handle: @RepJayapal
In November, Pramila Jayapal became the first Indian American to be elected to the U.S. House of Representatives, as well as the first Asian American to represent the state of Washington in Congress. A longtime civil rights activist, Jayapal helped Seattle negotiate its $15 minimum wage policy, and after 9/11, she founded an advocacy group called OneAmerica, which combated hate crimes and unjust policies against immigrants and refugees.
Jayapal has been an outspoken advocate for marginalized communities and progressive causes, and she was endorsed by Vermont Sen. Bernie Sanders in her congressional race.
These are just six of many progressive women in politics who will play an important role during the Trump administration, but we need to recognize the work they are doing and work with them so that we can confront whatever is coming. As Trump's inauguration approaches, we need to work with these women and other progressives and fight systemic oppression and bigotry every step of the way.