Solange's Met Gala Makeup Was Almost All Burt's Bees & Under $20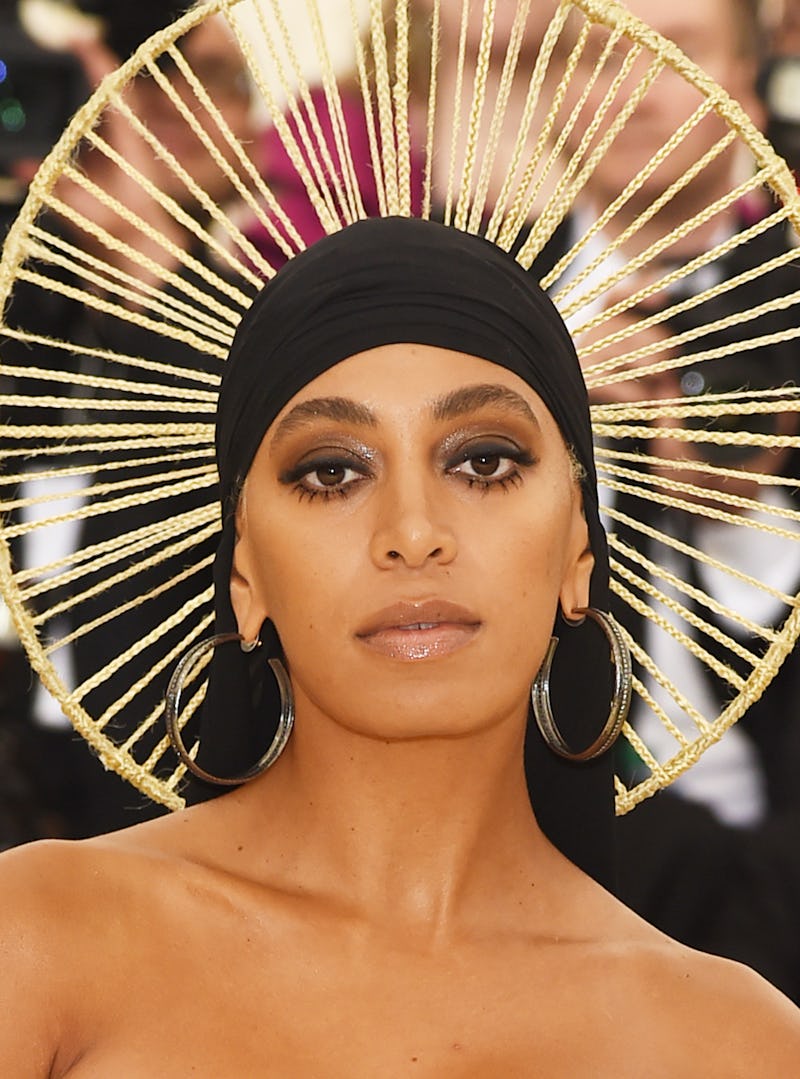 Jamie McCarthy/Getty Images Entertainment/Getty Images
While her big sis Beyonce was totally MIA from the 2018 Met Gala, Solange was making all sorts of fashion and beauty waves at the event. The singer let her fans choose her outfit — a black latex and geometric dress by Iris Van Herpen with over-the-knee boots and a halo x du rag combo. It was a sexy, unexpected, and totally Solange ensemble. She served up a Met Ball lewk that fans will be talking about for years to come.
But her outfit wasn't the sole standout element of her overall presentation. Solange rocked dewy skin, black and brown smoky eyes, and shiny 'n' nude lips.
And guess what? You can easily and affordably replicate Solange's Met Gala makeup since it was comprised almost entirely of Burt's Bees products.
No, I am not kidding and yes, we are granting you permission to do a happy dance that you can copy this look without draining your wallet.
According to press materials received by Bustle, celeb makeup artist Dana Delaney relied on a host of products from the drugstore brand to give Solange a sexier-than-thou look.
While Solange offered a dark and daring take on the Met Ball theme of "Heavenly Bodies and the Catholic Imagination" with her outfit, her makeup was super wearable IRL.
Let's have a look at her entire ensemble, which was one of the evening's and event's most epic.
We'll pause and allow you a moment to catch that breath. Upon closer inspection, Solange appeared to be wearing glossy thigh highs with a pair of lucite heels with ankle straps. That pairing was straight fire.
With her hair slicked back off her face, the singer showed off her gorgeous features. They were accented by the Burt's Bees makeup.
Here's a rundown of what was used.
1. Liquid Foundation x 2
2. Powder Foundation
3. Black Liner
4. Lip Scrub
5. Liquid Lips x 2
Delaney finished Solange's look off by lightly tapping in the center of her lip and gently patting the product through cheekbones, giving her a subtle highlight.
So if you are in agreement with pretty much everyone that Solange's 2018 Met Gala makeup slayed, you don't simply need to covet it from afar. You can hit up your local drugstore, grab these products, and recreate it at home with an assist from some additional items already in your makeup bag, such as mascara!
Get dem smoky eyes and dat glow!