Why Justice Sotomayor Says You "Have To Stay Involved," Now Especially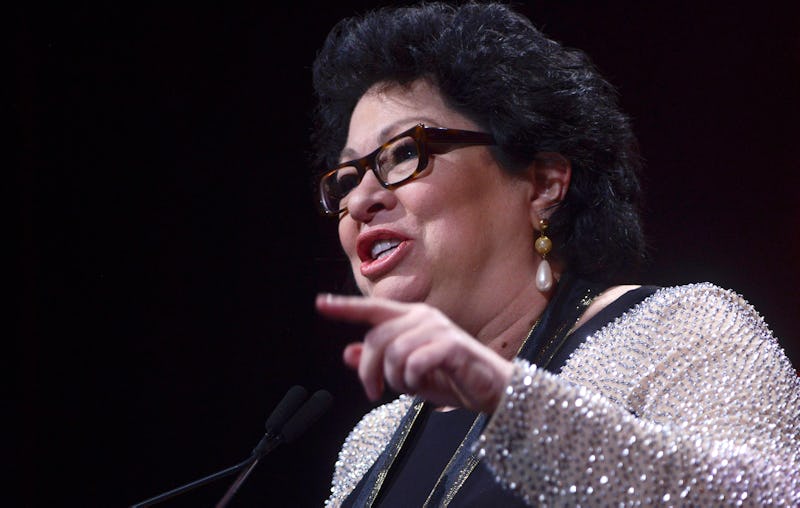 Leigh Vogel/Getty Images Entertainment/Getty Images
While U.S. Supreme Court justices are known for keeping quiet about politics, they sometimes hint at their views on what's happening in Washington — just as Justice Sonia Sotomayor did this week. In an interview with the Today show, Sotomayor said the current state of American politics requires all hands on deck. It's a time when "people have to stay involved in ensuring that our Constitution is always protected," she told Today's Savannah Guthrie on Tuesday, Sept. 4.
"What saves our democracy always is involved citizens willing to take up the challenge that our Constitution presents them with, because democracy doesn't work on its own," Sotomayor said in the interview promoting her two new books. "Our republic survives because people are interested in insuring that it continues."
Though Sotomayor wouldn't say whether she thought the United States legal system is under more pressure today than ever before, she emphasized the fact that Americans need to be actively defending the Constitution and the federal government's system of checks and balances.
She believes a democracy can't survive without involved citizens ensuring that it does, and pointed to the McCarthy era — referring to the period in the 1940s and 1950s when there was a heightened fear of communism — to highlight that there are "always pressures on our democracy."
"The only way it will continue is to respect the limits, the strength, and the potential of the Constitution," she told the Today show.
Sotomayor is set to release two books this week, entitled The Beloved World of Sonia Sotomayor and Turning Pages: My Life Story. Both are aimed toward younger audiences in the hopes of teaching kids that the possibilities are endless.
"I saw the possibilities of things that I could have never imagined without reading," the Supreme Court justice told a crowd at the annual Library of Congress National Book Festival over the weekend, as NBC News reports. "I could have never imagined traveling to faraway places and now I do it, but that wish to meet other people and go other places came from reading. Books were the key to deciding to become what I am today."
Her goal to inspire young people through reading goes hand in hand with her call for Americans to get involved in politics, as it often takes courage to defend a democracy facing immense pressures. And as the first Latina Supreme Court justice, Sotomayor knows a thing or two about challenging the status quo.
But sticking to the parameters of her position, she didn't comment on the confirmation hearing taking place for President Donald Trump's latest SCOTUS nominee the same day as her interview — nor did she fully answer Guthrie's question about whether or not people should read between the lines where her books talk about the rule of law.
"My understanding of what the rule of law does, it guides our relationships with one another … The law sets the parameters of how we behave with one another," she said.
So while Sotomayor won't get into specifics, she wants Americans to know that everyone needs to get involved in protecting the Constitution — now especially.