Sophia Bush Is Returning To TV & Her 'One Tree Hill' BFF Is As Excited As You Are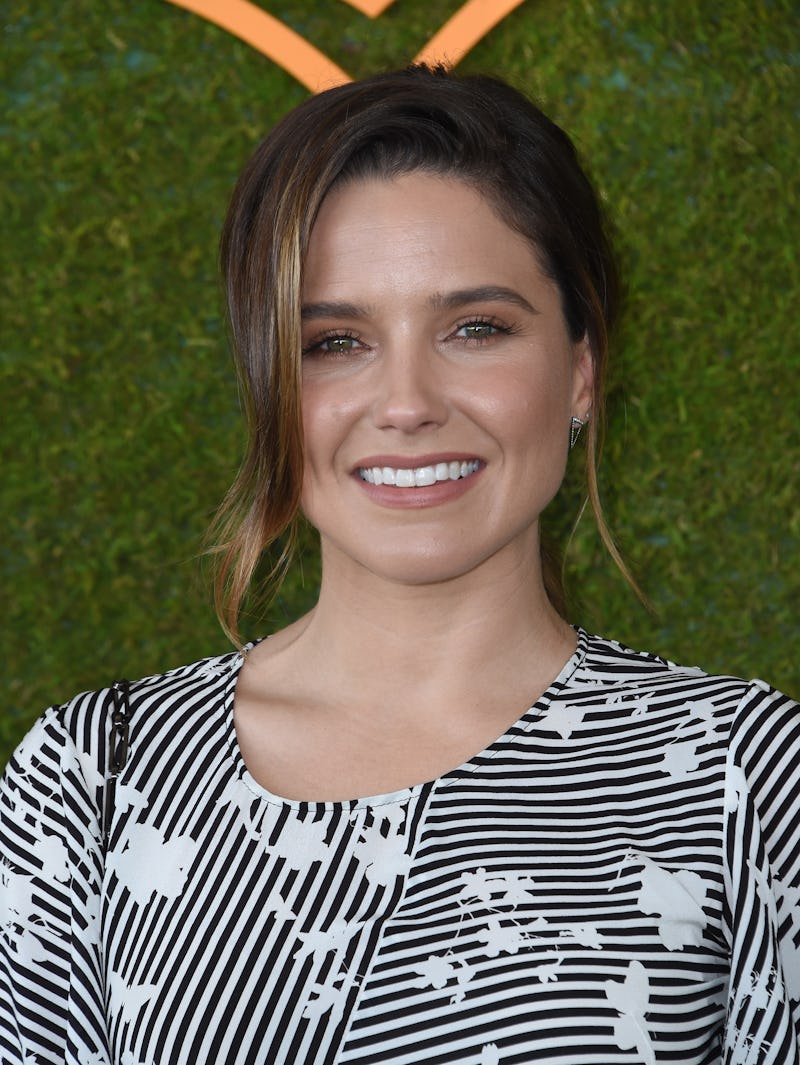 CHRIS DELMAS/AFP/Getty Images
Get ready to celebrate, because one of your favorite One Tree Hill stars is poised to make a major TV comeback. Sophia Bush is set to return to TV in a Fox comedy or drama pilot next season, as reported by Deadline. The news gets better: Not only is Bush guaranteed a role in one of the 2018-2019 pilots, she's moving into the executive producer arena for 20th Century Fox. This gives the women's rights activist a platform to bring original ideas and projects that she believes in to the small screen. Brooke Davis would be so proud, and so is Bush's real-life One Tree Hill BFF Hilarie Burton.
On Thursday, Burton tweeted to her pal, "So proud of you!" And she's not the only one. Jane the Virgin star and creator of I Can and I Will Productions, Gina Rodriguez, and Orange Is the New Black Emmy winner Uzo Aduba also shared their excitement at Bush's big news. In her own tweet, Bush revealed that she will have the opportunity to produce and direct projects, as well as star in them.
"Now more than ever, vital female voices need to be heard," Bush told Deadline. "I'm thrilled to begin developing content that inspires and excites me at 20th Century Fox TV."
And TV fans should be excited to see what Bush comes up with. The actor has been empowering women through her #MyTrueBeauty campaign, championing of talking openly about women's health issues, and even highlighting feminist reads. She clearly has a lot to say, and now she has a platform to make her voice and the voices of other women heard.
Still, Bush hasn't been missing from the TV landscape in recent years. She's played a major role in NBC's empire of Chicago-set series, where Bush starred as Detective Erin Lindsay. She even portrayed the popular character in a crossover event with Law and Order: SVU. However, in May, Bush made the decision to leave the franchise behind, aside from the occasional guest appearance.
For fans of Chicago P.D., saying goodbye to Detective Lindsay was hard, but knowing that Bush is moving on to a role in Hollywood that allows her to have true control over content has to make bidding the character farewell easier. The raves from her fellow actors/activists says so much. Bush deserves the chance to create and nurture new series, not just star in them. (Even though having her as a lead in a new show is also a major perk in this deal, because she's an amazing actor.)
Thankfully, 20th Century Fox appears to be as happy to have Bush on their team as she is to be a part of it. In a statement, Sharon Klein, Fox Television Group EVP of casting, told Deadline,
We've been great admirers of Sophia for years and after meeting, we knew we wanted to be in business with her. She's smart, she's passionate, and she brings great ideas and energy to the table. This deal is about developing with her as well as casting her into a comedy or drama this pilot season. She's a giant TV star and we're thrilled to have her exclusively at FTG.
The studio's enthusiasm speaks volumes, as does the encouragement that Bush is receiving from her famous friends. Bush has been a TV star for quite some time now, but she's also an activist committed to making the world a better place. Having a platform to combine her love of the arts with her commitment to making sure the stories of women are heard is a major victory for Bush, and it's one she's earned thanks to her talent and drive.
Now comes the fun part: seeing what new shows Bush produces and which one she ends up starring in. (Spoiler alert: It will almost definitely be your new favorite.)