No, Sophie Turner Doesn't Watch 'Game Of Thrones' With Joe Jonas, But He Shouldn't Feel Too Bad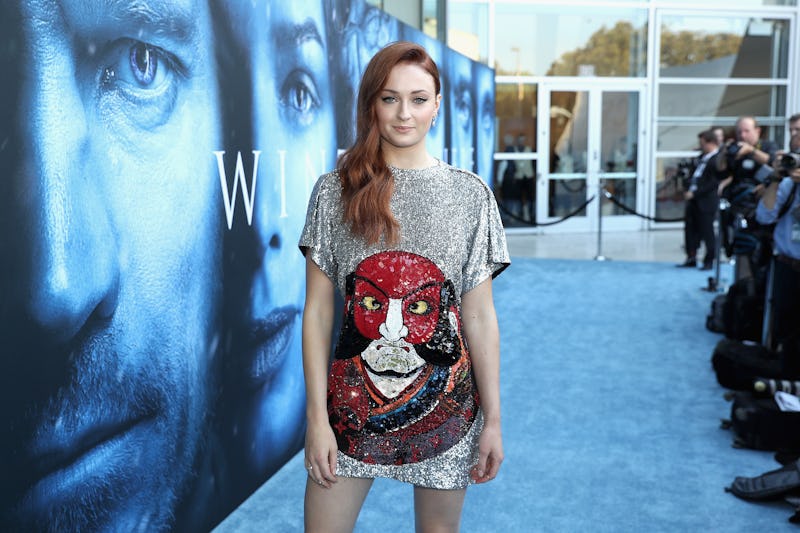 Neilson Barnard/Getty Images Entertainment/Getty Images
Wedding bells will soon be ringing for another resident of Westeros. On Sunday, Oct. 15, Sophie Turner and Joe Jonas revealed their engagement on Instagram. The private couple have kept their relationship out of the spotlight, but they've been dating for at least a year. Does that mean Turner will watch Game of Thrones with Jonas now? If her interview with E! News at the red carpet premiere of Game of Thrones Season 7 is any indication, then the answer to that question is a big no.
Jonas shouldn't be offended. In the interview, Turner confessed that she won't even watch the show with her mom. When she was still living at home, the Game of Thrones actor made her parents pay for the Sky channel (the channel Game of Thrones airs on in the UK) to be in two rooms, so that she could watch the HBO series alone. Turner told E!,
"I don't know. I don't know if I'll watch it with him. I think that would be too embarrassing. I like to sit myself alone and watch it by myself normally. Yeah, I like shut all the windows, shut all the doors. Even when I was living at home with my mum — with my parents — I used to make them watch it in another room. I made them get Sky for both rooms, so they could watch it in one room and I could sit alone in my room and just watch it."
Maybe Jonas will be able to convince Turner to let him watch Season 8 in the same room with her, but if he does, she'll have to invite her mom over too, and it will become a whole thing. It's got to be tough to be on one of the most popular TV shows on air, and prefer not watching yourself onscreen with an audience.
In other news, when asked which Game of Thrones House her boyfriend would be in, Turner gave a hilarious answer. "A boring House," she told E!. Then she proceeded to throw shade at House Tully before remembering Sansa's mom is a Tully. Poor, Jonas. Now that he's engaged to a Stark, he's getting a serious House upgrade, that's for sure.
At least one member of Turner's TV family is already welcoming Jonas into the fold. Maisie Williams, who plays Arya Stark, congratulated her real-life best friend on her engagement by posting the same photo that Turner and Jonas shared to make their announcement. Williams captioned the photo,
"Congratulations to my beautiful girlfriend on her engagement This is just one of MANY life milestones we'll share. Love you both #mophie #jophie #holymoly"
Having the best friend seal of approval is great way for Jonas and Turner to kick off their journey toward marriage. The couple began dating last November, and since then, they've largely kept their relationship to themselves. They rarely ever post photos of each other on social media, and seem to prefer to talk about their careers during interviews.
Given how private she is about her personal life, it makes sense that Turner doesn't like to watch Game of Thrones with an audience. The 21-year-old has been on the show for over half of her life, and during that time she's taken Sansa on an emotionally fraught journey. Trying to enjoy the show while also wondering what your viewing partner thinks of your performance would make plenty of people uncomfortable.
Thankfully, saying "I do" doesn't mean she has to make room on the couch for Jonas during Season 8. That's not to say the idea of this adorable couple snuggled up as they watch Sansa run the North like the queen she is isn't too cute for words — because it totally is — but for now, Jonas should just be glad he's officially going from a "boring" House to House Stark.