Sophie Turner Did An Impression Of Britney Spears & Fans Are Dying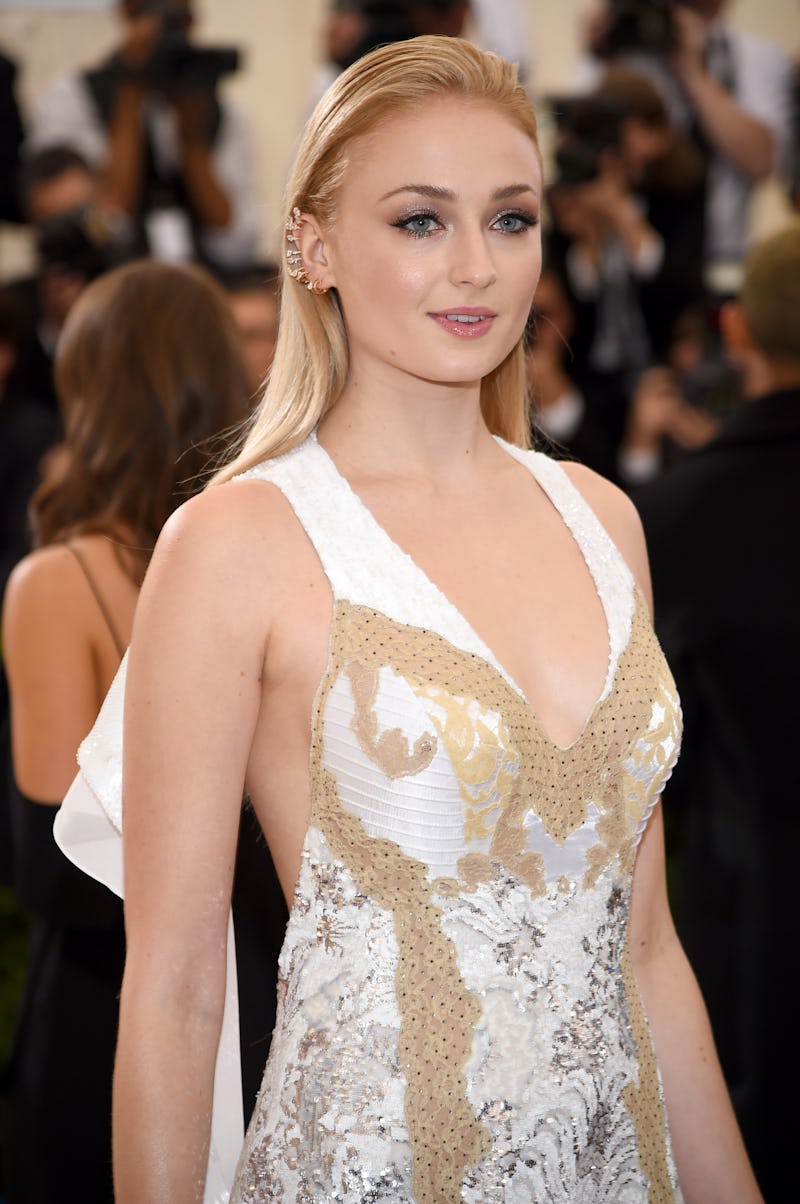 Dimitrios Kambouris/Getty Images Entertainment/Getty Images
You want a Bugatti? You want a Maserati? You want a Lamborghini and to sip martinis? Can't help you with any of that stuff. Sorry. However, if you would like to see a clip of Sophie Turner lip-syncing to Britney Spears' very first single, you've clicked on the right link. On Friday, the Game of Thrones star posted a video on Instagram in which she and hairstylist Christian Wood pretend to sing "…Baby One More Time," and yeah, it's quite excellent. There's strutting, there's dancing, there's lots of eye contact with the camera, and there are two hands-free headset microphones worthy of a pop icon.
If you are both a GoT fan and a Spears fan, this will certainly be the content you crave. And if you don't fall into both of those categories, please don't run away: You don't have to be obsessed with both GoT and Spears to enjoy the video. This is an objectively delightful clip. Carry on.
As you might've expected, the reactions to this Insta video have been pretty fantastic. One fan commented on the post, "You + Britney = My life is complete now." Another replied, "This has got to be the greatest thing I could ever unexpectedly cross while scrolling through my feed. Thank you for being you." Another wrote, "Yaaaas. You're officially my favorite person that I have never met."
Without further ado, here is the Lady of Winterfell having her most recent Britney moment.
This lip-sync video isn't the first time Turner has channeled her inner Godney for all the world to see. In 2014, the Game of Thrones actor tweeted, "Driving down the freeway to 'my prerogative' by Britney Spears is what I live for. #iliketopretendimbritney." And do you know what she went and did a few years later? She went and sang that very song in a car for a certain Apple webseries that was born from a certain The Late Late Show with James Corden segment. When Turner and Maisie Williams appeared on Carpool Karaoke earlier this year, the GoT co-stars belted along to Brit Brit's cover of Bobby Brown's "My Prerogative." Yes, the Stark sisters sang Spears' version of "My Prerogative" as a duet.
What's that? You say you want proof? You say you want to see and hear Sansa and Arya croon along with track number one from the Holy Spearit's greatest hits record? Well, what do you know? This Carpool Karaoke episode is available on YouTube. The information superhighway strikes again. Do you want to see the Stark sisters harmonize along with Brit Brit? Then please proceed to the 9:40 mark. Or, you know, watch the entire video from the top. It's your prerogative. But whatever you do, be sure to email it to your heart.
Sansa really, really, really loves her some B. Spears.
Here's a truly crucial question that deserves serious consideration: If her music existed in the Game of Thrones universe, what would Eddard and Catelyn Stark's eldest daughter's favorite Britney Spears song be? Could it be "Stronger"? Or "I'm Not a Girl, Not Yet a Woman"? Perhaps "Overprotected" would be her top choice. Or maybe "Work B*tch" is what she'd play on her iPod on repeat? Or maybe she's all about "Me Against the Music" featuring Madonna? Come on, who isn't all about "Me Against the Music" featuring Madonna?
Or wait. What if her pick was, ahem, a song of ice and fire? What if she was a diehard fan of Blackout deep cut "Hot as Ice"?
Ack, sorry, but there's one more important question to mull over: Are those shiny crimson flares in the lip-sync video supposed to be a nod to the bright red catsuit Spears wore in the "Oops!... I Did It Again" music video, or was this ensemble just a beautiful coincidence? Hey, given Turner's standom, it's best not to rule anything out.