'Stranger Things' Season 2 Is As Obsessed With Barb As You Are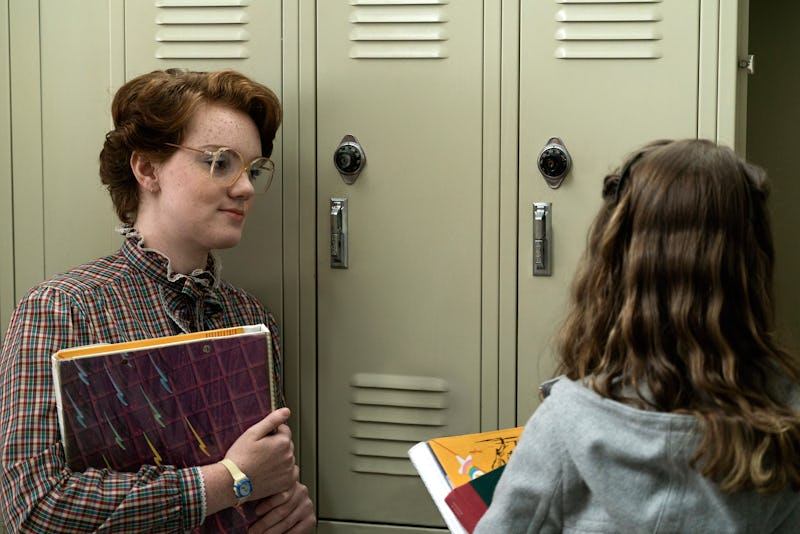 Curtis Baker/Netflix
Season 1 of Netflix's Stranger Things left plenty of cliffhangers for Season 2 to resolve, but there only seems to be one thing fans want from the show's sophomore outing: justice for Barb. Barb isn't in Stranger Things Season 2, but that's the question viewers have been asking for the past 15 months — as though the last time we saw her there wasn't an alien slug crawling out of the mouth of her rotting corpse, which was stuck in a dark parallel dimension. Sadly, the slain high schooler won't be coming back from the Upside Down as some immortal superhero hellbent on kicking demogorgon ass. It's time to accept the truth. But though Shannon Purser's breakout character will still be missing, Season 2 does pay tribute to your Barb obsession.
Fans first began hoping against hope that Nancy's bespectacled bestie would make a triumphant return thanks to the opening sequence of the 2017 Golden Globes, which saw host Jimmy Fallon interacting with beloved characters from the big and small screens — including the Stranger Things tykes — to a parody of La La Land's "Another Day Of Sun." When Eleven ended her rap by shouting that "Barb is still alive!" — followed by the sight of Barb herself emerging smiling from a swimming pool — some viewers took the joke literally, as confirmation by Netflix that the fan-favorite character would be back for Season 2.
But executive producer Shawn Levy was quick to pop that bubble, telling Variety the following month, "Ever since that Golden Globes, where she's in the opening, everyone's like, 'So she's alive??" And [creators the Duffer brothers] and I are like, 'No no, she's dead!' Like, we saw a slug coming out of her throat. There's no coming back from that." But he did have some consoling words for bereft Barb acolytes. "I will say that her memory and the search for justice for her is a part of Season 2."
But plans can change between the end of one season and the beginning of the next… and there was a particular moment in July when it seemed like Matt and Ross Duffer might consider bringing Barb back to life to placate the character's passionate fan base: when her Purser, was unexpectedly nominated for an Emmy. The 20-year-old, who appeared in just a few scenes scattered across the show's first three episodes (not counting her uncredited appearance as a corpse in the Season 1 finale), landed herself a spot in the Guest Actress in a Drama Series category alongside such heavyweights as Laverne Cox (Orange Is The New Black), Ann Dowd (The Leftovers), Cicely Tyson (How To Get Away With Murder), Alison Wright (The Americans), and eventual winner Alexis Bledel (The Handmaid's Tale).
If there's anything that could convince a writer to bring back a beloved character, it would be an out-of-nowhere Emmy nomination. Alas, the Duffers confirmed in September that they had decided to stick to their guns, telling Entertainment Weekly that Barb would indeed still be very-much-dead when Season 2 premiered in October… but that she would live on through those affected by her untimely demise.
"We wanted to show that's something that Nancy didn't really deal with last year" while she was busy running away from a demogorgon, Ross Duffer told EW. "You met her mom briefly last year but we introduce her dad" in Season 2, said his brother Matt. "The only thing that bothered me about the Barb criticism was people saying her parents didn't care about her — of course they care. In their mind, Hopper has been slacking off, and he's a joke of a chief."
There's one other character who will also help keep the spirit of Barb very much alive: new Season 2 addition Murray Bauman, played by comedian Brett Gelman. In announcing the casting, Variety described Murray as "a disgraced journalist-turned-conspiracy theorist who is investigating a cold case in the small Indiana town." Which cold case might Murray be investigating? A close look at his Carrie Mathison-style conspiracy board, glimpsed in the Stranger Things 2 final trailer, reveals a headshot of a very familiar redhead in the far left-hand side of the frame, next to index cards bearing phrases like, "7pm: Pick up Nancy Wheeler."
Barb may not have a physical presence in Season 2, but it looks like the Duffers have included a character who harbors an oversized obsession with the permed high schooler as a meta reference to their own show's devoted fanbase. Barb's physical body may be decaying in the Upside Down, but it appears as though her spirit lingers on, affecting the events of Season 2 in unexpected ways… and that may be as much justice as fans can hope for.