Star Freckles Are The New Instagram Trend You'll Definitely Want To Try For Halloween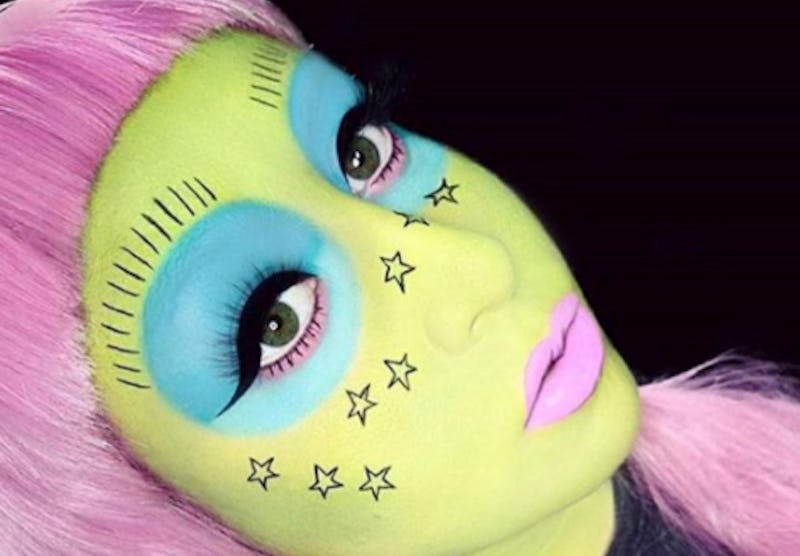 @valfrae
Beauty enthusiasts everywhere are always finding avant-garde and creative ways to use their beauty products, and the newest creation catching steam is the ever-cute star freckles. Different from the galaxy freckles that took over the makeup world a short year ago, this version doesn't try to recreate the swirly, Milky Way galaxy we see up in the night sky. Instead, it takes a more cartoon approach to freckles, and the outcome is nothing short of adorable.
The trend all started when Valfré — an LA-based, art, fashion, and accessories brand — started posting Halloween illustrations onto their Instagram to get into the holiday spirit. The images vintage-inspired and slightly pinup-esque women created by Valfré founder Ilse Valfré. These festive illustrations obviously gave Valfré's followers a heavy dose of costume inspiration.
From vampires at cobweb-decorated vanities to witches sitting seductively on their broomsticks to skeletons looking slightly spooky in the moonlight, her followers quickly zeroed in on one thing specifically: the cute, star-shaped freckles each of these illustrations had in common. Not only was she making her fans crave creating the best Halloween costume ever, but now they also wanted to accessorize them with these playful freckles.
From that moment forward, a new trend was born — and it is quickly going viral. All you need is some liquid eyeliner and you can pull it off in 10 seconds, flat.
These freckles are super minimalist, but that is part of their charm. Rather than creating a swirling, purple and blue background across your cheeks like galaxy freckles, you can start with a simple clean slate for this look. While galaxy freckles take time and precision to draw out constellations with dots and connecting lines, this look actually draws out the outline of a star, much like a cartoon.
It gives the makeup look a slight vintage effect, and might be a little more wearable since it's not as colorful as last year's predecessor.
Take the example below, which shows how one could use eyeliner to draw out big, hollow stars across their cheeks. You can also add a heavy dose of blush or bruise pink eyeshadow from your eyelids down to your cheekbones to give your stars a colorful canvas.
You can create a similar look with simple black liner to help make the stars pop against traditional Halloween makeup. Just look at the witchy vibes below.
While it's easy enough to draw on the stars, the challenge comes in making the stars stay on your skin all day. If you've ever drawn on a cat eye only to have it disappear on you a few short hours later, you know how real the struggle is.
If you have oily skin, there are certain products you can use that will ensure your stars stay put, especially if you want to go the colorful route
"For any kind of body and face painting, I love to use the MAC Acrylic Paints," Janet Debris, a makeup stylist and special-effect artist, says. "They are super pigmented and have a 12-hour wear, and are humidity, sweat, and water-resistant."
If you want to stick with regular old black liner, Kat Von D has amazing liquid liner options that are ridiculously budge-proof.
Whatever product you use, be sure to set the stars in place with a little translucent powder and setting spray to really lock them in. Then you are good for a spooky and starry night out.
Follow these easy steps and you can be rocking these cute stars on Halloween and beyond. The freckles might be a bold look, but no one can deny just how adorable they truly are.