Steve Bannon Was Quietly & Scarily Promoted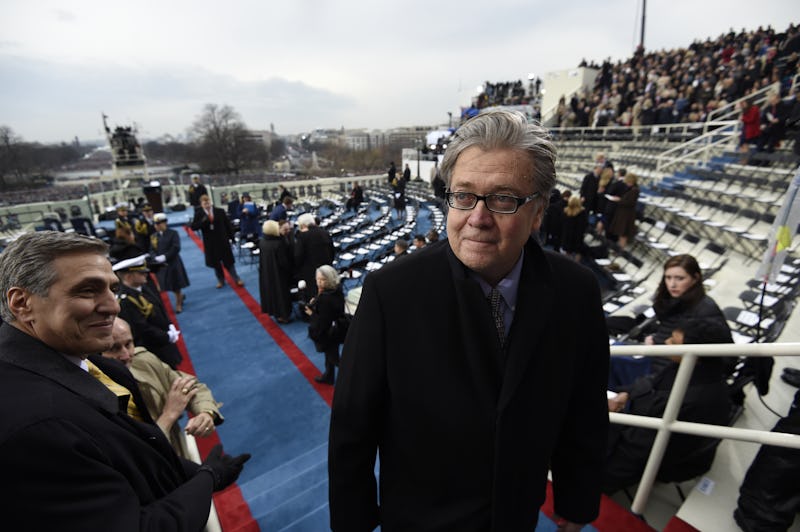 Pool/Getty Images News/Getty Images
This past weekend, headlines were dominated by news that Donald Trump would ban immigrants from seven Muslim-majority countries from entering the United States. This controversy, while extremely important, took up so much attention that few people noticed the other major development of the weekend: Steve Bannon will sit on the National Security Council (NSC). On Saturday, Trump signed a memorandum putting Bannon in the power role while effectively downgrading the chairman of the Joint Chiefs of Staff and the Director of National Intelligence. According to the memorandum, they will no longer attend meetings regularly, but only be party to ones "where issues pertaining to their responsibilities and expertise are to be discussed."
It may sound like bureaucratic minutiae, but Bannon's promotion is a very, very big deal. On Sunday, Reince Priebus said on NBC's Meet The Press that the two will be "included as attendees any time that they want to be included." On Monday, Press Secretary Sean Spicer said any concerns were "much ado about nothing," but there has been significant criticism and concern.
Republican Sen. John McCain told CBS News the move was "a radical departure from any National Security Council in history." The senior Arizona senator added that the chairman of the Joint Chiefs is "the one person which is indispensable" on the NSC. Similarly, former Defense Secretary Robert Gates told ABC News it was a "big mistake" to remove the Joint Chiefs:
I think they usually bring a perspective and a judgment and experience to bear that every president, whether they like it or not, finds useful.
Many critics are as concerned about Bannon's presence as about the Joint Chiefs' absence, arguing that the NSC is supposed to be apolitical and that Bannon's involvement could politicize the process. Former acting CIA chief Michael Morell told CBS News that "having someone like Bannon in the room brings politics into a room where there should be no politics."
Bannon's specific politics are also cause for concern amongst his many critics. He is the former chairman of Breitbart, a website Bannon himself has described as "the platform for the alt-right."
His initial appointment to a White House advisory role was explicitly condemned by groups like the Southern Poverty Law Center, which accused Bannon of "aggressively push[ing] stories against immigrants" during his time at Breitbart. It was also criticized by lawmakers, like Oregon Democratic Sen. Ron Wyden, who accused Bannon's work at Breitbart of "traffic[king] in anti-Semitism and misogyny."
Many of these critics remain highly concerned about his promotion. Sen. Bernie Sanders, for example, called Bannon "a racist individual" after news of his initial appointment. Sanders released a statement Monday morning calling for Bannon's removal from the NSC. "We need experienced people who will protect our country on the [NSC]," Sanders wrote, "not an extreme right-wing political operative."
What does this all mean for national security? Likely increased confusion, at the very least, given the implication that the Joint Chiefs and the Director of National Intelligence could be deemed inessential to the NSC. A Washington Post column by David Rothkopf calls Bannon "precisely the wrong person for this role" and paints a bleak picture of national security under Trump:
Indeed, rumors are already circulating that Bannon and senior adviser Jared Kushner are the go-to people on national security issues for the administration, again despite the lack of experience, temperament or institutional support for either ... You end up with a bad NSC structure being compromised by a kitchen cabinet-type superstructure and the whole thing likely being made even more dysfunctional by a president who, according to multiple reports, does not welcome advice in the first place — especially when it contradicts his own views.
National security is always one of the most important aspects of a president's role in government. This staffing shuffle represents a significant departure from preexisting political norms, and if critics are correct, it could have disastrous consequences for American security.