The Family Of Late 'Crocodile Hunter' Steve Irwin Are Making Their Return To Animal Planet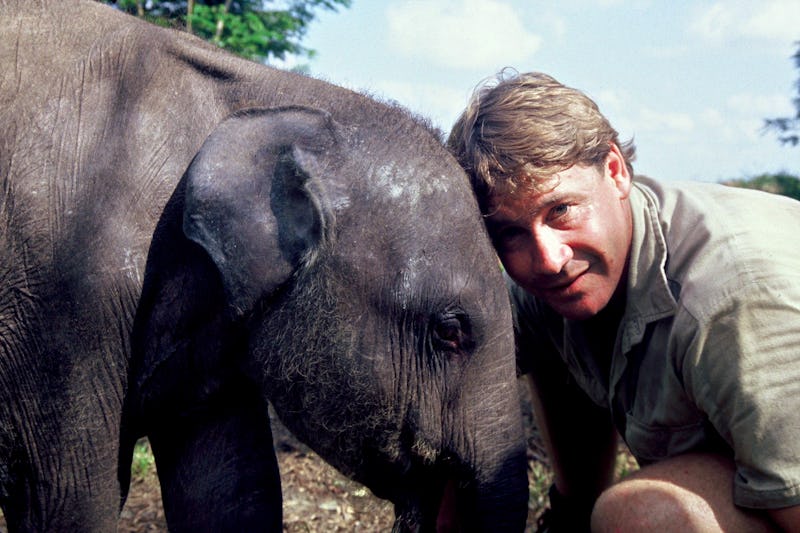 Handout/Getty Images Entertainment/Getty Images
Steve Irwin AKA The Crocodile Hunter passed away at a tragically young age when stung by a stingray barb in the chest. Now, 11 years later, The Washington Post reports that the Irwin family will return to Animal Planet in 2018. According to the article, no concrete decision has been reached in how Irwin's widow Terri and their children Bindi and Robert will reappear on the channel, but the network's general manager Patrice Andrews and the family are reportedly discussing a few different ideas "for television and digital products." Of course, one of the most heartwarming aspects of this news is that it appears that Terri was inspired by Steve to appear on Animal Planet.
Entertainment Weekly reports that Irwin's show The Crocodile Hunter aired on Animal Planet for over 10 years, which makes his family's decision to appear on the channel seem like a natural fit. Andrews couldn't agree more, with Entertainment Weekly reporting that she stated that the family's "passion for animals, love for their family, and leadership in conservation awareness" led to enduring change, leaving "a strong legacy that continues today." She concluded, "We are thrilled to have Terri, Bindi, and Robert back in the Animal Planet family."
Terri explained in The Washington Post that grief "is never something you get over" and she stressed it doesn't just go away but is "something that walks beside you every day." She argued that the trick is learning "how to manage it and honor the person that you miss" as a way of transforming something awful into something special and that "that's kind of what we decided to do with Steve." Watching her son carry out the same conservation work her late husband once carried out certainly seems to bring the naturalist joy, considering she captioned a Lonely Planet article about Robert that she tweeted with the words, "It is incredibly special to watch Robert pack his cameras with him everywhere we go, just as Steve used to."
The Washington Post article also reports that Terri is trying to use that same "competitiveness" they had as a couple for good and that she's still trying to check off milestones on a decade-long business plan they composed together. While this wasn't explicitly stated in the article, it seems likely that the Irwin family appearing on television might have been one of those goals.
Excitingly, this isn't either of the kids' first time on television, suggesting they'll be pros, no matter the show. Entertainment Weekly reported that Steve's son Robert has appeared multiple times on The Tonight Show with Jimmy Fallon and that Steve's daughter Bindi won the American version of Dancing With The Stars in 2015.
Of course, this wasn't Bindi's only television appearance. According to Metacritic, way back in 2007, Bindi fronted her own nature show on the Australian channel ABC1's Bindi The Jungle Girl when she was just 8 years old. In an interview with the show's channel, she described Bindi The Jungle Girl as "about wildlife all around the world and just how important it is for us to look after all animals." It's also worth noting that, according to tvguide.com, Bindi also aired at the same time on Animal Planet, suggesting that the channel has some serious history with the young star.
Probably most obvious is the Irwin matriarch's television experience: according to The Sydney Morning Herald, Terri and Steve's honeymoon, spent trapping crocodiles together with a film crew, formed the basis of the first episode of The Crocodile Hunter. As such, presumably she'll be bringing her same easy charisma and self-assurance to her next television project.
Start counting the days until 2018. If you've been craving a taste of the wild via your television screen, the Irwin family could be about to deliver.