Here's The Powerful Reason Stormy Daniels Sobbed When Michael Cohen Pleaded Guilty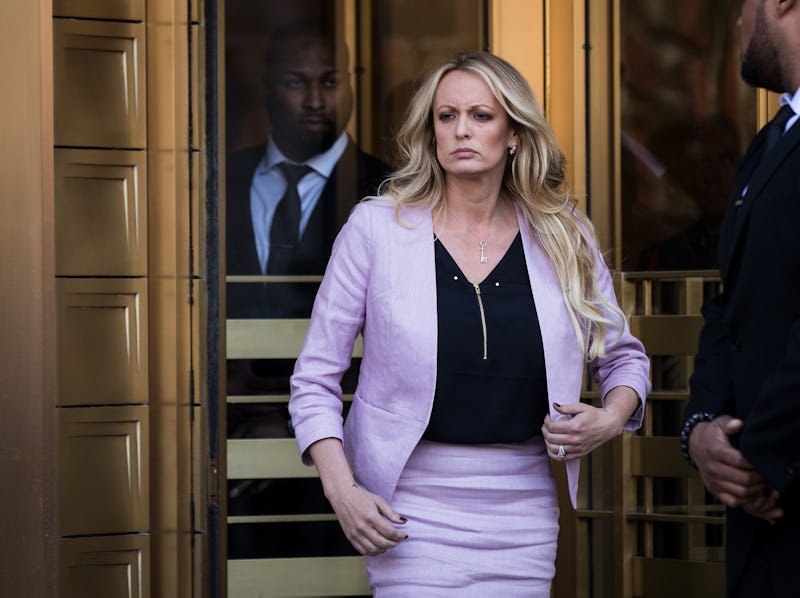 Drew Angerer/Getty Images News/Getty Images
The adult-film star who accused President Donald Trump of defamation after he denied her claims of an alleged extramarital affair and subsequent hush-money payment has said she will never forget the moment when Trump's former personal attorney Michael Cohen pleaded guilty to campaign finance violations. In a wide-ranging interview with a Dutch TV program, Stormy Daniels said she cried over Cohen's guilty plea, feeling it vindicated her.
In an interview on RTL Late Night with Twan Huys, Daniels said she broke into tears when one of her bodyguards phoned her to say Cohen had pleaded guilty. "He was in tears and I was in tears," she said of the call. "It was just this moment where he was like, 'Everyone knows you're not a liar.'"
Daniels, whose legal name is Stephanie Clifford, said she'd been in Italy when Cohen registered his plea with the court and woke up to her phone "just exploding" with texts and calls.
"I didn't think it would hit me as hard as it did, but I broke down into sobs," she said of hearing about Cohen's plea. "I didn't realize how much it had affected me over the last several months. It's been eight, nine months of every single day, people saying, 'You're lying, you made it up, you just wanted to have sex with him and he turned you down so you made this up,' or 'You're in love with Donald' — just the most ridiculous things you could imagine."
Daniels has said Cohen paid her $130,000 in hush money just before the 2016 presidential election in an effort to buy her silence regarding an alleged extramarital affair she had with Trump in 2006. President Trump has previously denied the affair, calling Daniels' claim "false and extortionist accusations."
Daniels has brought multiple lawsuits against both Trump and Cohen, suing them for defamation as well as the right to speak publicly about her alleged affair with the president and be released from the non-disclosure agreement she signed in exchange for the money. Daniels has also sued Cohen for allegedly "colluding" to "manipulate" her on Trump's behalf with her former lawyer.
While Trump initially denied having had any knowledge of Cohen's hush money payment to Daniels, it was later revealed that he'd actually reimbursed Cohen for the payment. Most recently, Cohen, who pleaded guilty to charges of bank and tax fraud and campaign finance violations in August, said he'd made the payment to Daniels at the direction of "a candidate for federal office," implicating, though not naming, Trump.
But Cohen's plea hasn't dissolved all of the issues Daniels faces. The actress told RTL Late Night with Twan Huys that she "may never have a normal life again, citing what she called a "new rash of hate" that had been unleashed against her following Cohen's guilty plea. Despite the hate and harassment, Daniels said she felt vindicated by Cohen's plea, arguing it corroborated her allegations against Trump.
"Now which one of us looks like a total liar?" Daniels said. "Michael Cohen just confessed last week that I've been telling the truth all along."