Stormy Daniels' Defamation Lawsuit Against Trump Might've Just Hit A Major Roadblock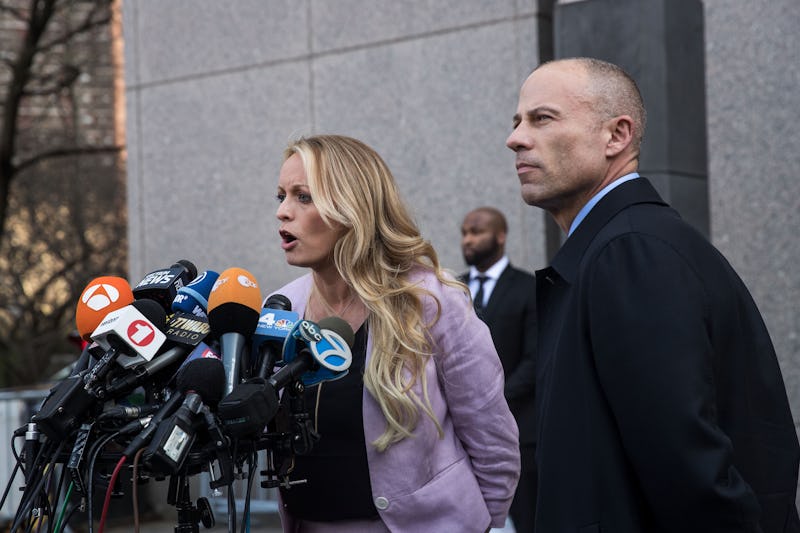 Drew Angerer/Getty Images News/Getty Images
On Monday, the California judge presiding over Stormy Daniels' Trump defamation lawsuit indicated that the case's outcome might not be the one sought by Daniels, whose given name is Stephanie Clifford. The judge has not yet issued a ruling in the defamation case, but signs point to an uphill battle for Daniels.
As CNN reported, Daniels filed a defamation lawsuit against Trump in April. The lawsuit claims that Trump's April 18 tweet characterizing a sketch of a man who allegedly threatened Daniels about her alleged 2006 affair with Trump as a "total con job" was defamatory and malicious. Trump has vehemently denied having an affair with Daniels, with the White House and his former lawyer Michael Cohen repeatedly issuing denials on his behalf. As Bloomberg reported, in the defamation case, Trump's lawyer Charles Harder argued that Trump's tweet about the composite sketch of the man who allegedly threatened Daniels merely constituted a way of Trump "calling BS" on Daniels' claim — and wasn't harmful.
During a hearing in Los Angeles on Monday, there were signs that the judge in the case, S. James Otero, may be inclined to agree with Trump's team. As Bloomberg reported, Otero asserted that Trump's tweet appears "to be rhetorical hyperbole by a public official involving a public figure," and warned that characterizing such a tweet as defamatory could have negative implications for free political speech in the future. While Otero's statement did not constitute a ruling, it could be a strong indication that he plans to dismiss Daniels' defamation lawsuit. CNN noted that Otero did not reveal when he plans to rule on the case.
A dismissal could mean a setback for Daniels' legal team, which, according to CNN, has argued that, with his tweet, "Mr. Trump meant to convey that Ms. Clifford is a liar. ... Mr. Trump made his statement either knowing it was false, had serious doubts about the truth of his statement, or made the statement with reckless disregard for its truth or falsity." CNN also reported that, following the judge's comments during the hearing, Michael Avenatti, one of Daniels' lawyers, readily disagreed with the characterization of the tweet as political speech, saying he could prove there was malicious intent behind the tweet.
In addition to her defamation lawsuit, Daniels has also filed another lawsuit against Trump and his former attorney Cohen, in which she is seeking to be released from a $130,000 non-disclosure agreement related to her alleged 2006 affair with Trump. Again, Trump has repeatedly denied the alleged affair occurred. In regards to the non-disclosure agreement, Trump noted on Twitter on May 3 that he reimbursed his attorney for the payment, but claimed that the agreement was "used to stop the false and extortionist accusations made by her [Daniels] about an affair."
Otero is also the judge in the suit related to the non-disclosure agreement. As Bloomberg reported, the judge indicated that he plans to hold a hearing on this suit in December to determine whether or not it should be dismissed. The outlet noted that Cohen and Trump are seeking the case's dismissal because they have said they will not try to enforce the non-disclosure agreement against Daniels. However, Daniels' team has argued that the case should continue so further details about the agreement can become public information.
Time will soon tell whether or not Daniels' defamation lawsuit against Trump will move forward. In addition to awaiting the outcome of this case, many will likely also be watching to see how Judge Otero will rule on Daniels' non-disclosure agreement lawsuit in December.