This Beauty Brand Is Releasing New Products Every Month That Are ALL Inspired By Classic Novels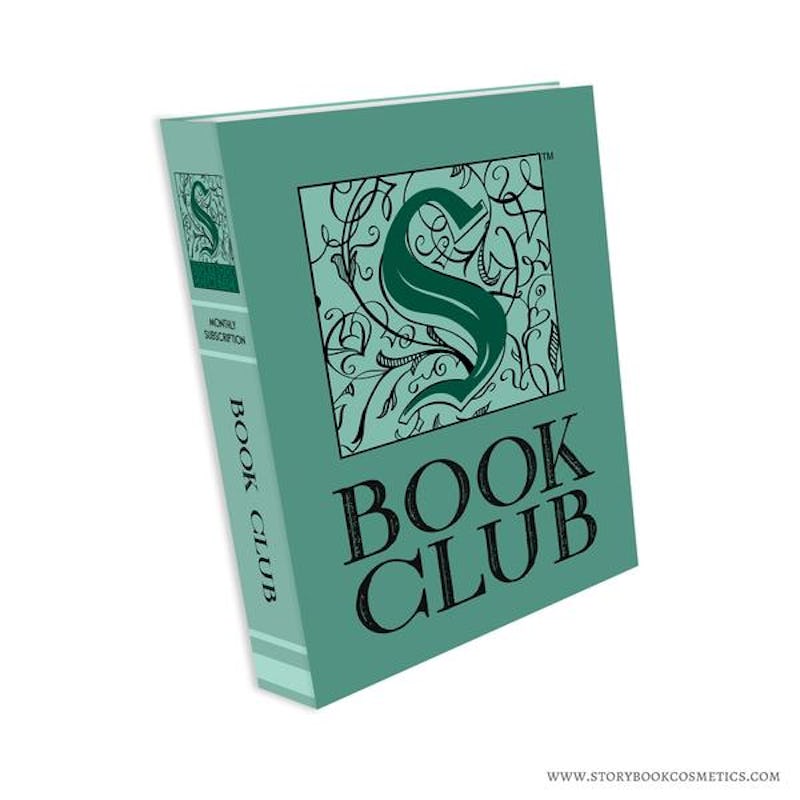 Courtesy Storybook Cosmetics
Forget everything you know about book clubs, because the concept just got a whole lot different. Storybook Cosmetics is creating a book club that delivers novel-inspired makeup to your doorstep every month — no library card needed. Basically, it's required reading like never before. The exclusive service is launching soon, and it's one that you won't want to miss.
All book lovers know that great characters don't just stay on the page, but Storybook Cosmetics is having them jump into your makeup bag. According to the press release, the brand known for its' movie and book related products is creating a monthly subscription service called Book Club. Every month, subscribers will get a hard cover book case, liquid lipstick, and other products that follow a novel-specific team.
"Our love of classic literature inspired us to start this book club," said Erin Maynard, Storybook Cosmetics co-president, in a press release. "We love the idea of breathing new life to classic stories through a specifically curated beauty collection," Mandy Maynard, Storybook Cosmetics co-president adds. "There is just something magical about seeing your favorite books in a brand new way. And having it delivered to your mailbox each month is the gift that keeps on giving."
The Storybook Cosmetics Book Club will be a limited-spot group, according to the brand. Sign-ups will go live on May 7, and once spots are gone, they're gone for good.
While there are plenty of makeup subscription services out there, this one is different than all of the rest. Instead of taking a survey and getting a whole slew of products from different brands, this one will all be based around a theme. According to the press release, fans can expect to see collectible boxes based on classics like Little Women, Jane Eyre, and Romeo & Juliet.
Each month will cost subscribers $24.99, which is ironically the price of a new book. Of course, you're not getting an actual book with the subscription. You'll just get a box that is based on a classic novel. The brand didn't say what is exactly inside each box, but it did say that there will be full-sized products inside. Considering the liquid lipsticks are $14 each, this is a pretty great deal, no matter what's inside.
Although sign-ups go live in August, the first box won't actually arrive on your doorstep until August, according to the press release. There's no word on whether fans will have to pay pre-sale style or if they will be charged when they go out. The brand also didn't say whether or not each box will be renewed or if fans will have to sign up every month. Bustle reached out for comment.
This is Storybook Cosmetics' first time dealing with best-sellers. The very first product that the brand launched was wizard wand makeup brushes and then followed up with a book-styled eyeshadow palette. There's been a Burn Book and Charlie and the Chocolate Factory palette launched as well. So it really is no surprise that it came up with a way to carry on the book club trend.
Storybook Cosmetics did not say whether they will be creating new products for the subscription services or if they will be recycling what they have already created. Products on the website range from $14 for liquid lipsticks to $55 for eyeshadow palettes. Either way, the Book Club will bring a whole lot of bang for its buck.
Mark your calendars and set your alarms, because this Book Club is sure to fill up fast. You might also want to clear some space on your makeup table, because this is sure to be one book that isn't meant to just collect dust on your shelf.