OMG, The Story Behind 'The O.C.'s First Chrismukkah Episode Changes Everything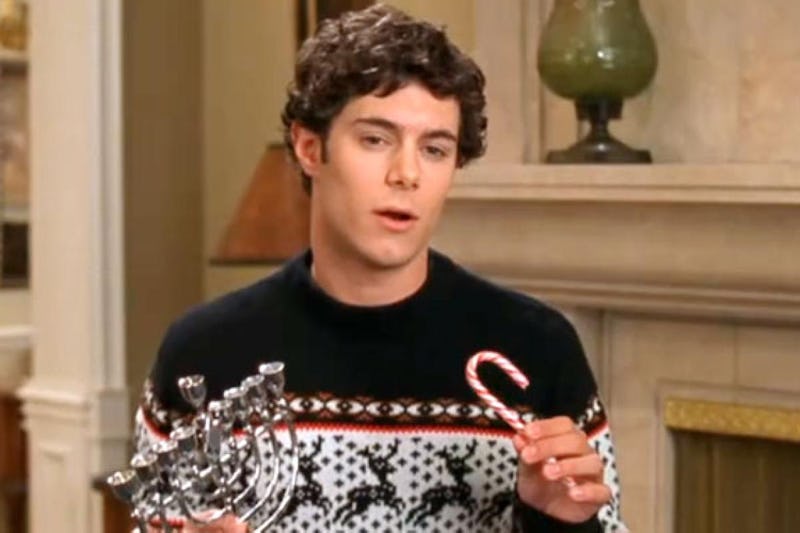 Warner Bros.
Few episodes of television are as memorable as The O.C.'s first Christmukkah episode, "The Best Christmukkah Ever." Complete with menorahs and candy canes, holiday-loving Seth, and Grinchish Ryan, there is something for everyone in the episode which premiered in December of 2003. But one moment from the episode stands out like a red-nosed reindeer: Summer's Chrismukkah Wonder Woman costume and her attempt at wooing Seth.
"When Rachel Bilson showed up on set in that outfit I knew we had something special," says Sanford Bookstaver, who directed the now iconic episode.
It's hard to forget the get-up: a red and gold corset, star-covered blue shorts, and a golden lasso. Summer was the epitome of sex-appeal to comic book-loving Seth. And according to the director, Adam Brody was also more than a little excited at seeing his co-star Rachel Bilson in the famous superhero costume — apparently, his reaction in the episode wasn't a result of acting.
"That was the first time he saw her [in costume.] Very deliberately," he says. "His mouth literally dropped. It was pretty amazing, and Rachel really sold it."
And it wasn't just Brody's reaction that was improvised. While on set, Bookstaver decided to pay homage to another scene of seduction, that of 1967's The Graduate. "There's a shot through Mrs. Robinson's legs of Dustin Hoffman in [The Graduate], so I did a shot through Rachel's elbow that is Adam Brody's reaction to the reveals that she's Wonder Woman."
Though the scene is, at first, heavily focused on how Bilson looks, Stephanie Savage, the show's co-producer and writer of the episode, assures that the scene was never intended to solely be a male gaze-focused fantasy come to life. Actually, it was intended to be far from it.
"I wanted to make sure the womens' perspectives — Anna and Summer — were being represented, and it wasn't just through Seth's eyes," she says of the episode. "Summer [becomes] everything Seth would ever dream of in his perfect woman. But the moment is punctured by Anna arriving. Both [women] feel suddenly exposed, vulnerable."
And here's the real kicker: "It was the crisis point of this love triangle we had been building towards for a while. Then both of them leave Seth alone in the dark. We wanted to give Seth this male fantasy and then quickly snatch it away."
Because while Seth Cohen can have both Christmas and Hanukkah, he can't have Anna and Summer. As fans will recall, both women try to win Seth's affection through his love of comic books. Right before Summer unveils her Wonder Woman outfit for Seth, Anna gives him a zine she crafted just for him, The Adventures of Seth Cohen and Captain Oats. Savage employed her friend, a young female artist, to draw all of the illustrations.
"I wanted a young woman's hand in it," she says. But both of these gifts and both of these women prove to be too good to be true for Seth, as the women put their feet down, no longer willing to be strung along.
They stand up for themselves, and it's behavior Wonder Woman herself would be proud of. That's part of the reason the show decided to highlight this particular superhero in the first place. "Wonder Woman is someone Summer would be familiar with. It would be in her consciousness as a powerful icon of feminine beauty and strength," Savage says.
And of course, with the release of 2017's superbly reviewed Wonder Woman, directed by Patty Jenkins and starring Gal Gadot, the episode holds new relevance to audiences and for Bookstaver. "I actually got to work with Gal Gadot a few years ago for Beautiful Life," he explains. "It was a show about models in New York, and she was one of the models for that episode. She was wonderful. She had great charisma and presence. When I saw her in Wonder Woman I was like, 'Oh my god, that's Gal! She's Wonder Woman!' It was awesome."
Though this episode was the last time fans would catch a glimpse of Bilson as Wonder Woman, The O.C. would go on to host many more Christmukkah-themed episodes, all the way through its final season in 2007. But there will only be one first Christmukkah, and just like its name, it's safe to say that thanks to one particularly memorable scene, a lasso of truth, and some on the spot improv, it really is "The Best Christmukkah Ever."