Here's Why Supreme Court Nominees Have Withdrawn In The Past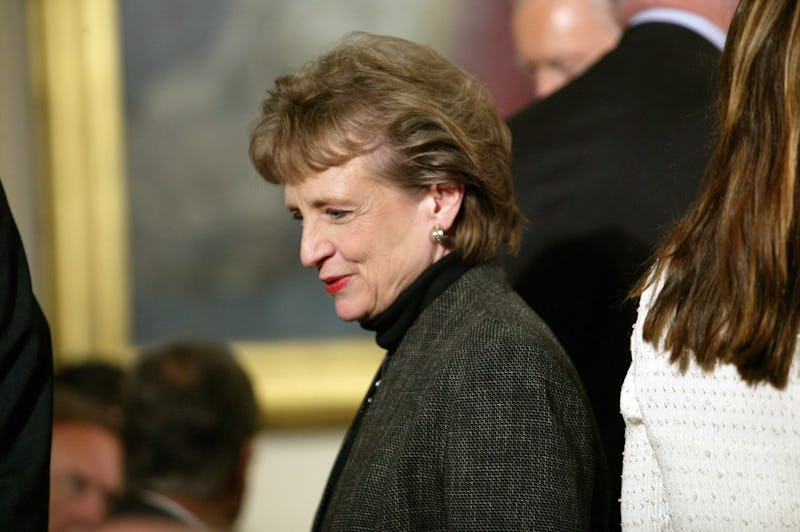 Douglas A. Sonders/US PGA TOUR/Getty Images
Judge Brett Kavanaugh — despite some loud objections from Democrats — seemed to be a shoe-in for confirmation to the U.S. Supreme Court. But then came an allegation of assault, which the nominee has now denied twice, calling it "false." Historically, most nominees to SCOTUS are successful, but a handful have not been. There are even past Supreme Court nominees that have withdrawn.
Since World War II, there have been eight judges who were nominated by the president at the time but were never confirmed. Among those eight, according to the Washington Post, three were rejected by a Senate vote (one nominated by Ronald Reagan, two by Richard Nixon), four withdrew (two nominated by Lyndon B. Johnson, one by Reagan, and one by Bush), and one was Merrick Garland, President Barack Obama's pick for Antonin Scalia's seat. His nomination was ignored by Senate Republicans through 2016 and was neither rejected nor withdrawn. After President Donald Trump took office, the spot was filled by Justice Neil Gorsuch.
There's a caveat with the two Johnson candidates, however. One nominee, Abe Fortas, was already on the court, but Johnson nominated him to be the chief justice and nominated another man to fill the spot Fortas would empty. Following a Senate filibuster, Johnson withdrew Fortas' chief justice nomination, which meant the other nomination had to be withdrawn as Fortas wasn't leaving his seat anymore.
Then there's Douglas Ginsburg, who was nominated to the court by Reagan in 1987. Ginsburg's nomination was withdrawn after it came out that he smoked marijuana in the '60s and '70s — which clashed with Reagan's campaign against drugs.
But there's one unsuccessful nominee who is perhaps the best modern example of how a Supreme Court nominee can — and has — withdrawn over partisan wishes, the nomination process, and litmus tests, paired with a lack of experience. This happened relatively recently, during George W. Bush's second term in office when he was called upon to fill the seat of Justice Sandra Day O'Connor.
He picked Harriet Miers, a Texas lawyer who had been working at the White House as counsel and before that had served as Bush's personal lawyer back in their home state. Compared to other nominees, she was considered to have less applicable experience — she had never served as a judge.
Miers was opposed not only by liberals and Democrats but by many in the Republican party and conservative movement, NPR reported at the time. Conservatives argued that it was impossible to know the nominee's position on abortion since she had not opposed it publicly and had donated to the Democrats. The White House then went so far as to release a questionnaire in which she responded in favor to overturning Roe v. Wade.
That wasn't enough to win over her critics. "Today, I have reluctantly accepted Harriet Miers decision to withdraw her nomination to the Supreme Court of the United States," Bush said in his statement on her withdrawal in 2005.
He and Miers pointed to the process as the reasoning — that senators were demanding access to documents from her time working at the White House, in which she gave advice to the president. Bush called these "disclosures that would undermine a president's ability to receive candid counsel."
But that was seen at the time as an "out" for Bush. Sen. Edward Kennedy told The New York Times, "The issue of whether the documents were the make-or-break issue is really a red herring. ... The extreme right wing of the Republican Party have effectively undermined this nomination. They have a litmus test, and Harriet Miers didn't pass that test."
After the failure of Miers' nomination, Bush went for a more straightforward pick with Samuel A. Alito Jr., who went on to be confirmed 58-42. At the time of his nomination, Alito was working as an appellate court judge and was seen by Republicans as a reliable conservative vote on the court.
While Miers suffered from a lack of support among Republicans, Kavanaugh seems to have a lot of it as GOP members of the Senate Judiciary Committee have voiced approval of holding a vote as soon as next week on his nomination, despite the allegations. Like Alito, Kavanaugh has the support of conservative groups, and unlike Miers, Kavanaugh has served as a judge and was involved in an abortion case — where he voiced an opinion against allowing a teen immigrant from accessing abortion care. Should he ultimately withdraw, however, it's not without recent precedent.