Susan Collins Ripped Into Trump's Tweets About Christine Ford And She Didn't Hold Back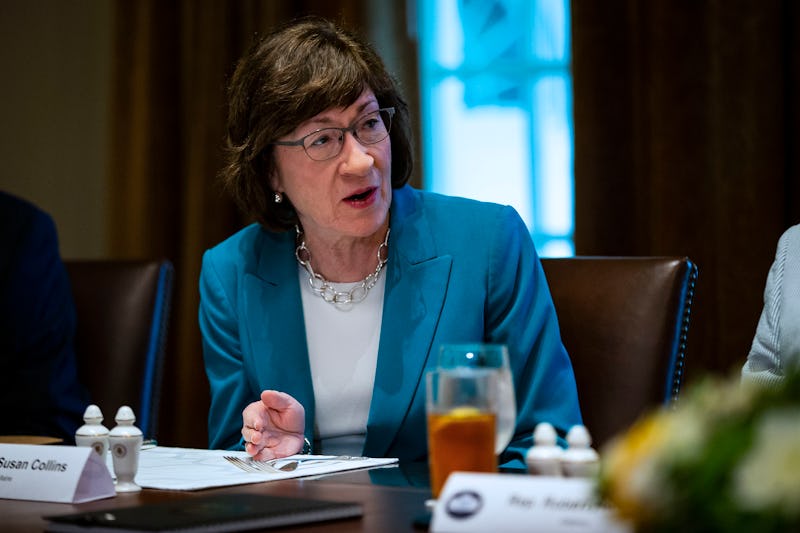 Pool/Getty Images News/Getty Images
Earlier this week, Christine Blasey Ford spoke out publicly for the first time about her allegations against Supreme Court nominee Brett Kavanaugh. On Friday, Trump responded to Ford's allegations on Twitter by defending Kavanaugh and questioning why Ford did not file a police report. Trump's tweets quickly prompted criticism, including from Maine Sen. Susan Collins. During an event in Portland, Maine on Friday, Collins said she was "appalled" by Trump's Kavanaugh tweets, and described them as inappropriate.
In an interview with The Washington Post that was published on Sunday, Ford went public with her allegations against Kavanaugh for the first time. She alleged that Kavanaugh held her down at a party in the 1980s — when they were both high school students — and that she was worried he might "inadvertently kill" her. In a statement issued by the White House, Kavanaugh denied these allegations, and stated that he "did not do this back in high school or at any time."
On Friday, Trump tweeted that Kavanaugh "is a fine man, with an impeccable reputation," and suggested that "charges would have been immediately filed with local Law Enforcement Authorities" had the attack on Ford been "as bad as she says." Collins did not speak at length about Ford's allegations, according to The Hill, but she did criticize Trump's remarks.
"First of all, we know that allegations of sexual assault — I'm not saying that's what happened in this case — but we know allegations of sexual assault are one of the most unreported crimes that exist," Collins said on Friday. "So I thought that the president's tweet was completely inappropriate and wrong."
Collins will be an important swing vote in Kavanaugh's confirmation, and she told WVOM earlier this week that her office has received "some pretty ugly voicemails" over the issue. According to Politico, however, some Republicans who are still working to confirm Kavanaugh believe that Collins will vote in his favor if she believes his denials of Ford's allegations. Collins said on Friday that she wants both Ford and Kavanaugh to testify and that "we should try to accommodate Professor Ford within the realm of reasonableness."
"I do think that both she and Judge Kavanaugh need to testify under oath, but I believe we should attempt to make this as comfortable a process for her as possible," Collins said, according to the Portland Press Herald. "To me Monday is the preferred date but I don't see a problem with delaying to Wednesday or Thursday."
Even if the hearings are delayed to later in the week, however, Collins made it clear that she wants to hear from Ford directly. Otherwise, she said, "it's very difficult to assess credibility."
According to CBS News, Collins was not the only Republican uncomfortable with Trump's tweets. An unnamed Republican strategist told CBS News that GOP lawmakers wanted a certain "level of compassion extended to Dr. Ford," and that Trump's tweets about Ford and Kavanaugh contradicted that effort. And just before Trump published his tweets, senior White House aide Kellyanne Conway told reporters that there was "no reason" for Republicans to attack Ford.
The New York Times reported on Thursday that Ford was open to testifying before the Senate Judiciary Committee next week, provided that senators took certain measures to "ensure her safety." Kavanaugh, meanwhile, has reportedly asked for a hearing as soon as possible, as he says he wants to clear his name.